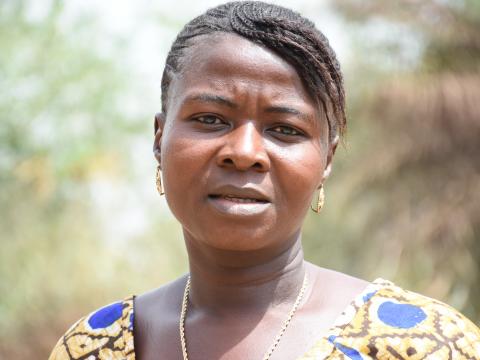 World Vision and its partners unite women for a uniform goal
Wednesday, July 5, 2017
Women's participation in politics and the quest to be leaders has been very low. In the Sierra Leonean context, male chauvinism is at play especially   in rural communities. Strict traditions forbid women from contesting with men. Some women can't even talk in the midst of men.Sierra Leone practices political pluralism. But political parties are divided along ethnic and ideological lines and boundaries. As such, having political parties and political opponents (especially women) together is like a hen crowing.
 The Women Empowered for Leadership and Development (WELD) Project is a three-year project, a consortium of four Non-governmental Organisations NGOs— including World Vision as prime, Action Aid, Advocacy Movement Network (AMNET) and Network Movement for Justice and Development (NMJD). The project has the overall goal of increasing women's social, political and economic rights in Sierra Leone,delivered through three pillars:support an enabling environment for women's participation; building the capacity of Local Councils and sub-national governance structures, and strengthening the role of civil society organizations. The project is being funded by the United States Agency for International Development (USAID).
Esther Coomber is an aspirant for the seat of Councilor, Kailahun District, in Eastern Sierra Leone. She says this about the WELD Project: ''The WELD project has helped to break down some of the barriers that existed between and among political rivals. We now sit in one place and chart the way forward as far as women's empowerment is concerned. Our goal is to have women at the forefront. There is a common understanding now among women as never before,''
''Judging from experience, wherever women are in large numbers, there is bound to be quarrels. But the USAID funded WELD project is preaching peace among women. It is even more surprising now that women can meet for longer periods and not quarrel. We have been encouraged to work as one so we can produce more female leaders in our communities,'' Esther states.
Ruth Kadiatu Thomas works with Civil Society Organizations focusing on gender. Like Esther, she also believes that USAID through the WELD project has helped to unify political rivals. ''Here in Kenema political tolerance is being observed by all 12 political parties that exist in the country. Before now, when women gathered, they fought and quarreled. Now we all sit together in one place and discuss the way forward to have more female leaders,'' she explains.
Interestingly, the Revolutionary United Front Party (RUFP), a product of the RUF rebel group that held the entire country to ransom for 11 years, have members who aspire to key positions and are very active and listened to in meetings. They all form part of the female caucus group initiated by WELD project, which seeks to incorporate more women into leadership positions.
Dr. Tom Robert, Chief of Party (COP), WELD Project, in an engagement with women in Kenema hastened to say: ''the WELD project is not about promoting political party agenda, but it is about women representing the 51.1 per cent of the total population of women in Sierra Leone.''
John Magbity, Governance and Gender Specialist, USAID and AOR for the WELD Project, in a similar engagement called for the continued unity of the female caucus to transcend party lines.
Esther's District, Kailahun, has a population of 526,379 (according to the 2015 census report). But men are dominant in decision making positions.
Esther confirms things are changing gradually in her District. ''Before now, women didn't have the resolve to declare for positions in our communities. It used to be a taboo. It is this zest and enthusiasm by women to declare for positions that is keeping us (women) together. Our African traditions also forbid women from leading where men are. But it is interesting now that some men are helping us to fight this battle. Enough is enough! I am calling on more women to join us,'' she says.
Evidently, there are 230 women (within WELD operation areas) who are now vying for political seats, ranging from Councilors, Chairpersons, District Councils to Parliamentarians and Women's Leaders, among many more. The good news is women are coming out victorious in by-elections. There are signs of more women hoping to emerging victorious during the country's Presidential and Parliamentary elections in 2018.
The WELD program uses an approach involving male champions who occupy key positions as Councilors, Chairpersons and/or deputies of councils. They act as mentors to female aspirants, helpthem in their campaigns and advocate for them so that party symbols are given to them.
There have been nationwide cries by women to have a 30 per cent quota in leadership positions in the country. While provisions and efforts are being made, it's still far-fetched. Fewer women occupy leadership positions. It is that gap that USAID funded WELD project is trying to bridge.
                                                                               ---ENDS--
                            Disclaimer
This project is made possible by the generous support of the American people through the United States Agency for International Development (USAID). The contents of this article are the responsibility of World Vision, Inc. and do not necessarily reflect the views of USAID or the United States Government.