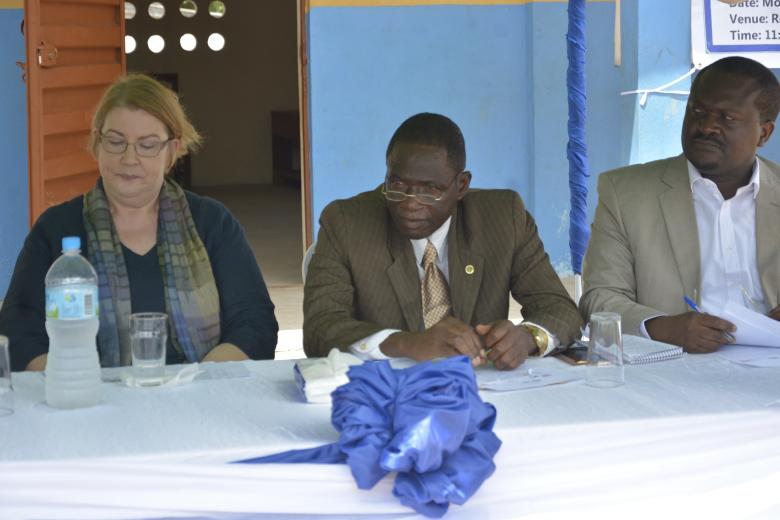 World Vision leads consortium to construct 225 classrooms for Sierra Leonean pupils
Wednesday, October 26, 2016
World Vision is leading a consortium of three  Non-Governmental Organizations (NGOs)—Street Child Catholic Relief Services and World Vision being the prime. This new school building project follows an earlier construction of 168 classrooms by World Vision in Bo, Bonthe Kambia and Kono Districts. 
This  newly awarded £ 3.973,933.40 million  Reduce Overcrowding and Improved Sanitation in Schools (ROISS) Project to this consortium will see the construction of  225 new classrooms (75 blocks) in all 14 Districts of Sierra Leone and is intended to benefit a targeted 63, 000 boys and girls by June 2017.
The project is in support of the President's Recovery priorities in the educational front and is one vibrant decongestion mechanism. Classroom congestion is a serious issue in schools in Sierra Leone. And this has been the cause for low concentration in school, lack of ventilation, noise pollution and a promoter of unhygienic situation in schools.
The Project has a specific objective to provide a conducive, healthy and sustainable learning environment in targeted schools. It will contribute to the overall objective of improving learning outcomes with the inclusion of Water Sanitation and Hygiene (WASH) facilities.
With improved WASH, best practices such as hand washing in schools is promoted. It also means children will have access to safe and quality drinking water. School environments should now look cleaner than before, with access to water and toilet facilities.
All three organizations  together with the President's Recovery Priority (in the education sector), Sierra Leone's Ministry of Education Science and Technology and other stakeholders have held a launch event for the initiative at the Madonna Roman Catholic  Primary School, in Bo. Madonna's three-class room block and an office space is among 168 new classrooms earlier  constructed by World Vision with funds from UKAID as part of the  Recovery Process.
The launch event also attracted people from all works of life.

Mr. Nabie Kamara, Chairman Overcrowding Committeesays during the event launch in Bo: ''for the fact that World Vision constructed 168 classrooms and are being considered for the 225 classroom project implies that they have done well in the first phase of implementation. Please continue the good work.''
The additional 225 new classrooms, will mean that a total of 393 new classrooms would have been built by the three organizations for Sierra Leone's pupils in targeted locations by June 2017.
Speaking at the launch, Sally Taylor, the Head of UK Aid in Sierra Leone said: ''UK Aid is supporting the President's Recovery Priority not just in education, but also across the board. And we are really pleased that the ROISS Project has very strong focus on delivery and results. In the end, this is all about improving the lives of children of Sierra Leone.''
We would like to acknowledge the role that the partners have played in this. They did a very good job in the first phase that allowed 168 classrooms to be built,'' Sally further mentioned.
James Chifwelu, National Director, World Vision Sierra Leone is quoted as saying in his address during the launch event: ''We are very happy to be part of the President's recovery priorities. And education, for World Vision, is one of the main pillars of  our strategy, and we are within our priorities aligned to the Government's expectations.''
James further mentions the task ahead of World Vision in order to deliver with all sincerity and  quality of work that is appreciated by targeted communities, government and the donors.
''The biggest thing on our shoulder is the  huge responsibility to deliver. The donors have given, the government has created guidance and space for work, the communities are in need. And everybody else will be watching as this programme goes as expected. So we take it as a huge responsibility upon our shoulders, with all the partners involved—CRS and Street Child, to ensure that we deliver according to expectations. Thanks to DFID and the UK Government for providing the resources. That will go a long way to assist hundreds of children that are currently struggling, '' he mentions.
This project is set to achieve  three results— reduce overcrowding in targeted schools; ensure that pupils and teachers in targeted schools have increased access to improved WASH facilities and empower communities to support long-term sustainability of school infrastructures.
Token handover of site to the contractors climaxed the launch event.
James further reminded successful contractors for the building project of performance, accountability and integrity  as the project kicks off. James was saying this after the launch event in Bo. See photo below: