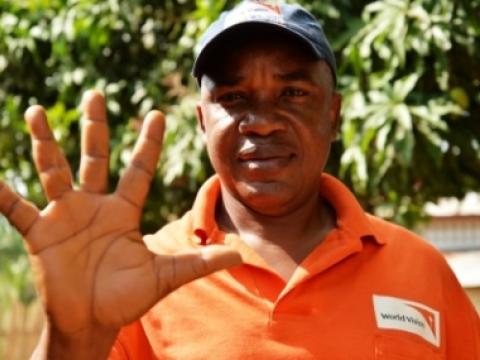 WV bolsters measures to protect staff from Ebola
Friday, January 16, 2015
The tragic death of the daughter of a World Vision staff member, after she caught the Ebola virus, has prompted World Vision to bolster measures to protect its staff from the disease.
Esther Lehman-Sow, West Africa regional leader – WVI, said staff sensitisation on the virus has been increased and WV Sierra Leone has reinforced Ebola prevention measures already in place.
This includes strengthening existing protocols to ensure the safety of all emergency responders before, during and after their deployment to the response.
Staff have also been provided with psychosocial counselling to cope with the tragic turn of events.
So far more than 10 international and regional staff members have successfully been deployed to respond to the Ebola emergency and have returned to their respective countries.
Ms Lehman-Sow thanked all Global Centre, support offices and regional staff members who have put themselves forward for deployments but appealed to the World Vision Partnership for even greater support.
"The staff of WV Sierra Leone is battered and bruised yet resilient in our cause of life in all its fullness for every child. I encourage you to join them in responding to this emergency that threatens to rid so many children of this vision," she said.
Rachel Nelson, 23, contracted Ebola and died after caring for a child whose mother had recently passed away because of the disease. Rachel was the daughter of Tamba Nelson, World Vision base manager at Pujehun.
Tamba and the rest of his family are now in voluntary quarantine in the town of Bo.