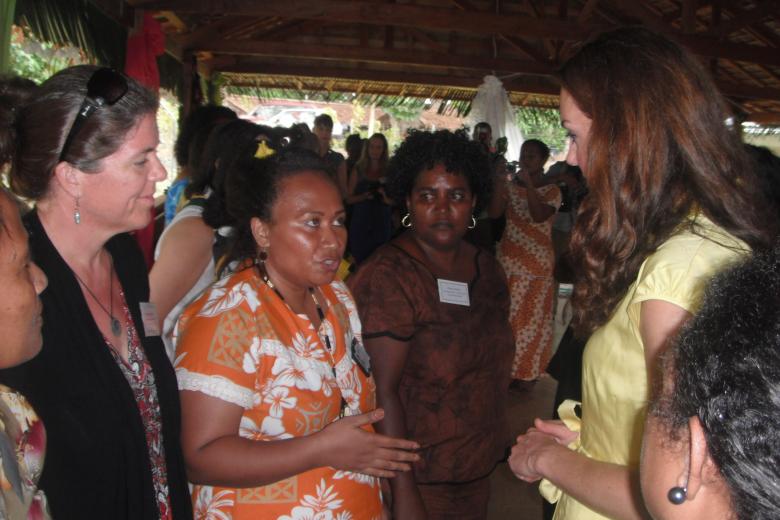 My morning tea with the Duchess of Cambridge
Wednesday, October 17, 2012
World Vision Solomon Island's gender issues co-ordinator Koisau Sade met with the Duchess of Cambridge this morning to discuss issues affecting the archipelago – including domestic violence. 
I was lucky enough to meet her Royal Highness at a special 'Ladies morning tea' attended by female church and business leaders, the wives of politicians and representatives from several NGOs. 
While I was incredibly nervous ahead of the meeting, I was also really keen to give her an insight into the issues affecting Solomon Islands and World Vision's work here. 
The Duchess was greeted at the leaf hut venue by children in traditional dress and although her schedule was tight (and she was already behind) she stopped to interact with them and say hello. 
Once inside, she spent a few minutes with women from each sector. She approached the NGO workers last and asked if we all knew each other. I think we were all a bit star-struck (she is even prettier in real life!) but I managed to get myself together and explain we often work alongside each other. 
I took the opportunity to introduce myself, telling her I was the gender issues co-ordinator for World Vision Solomon Islands. The Duchess then asked whether domestic abuse was a big problem here. I replied that roughly 64 per cent of women and girls in this country have experienced physical or sexual abuse (or both) at some stage in their lives. She was visibly stunned by that figure stating it was 'alarming indeed'. 
She seemed to want to know more so I told her about some of the work World Vision is doing to reduce gender-based violence including partnering with various churches. I explained the church is an incredibly influential authority in this country, with over 92 per cent of the population identifying themselves as Christian. 
The Duchess seemed to be genuinely interested in what each of us had to say. She asked questions and really listened to the answers. 
Before the conflict a few years ago, Solomon Islands was known as the 'happy isles' and in my opinion, the Royal Visit has helped a lot to restore the smiles to peoples' faces (including my own) once more. 
Koisau Sade