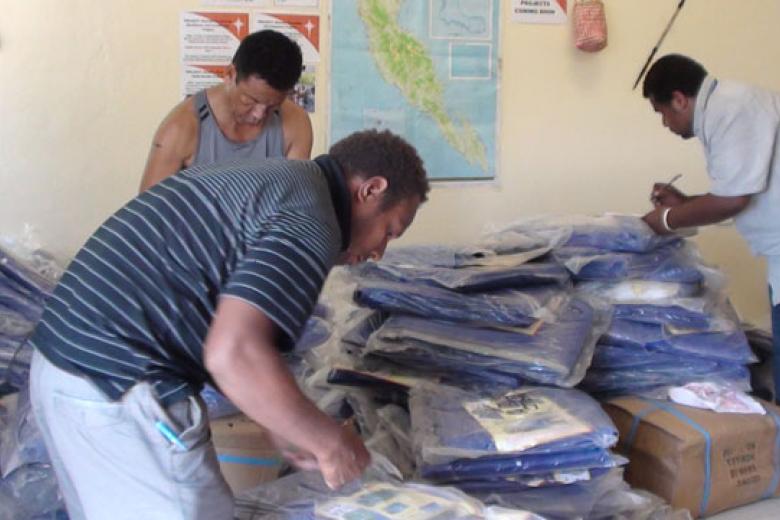 World Vision working with government, using patrol boats to get supplies to tsunami survivors
Thursday, February 7, 2013
HONIARA, Solomon Islands 7 February 2013 – Even as more damage is uncovered following the 8.0 earthquake and tsunami that affected villages near Lata yesterday, World Vision is responding in close cooperation with the National Disaster Management Office (NDMO) in Solomon Islands.
According to reports from the government's disaster response teams, Temotu provincial officials and World Vision staff on the ground in Lata, eight people have been confirmed dead, up to 700 families have homes that are damaged or destroyed and as many as 3,500 people could be affected by the earthquake and resulting tsunami.
There is currently no power or running water in Lata. Coastal wells have been covered by debris or contaminated, water tanks and toilets have been destroyed and the coastal areas are littered with dead fish and poultry. In their assessment of two coastal communities in the north-east of Lata, World Vision reported that homes had shifted 5–10 metres and 90 percent had been damaged. Schools and churches have been destroyed or badly damaged. In the area of Nela, a small village of 200 people, 95 percent of homes have been washed away.
For many families, their livelihoods also disappeared in the water, as gardens and fruit trees near the coast were destroyed while the sea is still not safe to allow fishing activities. Health services have also been disrupted by the tidal surge and patients have had to move to higher ground.
"Access to clean water and sanitation will be critical in the coming days," said Jeremiah Tabua, Emergency Response Coordinator for World Vision in the Solomon Islands. "The tsunami destroyed clean water sources, ruined food gardens and demolished houses. There are also some fears of another tsunami due to the ongoing aftershocks of the earthquakes."
More than 70 aftershocks have struck the islands. World Vision staff report some people spending the night in emergency shelters set up in local schools and churches.
Members of World Vision's rapid response team are ready to be deployed if needed to the affected areas to assist the team of 20 World Vision staff already on the ground in Temotu. Those staff have been based in the province as a part of World Vision's long-term development work in the area. They themselves had to evacuate to higher ground as the tsunami warning came in following the earthquake. Now they have been redirected to assist with initial emergency response activities and assessment of the damage in those same communities.
The Government of the Solomon Islands is preparing its response in coordination with groups including World Vision. World Vision has prepositioned items in Honiara that will be shipped Thursday evening at 6 p.m. local time to Lata via patrol boats.
"Debris and water on the runway left behind by the tsunami at the airport in Lata have prevented aid from reaching the people most in need. So we hope to reach some of the most remote communities by boat," said Andrew Catford, World Vision's Country Programme Director in the Solomon Islands. "The supplies we're bringing include tarpaulins, blankets, water containers, hygiene supplies, baby kits, emergency kits, kitchens sets and mosquito nets."
This will be used to provide immediate relief to up to 3,500 people affected. World Vision will also be providing boats and fuel to government assessment teams as they try to access the remote outer islands where the full impact of the tsunami and earthquake remains unclear.
"Food distribution is being handled by the National Disaster Management Office who is organising a shipment of two containers of rice today to assist affected communities. World Vision and partners are also concentrating on water and shelter needs and completing a more thorough assessment of the area, to ensure the full scope of the damage is made clear" said Catford. "It's a process that could take some time given the number of remote communities in low-lying atolls."
For more information, please contact:
Kristy Allen-Shirley
Communications Director, South Asia and Pacific Regional Office
World Vision International
+65 8222 8696
email: kristy_allen-shirley@wvi.org
skype: kristyduncan