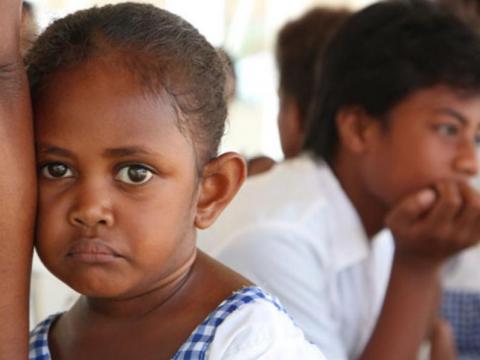 Little Leanne's thoughts and dream: Clean hands, clean books, healthy lives, bright future
Tuesday, November 27, 2018
Leanne, a four-year-old kindergarten student in Guadalcanal, with big dreams she wishes to achieve in the future. She also shared her knowledge on the importance of hand washing, demonstrating the steps it requires. When she grows up, she would like to work for the people with special needs or disabilities, just like her father, who works at a local community-based rehabilitation center, fixing wheelchairs for people with special needs. 
Her primary school is one of the 15 schools World Vision is working closely with in Guadalcanal, through the Solomon Islands Better Learning Environment (SIBLE) project. The SIBLE project works closely with schools to improve water and sanitation facilities and to accompany behavior change around hygiene practices, like daily group handwashing with students during critical times. This primary school also had the opportunity to participate in demonstrating handwashing on the 15th October 2018 to mark the Global Hand-Washing Day, held at an Art Gallery in Honiara. 
The SIBLE project is supported by UNICEF, in collaboration with the Solomon Island's Government (Ministry of Education, Human Resource Development), and is being implemented by World Vision in Guadalcanal.