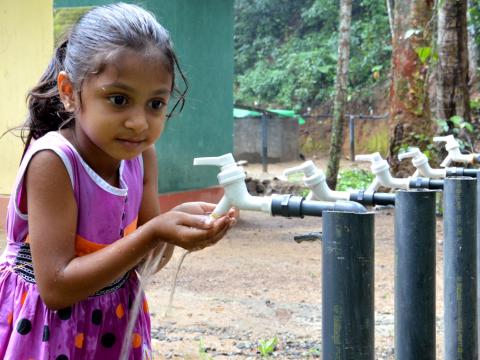 Draw a bucket of water…
Thursday, May 4, 2017
Many villagers in Mahawela, Rideegama drew water from wells of neighbours or from small streams. But these sources also dried up at times.
Mahawela is a quaint little village which is home to about five hundred families. Some of them are farmers whilst some have other jobs. Life goes on as usual, except when the village is hit by drought. Many of them draw water from wells of neighbours or from small streams. When these sources also dry up,  they go to the stream which is an offshoot of the Deduru Oya. There were times when that stream too ran dry.
"Sometimes we had to leave our children with friends or neighbours when we needed to collect water. If we take our children with us then we have to hire three-wheelers because it is hard for them to walk the distance… some days we spend over Rs.500 on three–wheelers."  says Anula (50).
"The school-going children and working adults were hard-hit. They had to rise up too early in order to fetch water, sometimes with their parents who had to go to work as well. The elders also suffered due to not being able to walk far to collect water or to wash clothes," says Abeysundara, President of the Nil Diya Water Consumers' Society. "Water was our biggest need and priority, and a lot of our time was spent drawing water from distant creeks."
The community tried several short-term solutions, but relief was a distant dream.  They made several requests to government authorities, charities and other entities, but to no avail. They decided to approach World Vision through their Death Donation Society (the traditional village CBO which assists villagers during bereavements over decades).
World Vision was able to support the community with a feasibility study, followed by the construction of a well with the generosity of community members who donated land, labour and pipes for individual houses.  
Priority was given to the most needy – families with small children, the persons with disability and women-headed households. This project received immense support from the National Water Supply and Drainage Board staff and the local government authorities who ensured its successful completion.
Abeysundara says he is very pleased with the project which is running smoothly. "We have trained our client householders to use water sparingly, and pay their dues according to their water meters." This Society has stringent rules about voluntary labour when the water system needs maintenance, and timely payment for water consumption. Each household has signed an Agreement with Nil Diya, consenting to its rules and regulations. 
"Now we are able to save at least 2 hours a day because of the easy access we have, to water," he beams.  
"Whether we liked it or not, we had to carry pots of water across the village, before this project was implemented," says Kusumawathy, a grandmother who is joined by Violet who declares, "now we can shower inside our homes!"
Stanley Fonseka, Treasurer of Nil Diya informs that the Society is planning to extend its services to another 10 families.  
Nil Diya is responsible for the maintenance of the scheme. Water can be used only for domestic purposes. Each house has a water meter and the payments are made to the Society. The Society monitors the water level in the tank on a daily basis. It meets every month to review the project.
A unique feature of this initiative is that they have installed five external water taps within the pump-house premises beside the village road. Several villagers and students benefit from this public service.