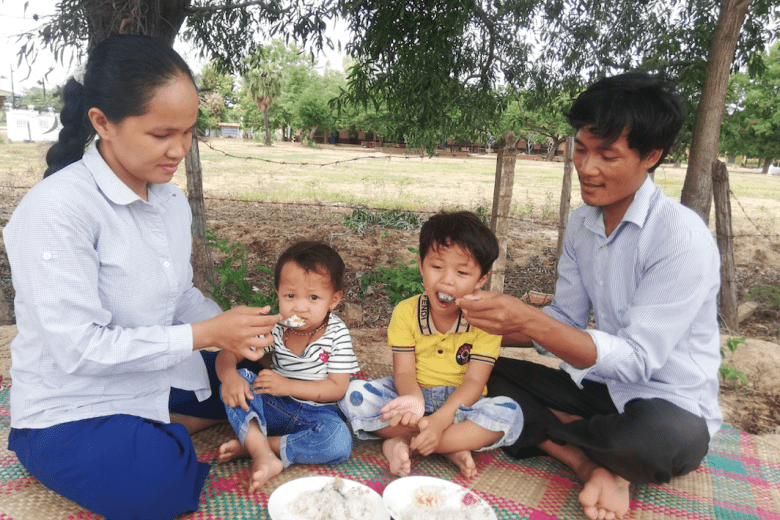 A working mother determined to breastfeed for the good health of her kids
Tuesday, August 17, 2021
Before COVID-19, Nov Channy was a normal working mother who had to go to work every day, except Sunday, and left her child under the care of her family members. In Cambodia, working mothers rarely breastfeed their children. They usually buy formula milk because they do not have enough time and believe the alternatives make it easier. However, Channy, a librarian and teacher at Pradak primary school in Siem Reap province, still chose to breastfeed her children despite being a working mother.
This 27-year-old mother breastfed both her children. She has always been committed to this practice ever since she got married and mapped out her family plan.
Channy had her first child in 2017, one year after she got married. After her 3-month maternity leave, she had to go back to work. Facing this problem, most working mothers would have decreased breastfeeding, choosing breastmilk alternatives instead. Channy did not cut down or quit breastfeeding because she had her own method that can allow her child to be fed with breastmilk even when she is at work.
"I pumped my breastmilk beforehand to keep it for my child," she says.
Channy now has two children. She breastfed her firstborn son until he was 1 year and 8 months. She only stopped because she bore her second child. For her second child, Channy keeps practicing breastfeeding from the time her daughter was born until now, and committed to breastfeed until she turns 2 at least.
Throughout the first week of August,, over 120 countries around the world celebrated World Breastfeeding Week 2021 under the theme "A Shared Responsibility." In Cambodia, the week is celebrated under the same theme along with the adding context "A Shared Responsibility: Let's invest in breastfeeding for a healthier, more sustainable Cambodia."
Channy's husband is also a teacher but he is residing in another province making it hard for him to take on the responsibility and watch over his child, so her mother took the role. Channy added that because of her mother's help, her child was taken care of and able to get enough nutrition growing up.
 "My mother feeds him with the breastmilk I pumped beforehand. I actually pumped more than enough to store," she says.
 Channy sometimes used to bring her children to work with her. She also had experiences breastfeeding her son at work. "I was also a bit embarrassed but I cannot shy away because my son is hungry and he needs breastmilk," she says.
In a joint press released in early August by the Scaling Up Nutrition Civil Society Alliance (SUN CSA) in Cambodia's members (Helen Keller, Alive & Thrive, and World Vision International (WVI-Cambodia) from 2000 to 2010, Cambodia's exclusive breastfeeding rate – the proportion of babies fed only with breastmilk from birth to six months of age – increased dramatically from 11% to 74%. But from 2014, the exclusive breastfeeding rate had fallen and the use of formula milk was on the rise, endangering child health and survival and costing families and the economy as revealed by a joint country update between Hellen Keller International and Assessment & Research on Child Feeding (ARCH) titled "Strengthening Monitoring and Enforcement of the Code in Cambodia" on May 2017.
According to SUN CSA, by improving breastfeeding rates, more than 1,000 deaths and 5 million cases of diarrhea among children under two could be prevented in Cambodia each year. Scaling up breastfeeding would also save Cambodia's health system USD 5 million per year and save over USD 107 million per year for Cambodian families which is spent on purchasing formula milk for non-breastfed babies.
Channy said her family members including her mom always encourage her to breastfeed. She also added that breastfeeding her child also helps her to save money instead of spending on formula milk.
"My mom told me using formula milk you'd spend a lot. One of my relatives used formula milk since the childs's birth and I see his family spending lots of money," she says.
Channy, speaking about her knowledge on breastfeeding, she gained it from her mother and through the village health support group (VHSG) volunteer (Community Health Worker). The VHSG volunteer has been trained by the health center staff in cooperation with World Vision International - Cambodia in Puok district who is capable of promoting breastfeeding in their community. Puok is one of 36 area programs (APs) of World Vision International Cambodia, which started its operation in 2011.
Channy mentioned that through the programme activities she learnt about the importance of breastfeeding, healthy practices, nutrition, hygiene, and sanitation. Channy says that she managed to get a lot of information from the training as she was one of the top winners in the quizzes conducted by the programme. Channy says that both her son and daughter are very healthy and she believes they are healthy because they received exclusive and continued breastfeeding.  
Ms. Khy Nearyroth, Senior Nutrition Technical Specialist in World Vision International Cambodia, says that breastfeeding has important nutrients which are needed for the growth and development of infants for the first six months of life. In addition, breastfeeding can protect children from infections, give natural immunity to the child and gives long term protection for several diseases.  
According to Nearyroth, support from family members, health facilities, workplaces, policies enforced by government, ethical marketing of infant formula, and commitment of mothers to initiate and continue breastfeeding are each important to increase the percentage of breast fed children in Cambodia.
For Channy, once she delivers the third child, she will still continue to breastfeed, for she believes breast milk is important for the children to grow healthy. Channy has always encouraged her peers to breastfeed for its benefits that she has herself realized. Channy says some people listen and learn from her but some did not and just say that they are busy. She says they do not even want to buy breast milk pumps to pump and store the breastmilk to be fed to their children.  
Channy is a determined mother who never thought of compromising, she took the choice of pumping breastmilk for her child to be fed in her absence during the day. She recommends other working mothers, to breastfeed their children as much as possible to promise a healthy future for them, she also added "Do not rely on breastmilk substitutes, because they are expensive to afford and of course your children may not get all the nutrients which are important for growth and development when compared with your breastmilk".
In World Vision International Cambodia's Annual Report 2020 , the Integrated Nutrition programme, which works to increase the number of healthy and well-nourished children, benefited over 112,000 pregnant women who were counselled to receive appropriate health services in order to have good birth outcomes.