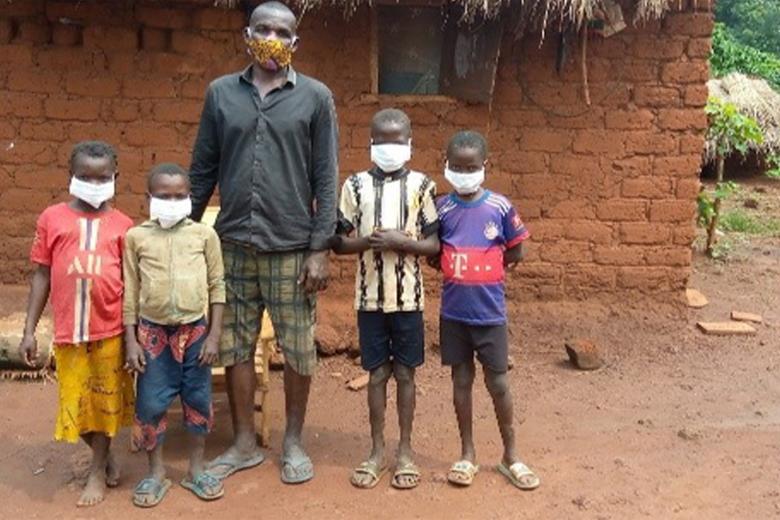 Cash brings hope and creates better conditions for vulnerable families
Wednesday, September 15, 2021
Kitingou village, located in Pladama-Ouaka commune at 43km of Bambari, was part of the area most affected by the unrelenting security crisis in the sub-prefecture of Bambari. Agricultural activities had stopped and most people in the village were unable to have quality seeds despite that they had available and cultivable area. This resulted in a significant reduction of adequate food available in vulnerable households.
Leonard, 48, the head of one household, is one out of 86 project participants living in Kitingou village.  He lost his wife during the military-political conflict of 2014, and currently takes care of five children on his own. The oldest child is in Secondary Four, and others live with him attending local schools when security allows. Leonard has received five consecutive cash grants, along with additional funds to buy seeds.
"I had lost hope and my dignity, and I used everything I had to take care of my five children after my wife died. I remember my children going to bed hungry because there was nothing to eat at home. I thought I would die with my children in the second security crisis in 2020. But thanks to World Vision's intervention with cash and agricultural inputs, I was able to rebuild myself and overcome my worries about having enough money to buy food and restart my farming activities", he says.
Leonard restarted his farming activities and took care of his family with the seed money while awaiting the harvest.  He has cultivated a total area of one hectare on which he has used 0.75 hectares to grow maize with groundnuts in the development phase and the remaining 0.25 hectares of paddy in the growth phase. "I hope that the money I will earn after the sale will enable me to support my [older] son in his studies and to take care of his younger brothers and sisters who are in primary schools in our village", Leonard says. He wants to set aside a large quantity of seed to enable him to increase the size of his land for the next farming season.
Leonard concludes by saying: "I know that my two little girls would have suffered a lot from malnutrition if they had not been fed during the security crisis - it has been a long time since I have had adequate food and I did not know how to deal with this situation. Two of my sister's children already died last year. I could not bear to lose mine. Now my neighbours have all planted crops and we are expecting a good harvest and we know that this will help us even after the project ends."
This support to Leonard, his children and 4,159 other families is made possible through the United States Agency for International Development (USAID)-funded Emergency Food Security Programme implemented by World Vision in the Central African Republic.
---
This success story is made possible by the generous support of the American people through the USAID. The contents are the responsibility of World Vision and do not necessarily reflect the views of USAID or the United States Government.