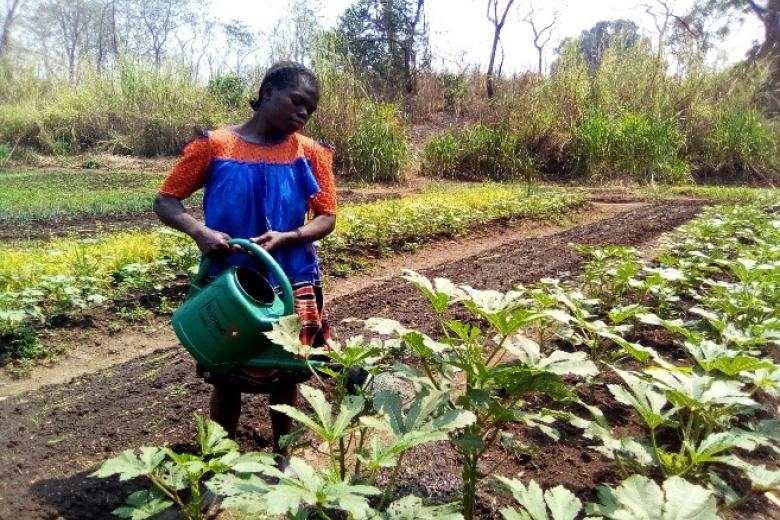 Vegetables bring life, create better conditions for internally displaced people
Tuesday, June 15, 2021
Léonie Pamo, 28, is a mother of six children who fled insecurity in Ippy in 2019 to come and settle in Madomale village, within the Pladama commune in the Sub-Prefecture of Bambari. When she arrived in the area, her efforts to work for others were never enough to feed and care for her children, and she had to rely on humanitarian assistance, which unfortunately was not available until World Vision's Emergency Food Security Project in Bambari started its operations.
"When I arrived in this area, it was not easy to get land for cultivation. Seeds and vegetables are scarce and expensive in the local market. I had difficulties feeding my children, and I had to engage in casual labour to survive", she narrates.   
Madomale village is one of the poorest villages in the Central African Republic, where almost the entire population relies on humanitarian assistance and small economic activities. Léonie's children, like others in Madomale, are at risk of malnutrition. It became worse after the presidential election in December 2020 where fights began between government troops and rebels. 
"Several households in our village have the same problem as me. We do not have access to food because the population lost their reserves and agricultural granaries during the recent crisis of December 2020", narrates Léonie.
In September 2020, the mother of six was selected to receive assistance from the emergency food security project. After attending farmer field school training sessions organised by the project, she applied the techniques she had learned and saw immediate results within two months after planting 40 grammes of each of the following vegetable species: Amaranth, Spinach, Onion, Tomato and Carrot.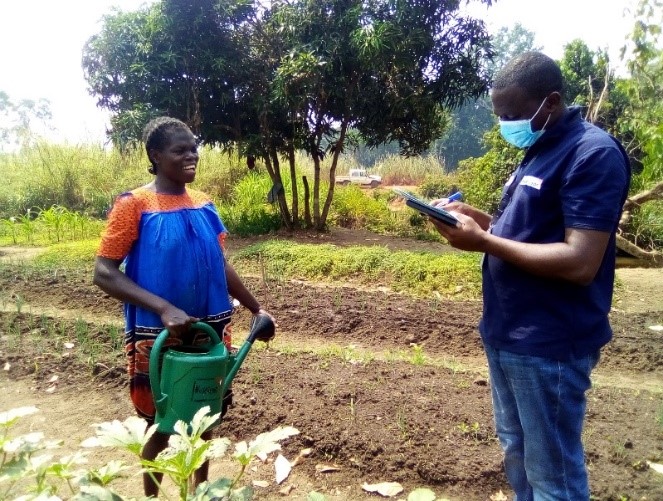 The seeds started producing their first vegetables in February 2021, and she harvested over 50kg of different vegetables in February and March 2021, which she took to her village market since she and her children cannot consume them all. In addition, vegetables in gardens like Léonie's continue to grow well and produce more. She expects that the harvest will reach around 150kg when all vegetables are fully-grown.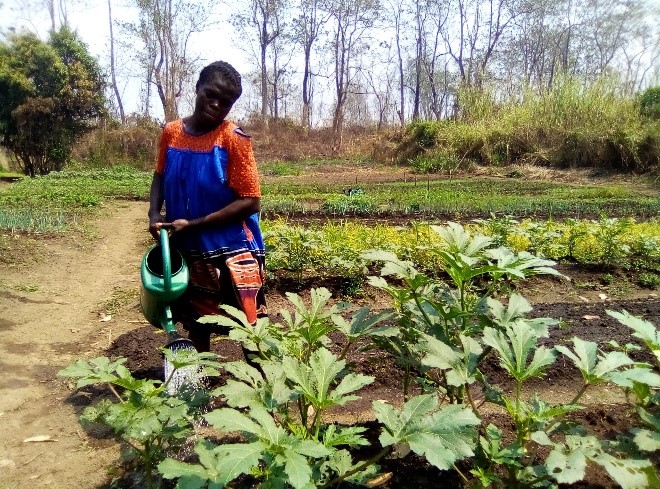 "I would like to say thanks to the project because despite being a displaced person in this current security crisis, I now have something to harvest during the last two months and it continues. This contributes significantly to improving the living conditions of my children", says Léonie.
Her family is among the 550 households that have received vegetable seeds, agriculture toolkits and technical training, as part of the project's objective of providing enough healthy food for households and creating surplus for sale. The immediate benefits are a source of income, livelihoods protection and food security for the direct participants, as well as food security for the wider community.
---
This success story is made possible by the generous support of the American people through the United States Agency for International Development (USAID). The contents are the responsibility of World Vision and do not necessarily reflect the views of USAID or the United States Government.