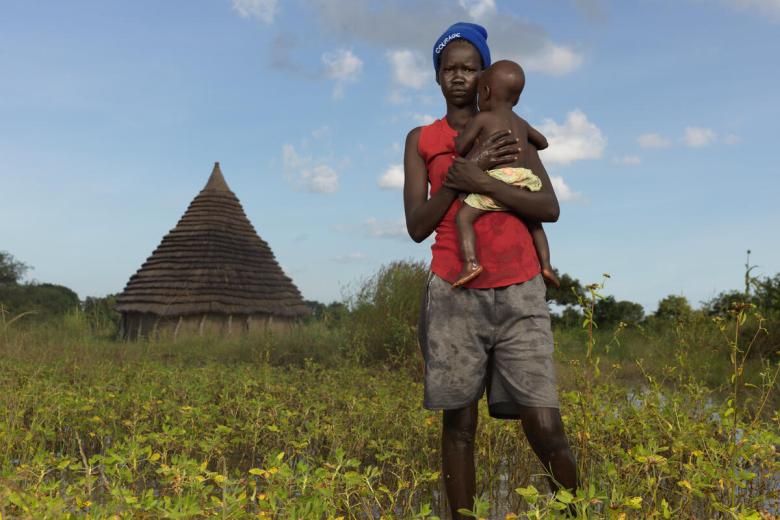 17-YEAR-OLD Achol's Story
Thursday, April 13, 2023
"My child was sick and when he was admitted he started improving until he was discharged," says Achol whose son, Kuech, recovered from severe acute malnutrition treated at a health center supported by World Vision.
"But due to the flood, we were drinking that same flood water. So the child got diarrhea and he fell ill again with malnutrition…I'm very sure that it was the water that caused his sickness because we drink that water directly."
The floods of South Sudan have wreaked havoc across the country causing displacement and disease. At only seventeen, Achol is now in charge of taking care of her elderly mother and her two-year-old son. But the floods have only worsened her quality of life.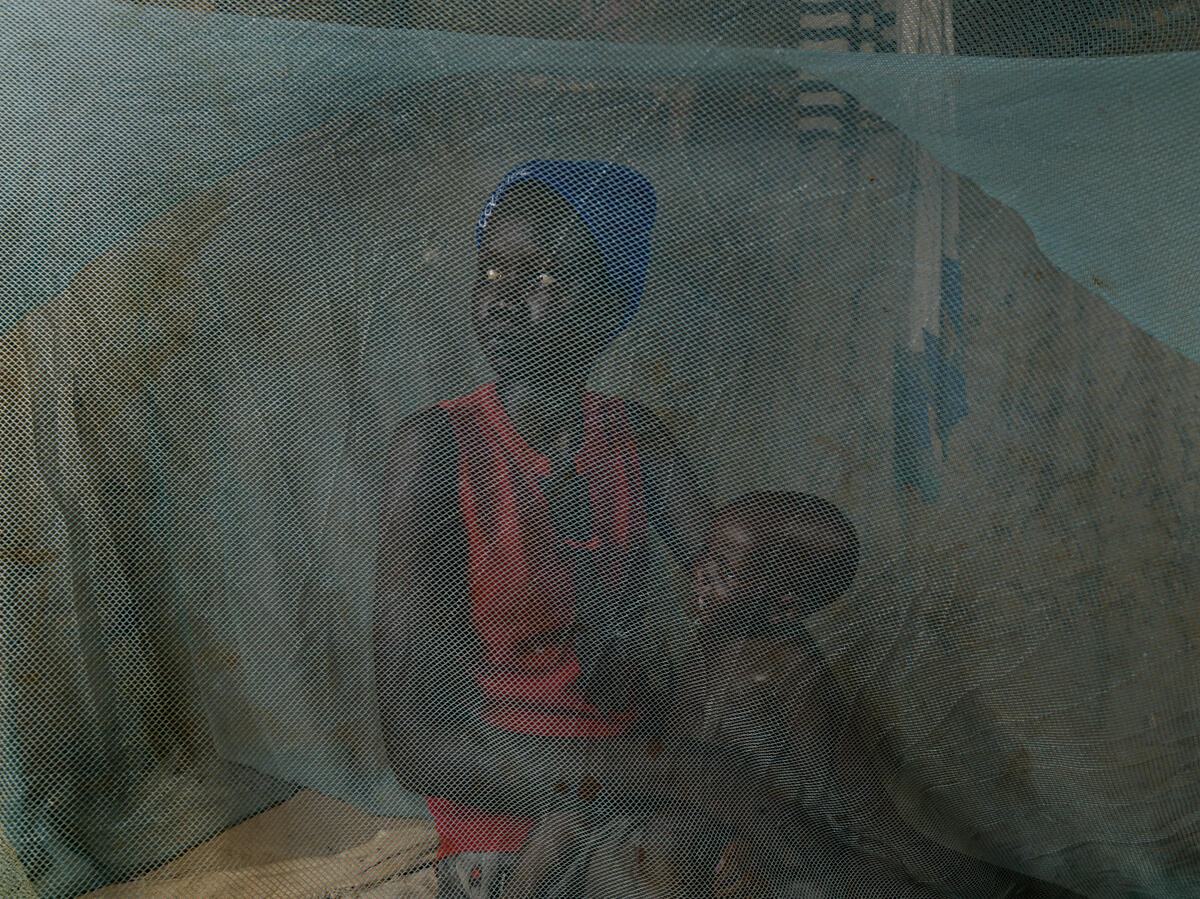 "It was terrible. We were thinking that this was normal rain, but when it was a flood and it was even getting inside the house. I was afraid…My child was really afraid and he was crying when he saw the water coming…In my life I have never experienced a flood like this…So, I decided to leave the area, and when my child got ill I started to get worried about how to heal my child."
Kuech recovered in a matter of days. Yet, just as fast he relapsed and was readmitted to World Vision's supported health center.
"If they didn't give my child the supplements the situation would've been very bad," explains young Achol looking overwhelmed. "My child would've died. I didn't have money and I couldn't have helped him…But for us we didn't have anything to eat, yet we were happy that the child was ok and we kept strong until our harvest was ready recently."
Fully recovered, Kuech and Achol tried to adjust to their new life in a temporary shelter after they fled their home. But many people had also been displaced and the living conditions weren't easy.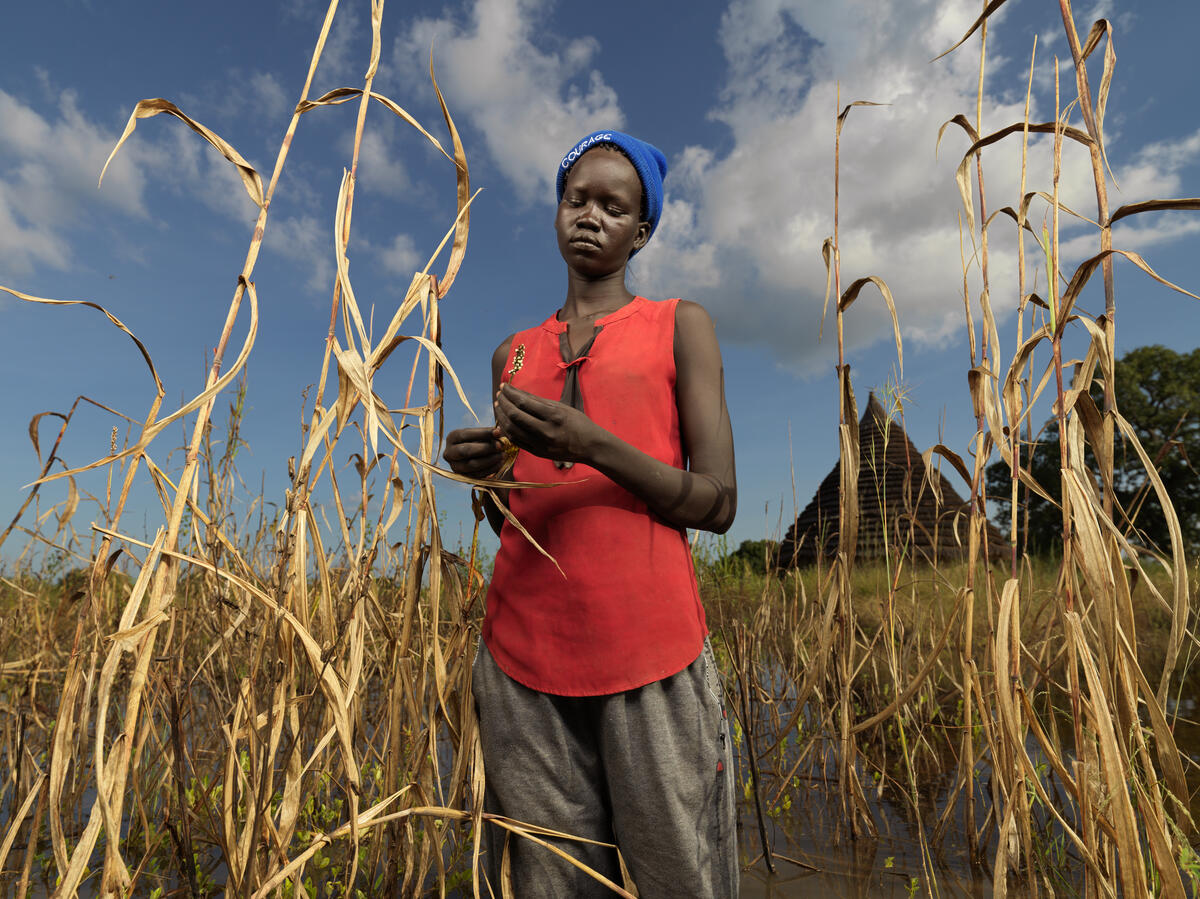 "Meanwhile we slept in a shelter in a relative's house…I wanted to return home when the water decreased a little…I missed my home. This was not our house and we weren't alone in the shelter, the room was congested," recalls Achol.
When the water decreased a little Achol decided that the family should move back home. Here, Achol has been dealing with many responsibilities as the unofficial head of the house.
"I can't manage to take care of the family and also go to school, that's why I decided to drop out…My mother can't cook because she's getting old…This stresses me because I'm responsible if the child or my mother gets sick, but I just persevere."
Natural disasters can further complicate the living situation of a child, let alone of a teenage, single mother like Achol. Despite having the support of World Vision to take care of her son's health, Achol's life is full of the responsibility belonging to an adult.
"The way I was living before I felt comfortable, but when it changed abruptly it was so bad for me and it gave me a lot of stress," concludes Achol. "I hope that one day the situation will go back to normal and my life will change again for the better."