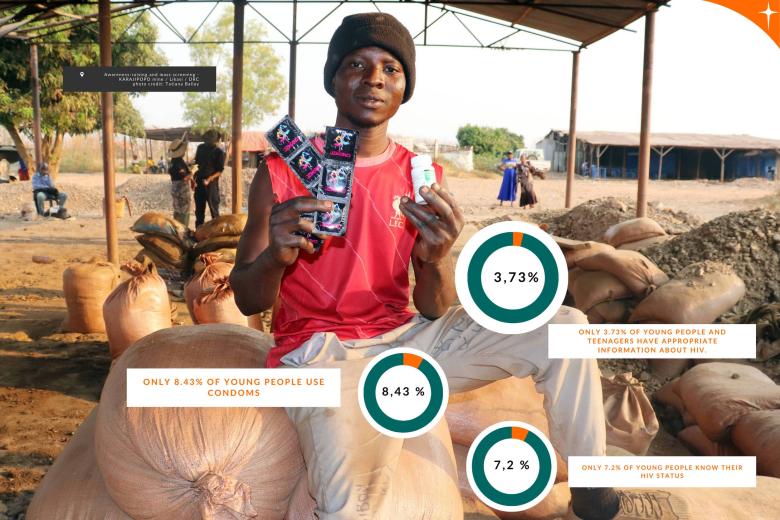 Combating HIV/AIDS Among Young People and Adolescents: A Promising Initiative in Likasi
Wednesday, November 8, 2023
By Tatiana Ballay - World Vision DRC Communications Officer
Likasi covers an area of 245 km² on the Haut-Katanga plateau, close to the Mitumba and Kundelungu mountains. Its current population is estimated at 626,897. The city is made up of four communes: Panda, Shituru, Kikula and Likusa.
Since April 2021, World Vision DRC has been implementing the Adolescent & Youth HIV/AIDS project in the Kikula health zone to reduce the rate of HIV/AIDS transmission among young people aged between 10 and 24.
In the DRC, the HIV/AIDS situation among adolescents and young people remains worrying at national, provincial and even zonal level. Observations at national level show that the incidence of the disease among adolescents aged 10-24 is 3.6%, and this age group is the most affected. However, the research shows a 4.3% prevalence of the disease in this age group in the Kikula health zone, compared with 0.03% in Haut-Katanga province.
In the 5 health areas of the Kikula health zone, only 3.73% of young people and adolescents have appropriate information about HIV. Only 7.2% know their HIV status, and out of the 35.7% of young people who are sexually active with an occasional partner or other partners, only 8.43% use condoms.
The Adolescent & Youth HIV/AIDS project is one of World Vision's strategic child welbeing objectives. World Vision aims to increase the number of children (aged 0-5) protected against infection and disease. It is also part of the DRC's national strategic plan for economic and social development (PNSD).
"In its first year, the project distributed 13,640 male condoms free of charge to 7,135 people, including 878 girls, 5,928 boys and 329 adults (313 men and 16 women).'' , Says Dr Alain K Muyenga, Adolescent & Youth HIV/AIDS Project Coordinator.
In April 2023, the second phase of the project began in five health areas (Petwe, Kampemba, Nkolomoni, Kaponona and Kanona).  For these communities, which are highly exposed to the risks of HIV transmission and insufficiently covered by existing conventional prevention services, the field of HIV prevention has been turned upside down in the five health areas with the arrival of mobile community screening sites.
"The collection of data on screening activity, and activity in general, has been made possible thanks to the strong commitment of the 24 health care providers trained and deployed in the field under the supervision of the Kikula health zone and the project coordinator", says Dr Alain K Muyenga, Adolescent & Youth HIV/AIDS Project Coordinator.
Since the first year of implementation of the Adolescent & Youth HIV/AIDS project, campaigns to change behaviour and attitudes have been carried out in the five health areas, in particular using the Canal d'Espoir (CoH) approach, a World Vision methodology that motivates and builds the capacity of religious communities to combat community issues such as societal taboos linked to HIV, as well as stigma and discrimination, in order to raise awareness and implement the rights and duties that protect people living with HIV.
"To reduce stigma, we remind them to act with compassion towards people living with HIV/AIDS, as the Good Samaritan did in Luke 10:25-37, and not to turn their backs on the sick. We also remind them to put themselves in the shoes of these people and imagine how they would feel if they were rejected", explains Delphin Ngoie of the Church of the Mount of Olives. 
Parents as allies in the fight against HIV/AIDS
Communication between parents and children on HIV issues is often hampered by the existence of beliefs and taboos. However, the creation of an inter-generational dialogue within the family is beneficial in contexts often marked by school drop-out rates and the absence of local health services. Parents and guardians are decisive relays in raising awareness among young people.   
The Adolescent & Youth HIV/AIDS project includes a section on involving parents/guardians in sexuality issues. Many parents and guardians did not realise that their child, now an adolescent, could already have an emotional and sexual life. Through interviews and educational talks on the importance of communication within the family, the Adolescent & Youth HIV/AIDS project aims to make parents and guardians key players in the education of safe sex and to establish positive parent-child communication. 
"These training sessions, spread over seven sessions, give parents a better understanding of how teenagers go through the puberty phase, the pressures they face that can divert them from their goal and push them to adopt behaviours that put them at greater risk of early pregnancy and of contracting STIs and HIV/AIDS.  Their parents become solid supports to accompany them in this new stage of their lives so that they succumb less and less to the danger of sexual intercourse at this age", says Ms Adolphine, facilitator in the 'Les Familles d'Abord' exchange group. 
World Vision DRC, supported by World Vision Korea, is implementing the Adolescent & Youth HIV/AIDS project in Haut-Katanga, an original project that responds to the specific needs of remote areas, in terms of HIV testing and, more broadly, with the support of mobile public health teams, responding appropriately to the major needs for the development of public health and health promotion projects in the interior of the Democratic Republic of Congo.
In an interview with Dr Mpoyo, head doctor of the Kikula health zone, he expressed his support for the project in the following terms :'' We believe that this is a project that has been launched, and that a project cannot be evaluated in the space of one or two years. As a government, we will continue this cause, because it has awakened our conscience. Even after the project is over, we will continue.''
The project helped to reduce the impact of HIV on the most vulnerable families and their children by granting micro-credits to communities in the Kikula health zone and developing income-generating activities.
Note: 1,879 out of 2,398 tests were carried out on adolescents and men, and just under 519 out of 2,398 on adolescents and women.
Other sources:
DSCRP 2011-2015
SPECTRUM 2022, PNMLS Haut-Katanga
Enquête Baseline réalisée  en mai 2022