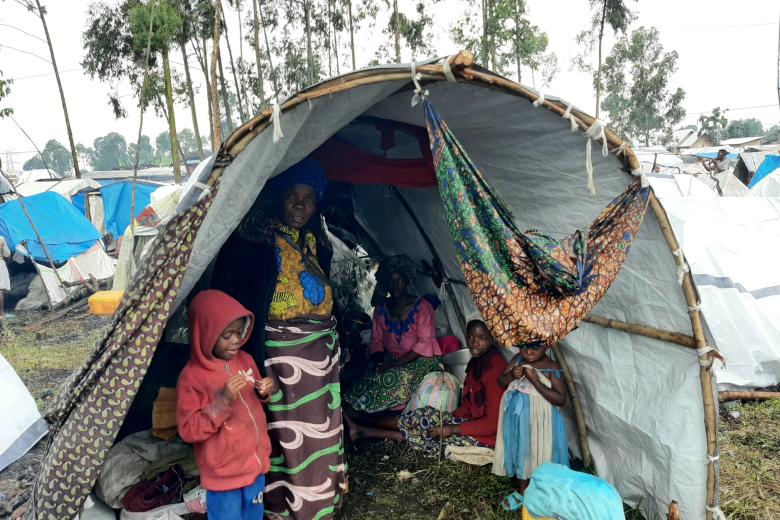 Displaced, hungry, thirsty, homeless, and worried as conflict rages in East Democratic Republic of Congo
Monday, November 7, 2022
By Geoffrey Kalebbo Denye, Emergency Communications Specialist
"The shooting started at around midnight, and the sound of gunshots was getting louder and closer. Outside was scary-dark, but I knew that waiting was more dangerous. The shooting did not stop, so I woke up the children, and I told them it is time to run," Bahati Fifi Nguruzira (33) recalls. Although pregnant and expecting her sixth child, she braved the 35-kilometre-long trek from Rugari to Kanyarucinya in Nyiragongo Territory.
Bahati Fifi is one of over 16,000 people currently displaced and cramped at and around Kanyarucinya Primary School following the recent fighting between the Armed Forces of the Democratic Republic of Congo and the M23. DRC is home to Africa's highest number of internally displaced persons at 5.5m people, and Fifi, like others, recently uprooted from their homes, adds to that number.
The twigs and leaves from where Bahati Fifi narrates her ordeal serve as her mattress. "While I was grateful to reach a place without the sound of guns, I was worn out. Besides, there was no more space for us in the classrooms by the time we arrived after a day of walking. We found a corner and lay on the floor to sleep. It was chilly, but we had nothing to do. 
In this place, eating is a problem, sleeping is a problem, and bathing is a problem. We are suffering. On Monday, I was starving, so I walked out of the camp looking for kind people to help me with some food. I went begging. I do not know where to find today's meal, Bahati quipped on Tuesday. I am worried for my unborn baby and my children. Please do not leave us to die of hunger. Help us, she pleads. 
When I want to take a bath, there are people everywhere. Even when I wait for the cover of the night, there are still people all over. We do not have safe and private places to bathe. Going to the toilet is another story altogether. You have to be ready to wait in line for a long time. 
"Women have one room to bathe, and the queue is permanently long. Even the 18 latrine stances are too few for 16,000 people. It would mean almost 900 people per toilet, and we are still receiving new arrivals," says Gato Mwenza Julien –one of the camp leaders.
It begins to rain as Bahati narrates the plight of the displaced, and the perforated tinned shade freely lets the water through. I may have to find another place to sleep tonight. Others in the yard scuttle to find some cover.
For Bahati, this is the second time fleeing conflict this year. "The first time was months back when I had to leave my ready-to-harvest garden of beans. I found my beans stolen when I returned home. The same is likely to happen this time as well. There will be no food even when we get back home."
Amina, living in the same camp, has been in and out of school due to sporadic bouts of conflict. "I miss school. I miss my friends. There are very many people here and it does not feel too safe. Sometimes, babies who walk far from home get lost for they cannot find their way back home," the 15-year-old says. 
"We don't have food to eat. When kind helpers bring us food, people fight to get it because it looks too little for our numbers. Sometimes, children who are very hungry pick food from other places without permission and when they are caught they are beaten badly," she adds.  
Also, "the toilets are too few, and everyone looks at us lining up to use them. I feel shy, so sometimes I wait to go at night. However, it is scary since the toilets are far from our sleeping space. I hope the war can end quickly so that we can go back home."  
"The humanitarian need is huge, yet the funds to respond are almost zero. We are speaking to our partners and donors to see how to step up our work among the recently displaced and highly vulnerable children," says World Vision's Director for East Zone Programmes, David Munkley.