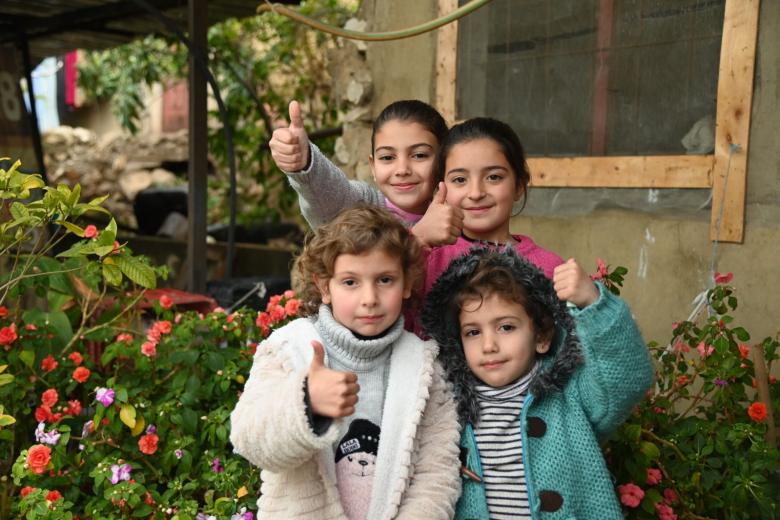 Little girls need good food to grow properly
Monday, April 26, 2021
A "crisis within a crisis" is the best way to describe Lebanon's situation right now. Worldwide, everyone is suffering from the social consequences of COVID-19 and the impact this pandemic has on the economy. But what about a country already suffering from social and economic unrest for the past decade and more?
In partnership with the World Food Programme (WFP), World Vision Lebanon (WVL) assists vulnerable families by providing in-kind food packages. From November 2020 till May 2021, WVL aims to reach 44,280 vulnerable Lebanese individuals (8856 households) affected by the economic and COVID19 crises in Lebanon and residing in Akkar, north of Lebanon.
"Little girls need good food to grow properly," says Waad, 37, mother of four young girls: Safa, Rayan, Tala and Assinat (ages between 10 to five). Waad and her husband Mohammad, 46, struggle daily to prepare meals for their daughters and create a nutritional diet from very basic ingredients.
Living in a modest two rooms house in a village in Akkar where vulnerability is a familiar scene, the family of eight welcomes any help they can get. "I am unemployed for a while now, with my parents and children at home, I had no idea how I was going to provide food for everyone," Mhammad says. With the situation in Lebanon getting harder, the family strives to keep food on the table, "the girls are out of school as well because we cannot afford to buy data bundles to access remote learning," says the father.
When World Vision reached out to the family with the distribution date, a sense of relief erupted among the family members. "We are relying on any help we can get, and these food parcels are easing a big load of concern," says Waad. The little girls are very thoughtful and considerate of the situation their parents are facing, "they never ask for anything, and we are very grateful for their understanding," says Mhammad.
After receiving the food parcels, Waad was able to cook proper meals for her family and not worry if there will be enough for everyone, "the boxes contain all the necessary ingredients, and the girls are happy with their food," says Waad.
Families like Waad's, living below the poverty line, rely primarily on humanitarian organizations to help them provide food for their children, especially with Lebanon's crisis. Without these in-kind distributions, the parents would have undergone tremendous hardships to feed their children.