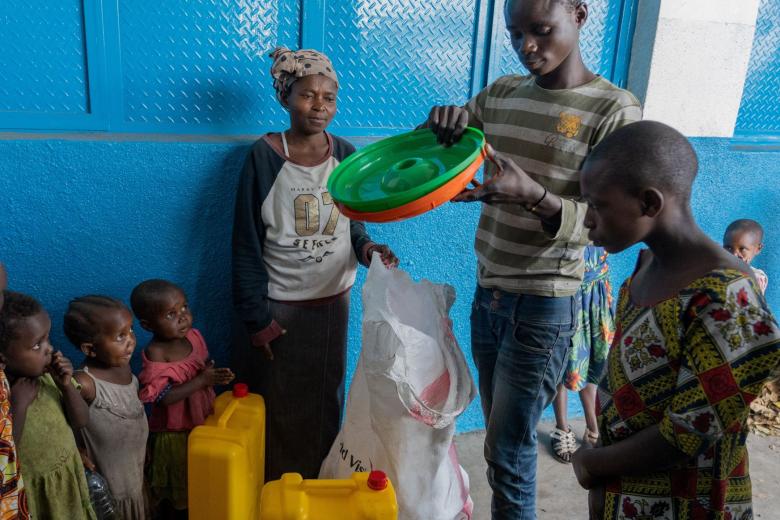 A cycle of conflict that robs children of their childhood in the D. R. Congo
Thursday, December 1, 2022
By Geoffrey Denye, Communications Specialist, World Vision D.R. Congo
World Vision is protecting recently displaced children and families in the Democratic Republic of Congo from waterborne diseases by providing materials to collect, purify and store clean water.
The people camped at Muja, in Nyiragongo territory, left their homes because of the fighting between the government forces and the M23, which has left 340,000 people homeless.
"Today, World Vision has given us water containers, buckets, soap, and water purifiers to put in water because we rely on rainwater, which is unclean and may cause us diseases. Please do not get tired of helping us," says Germaine Mashemano.
Germaine is one of nearly 5,000 people to receive items that will help them collect and store water in ways that keep children and families safe from waterborne diseases. She quickly adds a request to her gratitude: "Please help us with food also. We are famished to a point that I let my 3-year-old daughter Kito drink the oral rehydration salts intended for her sick baby sister [who is] 8 months old."
"I have been here for a month now, yet I still vividly remember the night I run from Kiwanja with my children at night. It was risky to follow the road, so for four days I roamed through the forest with my children who can barely walk. We lost the way several times. Thankfully, we eventually got here in Muja," she narrates about a nearly seven-kilometer trek.
Life in the camp is difficult. When Germaine goes to look for food, she leaves her 12-year-old daughter Ushindi to look after her little siblings. Ushindi, whose name means Victory, sorrowfully looks on as her mother tells the family ordeal.
We want to do more
"Being left in to look after two sets of twins and an 8-month-old in a crowded camp far from home is not a task any parent would wish for their 12-year old girl," says World Vision's National Director to the Democratic Republic of Congo, Aline Napon.
"We want to do more, and thankfully, with support from our partners WFP, we hope to distribute food to homeless families living in Kanyaruchinya," Aline adds.
World Vision is among the humanitarian agencies contributing to food, nutrition, and clean water needs in a crisis for which funding is just trickling in. Last week, the combined humanitarian response was short by 58% of the funds required to address the surging needs. This is a country where 27 million people (15 million being children) were already in need of humanitarian assistance before the renewed clashes.
The nearly tripled prices for critical food items like beans, maize flour, fish, and cooking oil are not making it any easier for the displaced, already part of 64% of the population that live on less than $2.15 a day.
Praying for food and peace
In 2019, Germaine fled conflict in her home village in Uvira to live with her elder sister in Kiwanja. She tells of a garden of beans and maize that she left behind. She laments: "Now here I am begging for food." 
Various peace initiatives are ongoing, and military forces from Kenya, Uganda, and Burundi are deploying as the life-threatening fighting continues to send people running, hungry and desperate.
Germaine tells of her hungry friend who just gave birth to a baby girl on the same day World Vision brought them much needed WASH kits. "I escorted her to the hospital and back after delivery." 
Germaine, her friend, and their children are part of over 5 million displaced people in the country.
They are praying for two things: Food and peace.