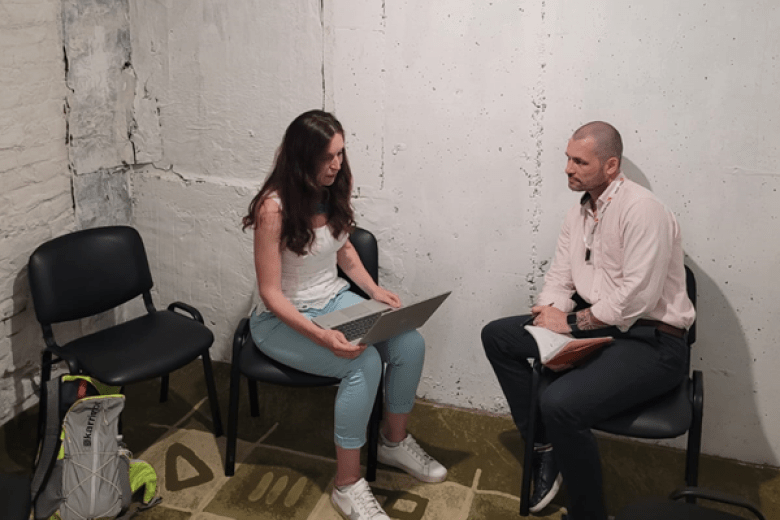 Humanitarian workers in Ukraine are tired and tireless
Thursday, August 18, 2022
On a visit to Ukraine, security expert Frances Andrews reflects on the tension of living and working in a war-torn country. #WorldHumanitarianDay
I can't nap. I seem to be the only person in my friendship groups who lacks this trait. I'm always particularly envious of those who can grab 40 winks in the back of a car or crammed into a plane seat. After a 10-day visit to World Vision's Ukraine Crisis Response, I realised that it was a habit I would have to acquire if I were to ever become a permanent member of the team.
That's because of the air raid alarms.
These alarms will rouse you from your bed in the middle of the night (only once, if you're lucky), force you to move your meetings to a bunker, or cut your dinner short while you head to the nearest underground metro station with the remnants of your meal in a bag. The impact of a missile strike is devastating. So, regardless of the inconvenience, all our staff would head to safety a few times a day until we received the "all clear" message.
Being in this kind of context means you always have to be alert. If you've ever done hostile environment training, been in the middle of a conflict zone or fragile place, or are any kind of self-respecting security advisor, you have a Quick Run Bag for events such as this. This is what you grab when you can't see anything, don't know what time of day or night it is, but you know you have to go. With a passport, water, medication and first aid kit, cash, credit cards, non-perishable food, spare clothes (and I added a book for vital distraction), the goal is to be prepared.
What I was less prepared for were the sharp contradictions that the conflict had wrought on the country, and among my colleagues. As I moved through Chernivtsi, Kyiv and Lviv, and the thousands of kilometres of countryside in between, I was struck by the country's beautiful and historic locations. From the small winding streets with charming cafes, to the wide avenues lined with elaborate architecture and spectacular city squares with monuments and churches, each city exuded a sense of rich cultural and historical significance.
This urban feast-for-the-eyes was complemented by the stunning scenery we saw on our drives between locations. Hundreds of kilometres of beautiful countryside sailed by on each of our long journeys across this vast country. I must have seen hundreds of thousands of sunflowers brightening the landscape and contrasting against the azure sky.
It was jarring to remember that this charming and captivating Ukraine is a country at war. Life in Western Ukraine goes on, albeit with an undeniable underlying unease. In Lviv happily shrieking children were leaping in and out of dancing fountains in the main square. In contrast, Eastern Ukraine is experiencing some of the worst fighting in Europe since World War Two. Thousands of Ukrainians have been killed, and even more have had their homes and livelihoods destroyed. When I arrived in Kyiv, the fact that many of the women and children had fled gave the place an uncanny feel. 
When I visited the World Vision offices, met with different teams and partners, I had a small taste of what it is like to live and work in these places. The two sides of Ukraine are written on the faces of World Vision staff and our partners. Everyone I met was passionately committed to helping those most in need in Ukraine. From new hires to old hands, every single person talked about wanting to do something; to be helpful, to be of service, and to give comfort and relief.
But I also talked to them about whether their bunkers were safe enough, whether we thought there was a risk of chemical weapons being used, and whether we thought that the missiles would really strike our offices. We talked about displaced people who had fled their homes, families that had been separated, and someone's life's work being lost overnight. We walked around Kyiv and came face-to-face with military and checkpoints - these are all part and parcel of living and working in our Ukraine Crisis Response.
To work under these physical and emotional conditions in the short-term is challenging; to work in them for the long-term is brutal. Every colleague living in these cities reminisces about the last time they slept through a whole night without being disturbed by air raid alarms, the last time they finished work before 10pm, or the last time they had a whole day off. The aims of those involved in the Ukraine Crisis Response are exceedingly high, and their commitment is second-to-none.
Back home, I feel almost overwhelmed by gratitude for my first full night of uninterrupted sleep, but also for my brave and dedicated colleagues who don't have that luxury. 
To learn more about our Ukraine Crisis Response click here
Frances Andrews is Security Operations Support Director, World Vision.