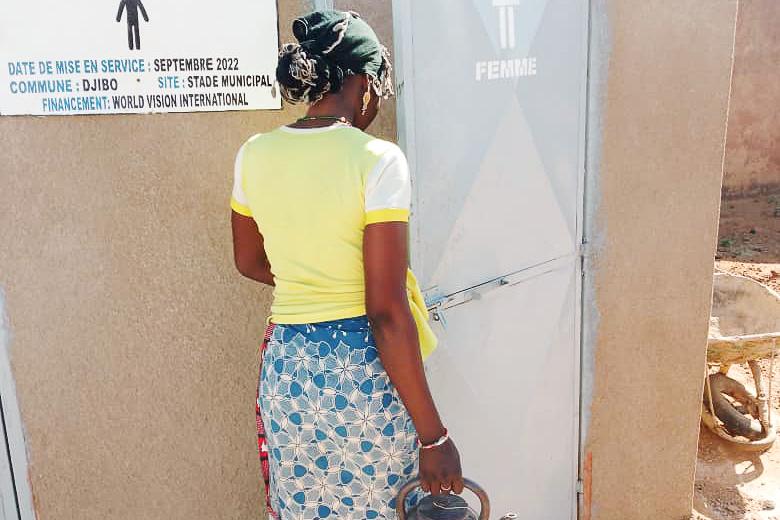 "There are toilets now, no more going back and forth to the neighbours"
Thursday, November 17, 2022
" When we arrived in Dori, we were welcomed and installed on this site but there was a great lack of latrines," recalls Djenebou, a young woman who fled her village due to the insecurity. " We used to go to our neighbours' toilets to relieve ourselves, or we would wait until nightfall to do our toilet behind the tents, out of sight. The children used to relieve themselves in the open," she explains.
According to WHO and UNICEF, in 2021, 3.6 billion people still live in poor sanitation conditions, which degrade their health and pollute their environment. Having proper toilets close to communities allows for safe management of human waste and prevents the spread of waterborne diseases.
Access to properly managed sanitation services, combined with safe drinking water and hygienic facilities and behaviours, is the foundation of public health and one of the essential conditions for the realization of all other human rights.
In one year of intervention, World Vision helped at least 750 people gain access to basic toilets in their homes and contributed to hygiene promotion in communities.
" We appreciate having shower latrines near our tents. They give us back our dignity and prevent our children from getting sick. We thank World Vision for this assistance. No more coming and going to the neighbours' toilets," says Djenebou, as she heads for the women's toilet.
Hama also had to flee the insecurity in his village in the commune of Gorom-Gorom. Today he is living with his family on a site for displaced people in Dori.
" When you move, access to water and toilets remains a challenge. We have suffered a lot from the lack of these facilities. Thanks to God and World Vision, this problem is behind us now," he said during a visit by our team to the site.
In Djibo, the commune with the largest number of displaced people (269,439 as of the end of October 2022), World Vision has helped to put in place adequate sanitation and hygiene services to restore the well-being of vulnerable communities and put an end to open defecation.
For Djamila, who lives on the site of the municipal stadium in Djibo, the number of latrines is still insufficient. " We are many here. We need more latrines, for men and women, so that we have a minimum of privacy. "
Inadequate sanitation is associated with the transmission of diarrhoeal diseases, such as cholera and dysentery, as well as other diseases such as typhoid and intestinal worm infestation. Every day, more than 800 children under the age of five die from diarrhoea caused by unsafe water, inadequate sanitation and poor hygiene, according to the World Health Organisation (WHO).
In 2010, the United Nations General Assembly recognised the right to safe drinking water and sanitation as a human right. On the occasion of World Toilet Day, celebrated on 19 November, we recall the urgency to act in sanitation sector as 494 million people still defecate in the open (WHO/UNICEF 2021). For the humanitarian response in Burkina Faso, only 21% of the US$ 104 million required for Water, Hygiene and Sanitation (WASH) needs had been mobilized by the end of September 2022. Efforts are still needed to ensure equitable access to safe drinking water and adequate hygiene and sanitation services for all.