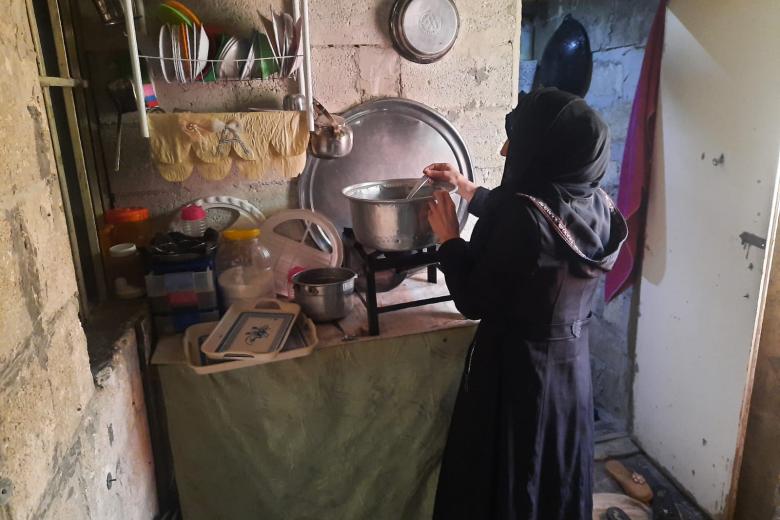 Thriving through life's storms: A displaced Syrian mother's story
Monday, December 27, 2021
By Rand Ishaqat, Communications Assistant
At least 350,000 people have been killed in the 11 years long war that wreaked havoc in Syria; declaring a state of unrest and fear, especially for mothers whose only concern was keeping their children safe. Amidst all the heartache and fear, they are also the super-heroes who found strength in despair and are still clenching to every bit of hope, searching for safety in every corner, and waiting for a better tomorrow for their children.
40-year-old Tahani* is one of these brave women who despite being forced out of their homes into northern Syria, she never allowed any hardship to set her back. One day, however, the consistent bombing falling on their small village forced Tahani to take the decision to flee for safety. After looking at her house for one last time, a mother with three girls and two boys rushed to her daughters' bedroom, collected whatever she could and headed to the unknown.
"During the long displacement journey I kept thinking about bombs, the lack of security and my daughters' situation," shares Tahani after remembering all what she had to go through.
War, lack of medicine and safety pushed Tahani to flee her home
"Four of my children suffer from a brain disability, which occurred after birth," shares Tahani with sorrow in her eyes. The disability her children suffer from requires constant monitoring and medical attention. Unfortunately, there is still no cure for their condition and the only solutions available are painkillers, medical diapers, and anti-inflammatory drugs. This is all she can do to tend to their suffering, and it is the hardest thing she had to ever do – seeing her children in pain is worse than the war itself.
Tahani also has another 18-year-old daughter who needs medical care after suffering from an eye deformity that happened two years ago.  "I am scared for my daughter. We were not financially able to treat her eye at the right time. She is at risk of totally losing her vision due to her condition," she adds. As a mother of five, Tahani wishes that one day she can get a job that would help her afford all of her daughter's medications and bring back the vision the elder daughter. The war has made everything more difficult and medicine is no longer easily available. Her only solution was to leave her village and go purchase the medications herself – whatever it takes to help her children.
Tahani heard that in northern Syria, these medicines might be available, and she could not delay her decision anymore. They packed their belongings and embarked upon their first displacement journey. Two years and four journeys later, they settled in an internally displaced camp in northern Syria after desperately looking for peace, medicine and a safe shelter. Million other mothers were running to safety as well. Tahani did not feel alone in her fight for her children's lives.
Five years on, Tahani finds hope
"Despite the feeling of safety we have here, we are missing very basic and crucial things. The food we get from aid organisations is barely enough; and only lasts for a quarter of a month. Our house does not have the means to take care of children with special needs. The camp as well is short on doctors who are ready to handle such cases," says Tahani.
Three months ago, Tahani heard from a relative about the "Women Empowerment" project in the camp where she lives. She had an instinct that encouraged her to go, and see if there is any opportunity for her to support her family; and she found one: "I enrolled in the sewing courses for two reasons. The first, I wanted to enrich my experience and second is because I believed this course will help me with my negative emotions and anxiety, which it did!", Tahani happily shares. Back in her home village, Tahani used to work as a seamstress and this activity brought back some sense of dignity and hope for her.
The project also helped Tahani financially: "My life has changed dramatically; it became more stable. I was able to save money to provide necessities for my children, like diapers and medicine," she proudly shares. The rewarding feeling of achievement alleviated Tahani's sense of self-confidence and today she is happier, less anxious, and as ambitious as she was before. Tahani now wishes and hopes that she will find a stable job that would enable her to improve her children's lives and provide them with all what they need, especially medication. She also hopes that one day she will be able to send her children to a centre in the camp where she lives to provide them with the care they need. It will help them feel accepted and included in the small community they live in now. "My children are not enrolled in any type of education and they spend the entire day sitting and doing nothing, I think if they were enrolled in a centre that caters to their needs, they will blossom and excel," tells Tahani.
About the Project
The "Building the Resilience of Women and Children through Child Protection and Gender-based Violence Prevention in Northern Syria 2021" project is funded by Global Affairs Canada. Through our implementing partner, more than 7,800 beneficiaries, like Tahani, were provided with psychological support sessions and gender-based violence awareness sessions.
"After joining the sewing group, attending awareness sessions, and having the chance to share my thoughts and emotions, my mental state has improved. I discovered that I only needed someone to listen to me, help me, and teach me how to face the pressures of daily life," she happily shares. The fresh air Tahani breathes during those sessions have encouraged her to plan for a brighter future. She is hoping for one filled with accomplishments and joy for her and her beloved children.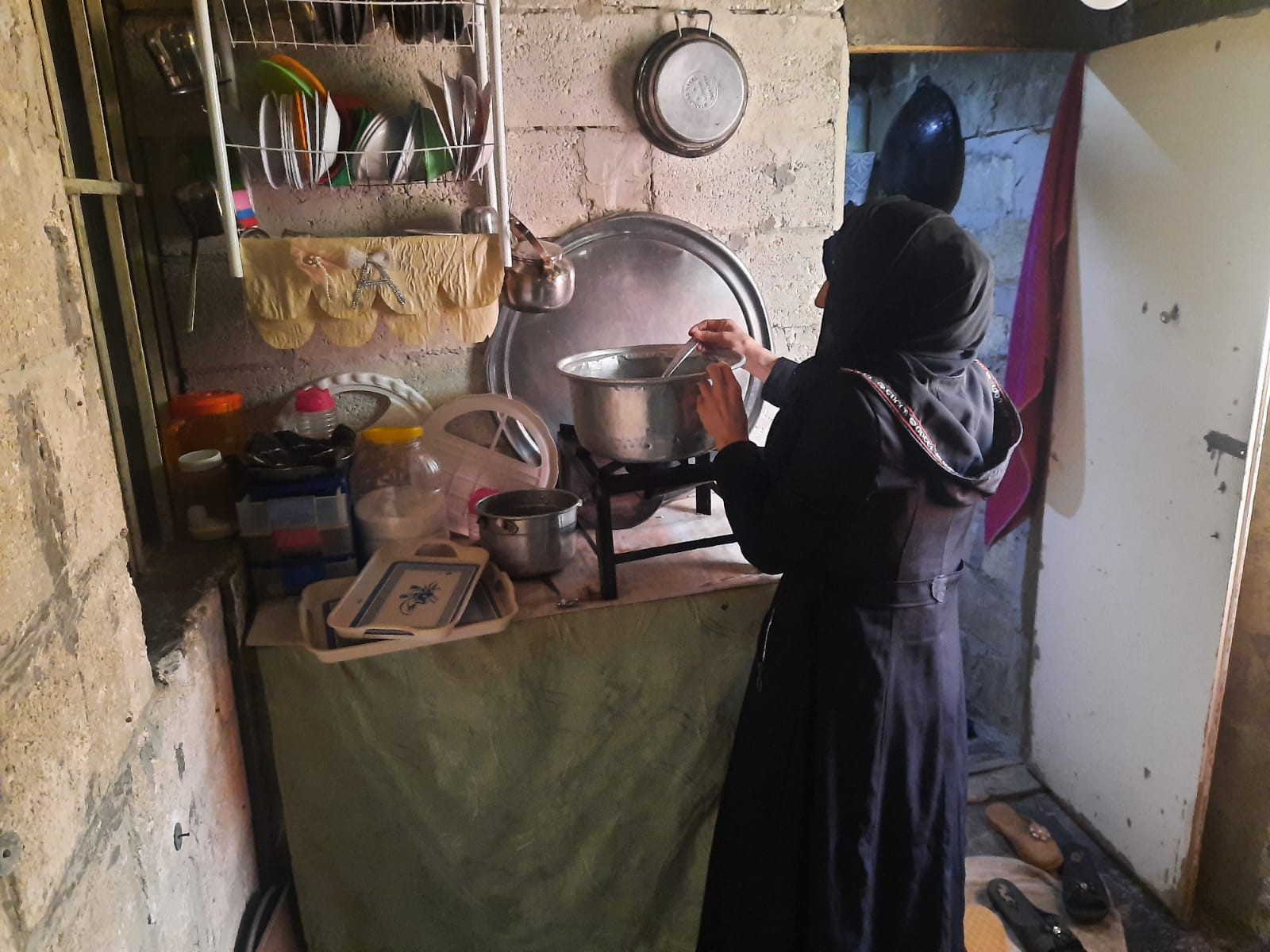 Tahani* in her kitchen preparing food for her family of five. She is hopeful that one day she will get a job where she can provide more for her children.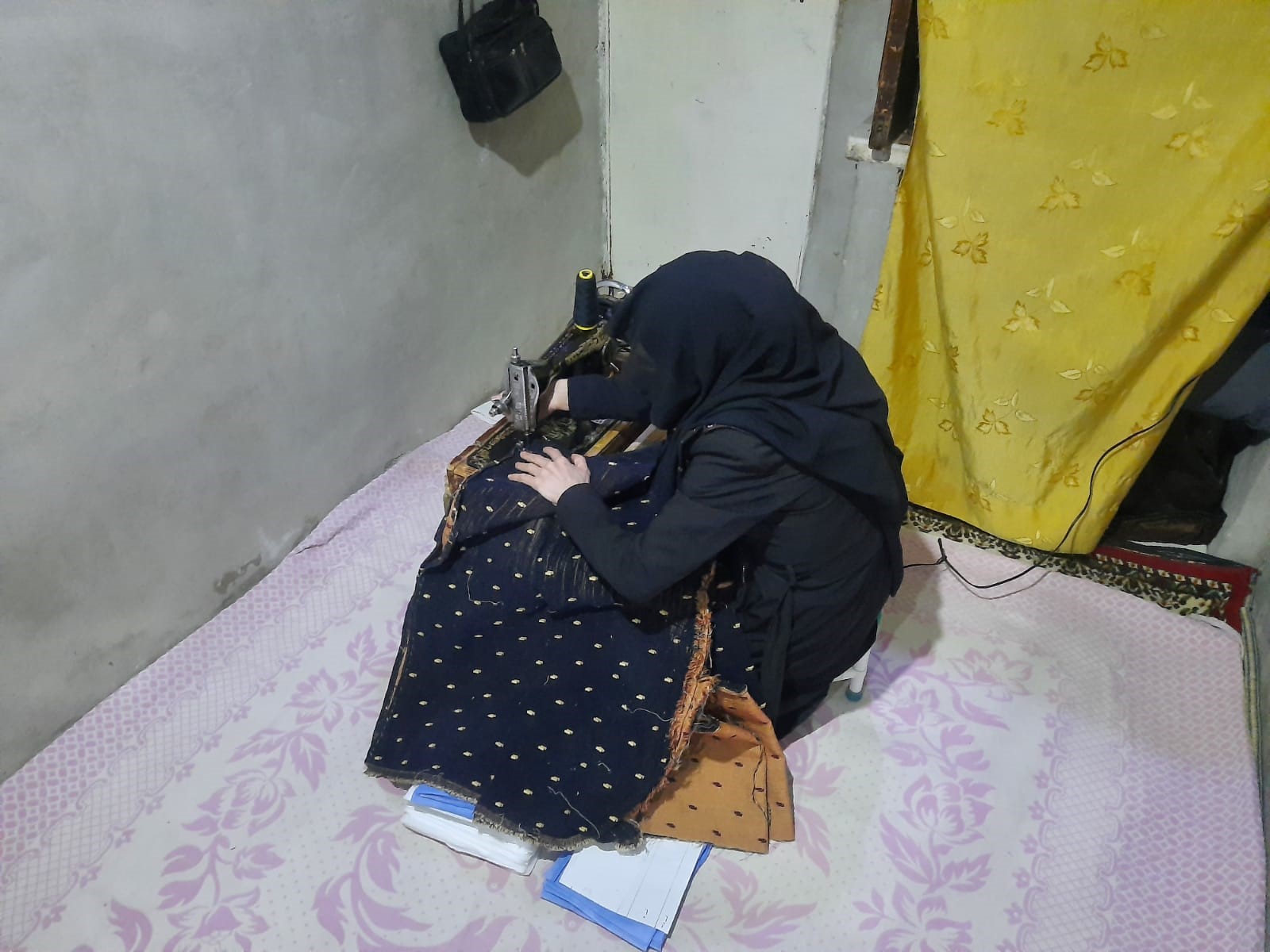 Tahani* was not feeling her best due to the displacement journey, and her children's health situation. When enrolling in the "Women Empowerment" project, and attending the psychological support sessions, she discovered that she only needed to be heard.