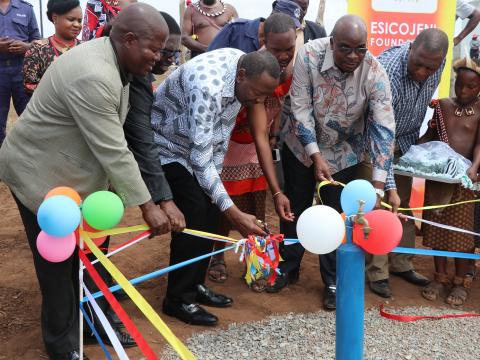 Minister for Natural Resources and Energy Opens World Vision's New Water Project
Tuesday, September 24, 2019
The Minister of Natural Resources and Energy, the Honorable Peter Bhembe officially opened the Nyatsini Community Water Project under Sigwe Constituency. The water project was completed in November 2017, amounting to over E4.2 million funded by World Vision and the Esicojeni Foundation. As a result of the water system, more than 250 households now have access to clean water. Additionally, one primary school, four shops and six churches also benefit from the water.
The Minister applauded the partnership between World Vision and Esicojeni Foundation for making it possible for the people to get clean water. This is the second water project by World Vision opened by the minister this year. In April, another water scheme at Hosea that was funded by World Vision to the tune of E8 million was also officially opened by the minister.
The Minister also appreciated the community for working hard to make sure that this water scheme became a reality. This project runs for 37km and is supplying water to 42 running taps.
The minister further applauded the community for establishing a fund that will make sure that the project is sustained over the coming years. Currently, the water committee has collected over E27,000 from the community members.
World Vision Country Program Director in Eswantini, Francis Dube, urged the community to take ownership of the project and to take good care of it.
This system is one of many World Vision has worked with communities to install.  Over the past five years, with the support of the Minister, World Vision has provided access to clean water to approximately 36,000 households or roughly 174,552 people (adults and children) in different constituencies in all the four regions of the country.
Dube extended his appreciation to the donors who have generously provided funding to continue to provide safe water to the people of Eswatini. Out of five Priority sectors that World Vision in Eswatini focuses on Water Sanitation and Hygiene (WASH) consumes 40 per cent of the overall budget allocation, this on its own demonstrates the importance of the sector to us, Dube said.