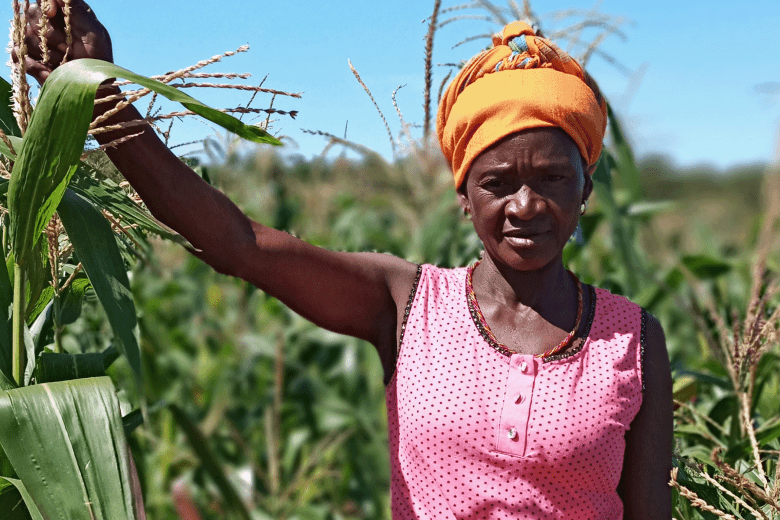 Fighting Hunger in Angola: World Vision Angola's integrated approach to the Hunger Emergency
Tuesday, July 12, 2022
Angola has grappled with severe drought in the last five years. The COVID-19 pandemic exacerbated this food insecurity, which saw entire families abandon their homes and livelihood in search of food and water as livestock and crops died off.
According to the World Food Programme's HungerMap, more than 4 Million people in Angola live with insufficient food, and 38% of children under five years old suffer from chronic malnutrition.
Our strategic intent at World Vision in Angola (WVA) compels us to use our resource acquisition reach to alleviate immediate nutrition needs and provide food security for over 170 thousand people in Namibe, Huíla, and Cunene in Southern Angola.
Our partnerships with the European Union, World Food Program, World Vision Hong Kong, and, most recently, World Vision Taiwan and the Bureau of Humanitarian Assistance have provided the funding to generate lasting change and relief for families.
WVA's integrated approach to the hunger crisis includes Water, Hygiene, and Sanitation (WASH) interventions, nutrition, child protection, food security, and livelihoods.
The Resilience strengthening, food security, and family nutrition program, funded by the European Union through Instituto Camões, focuses on strengthening sustainable family farming, improving the population's nutritional status, access to water, adapting to climate change, and supporting capacity building in local institutions.
Over four years, WVA has worked with 40 field schools to improve families' knowledge on food and nutrition issues and diversify agricultural production based on nutritional needs and agro-ecological conditions. Over 26 thousand men and women participated in cooking demonstrations and learned how to optimize nutrition in meals prepared for their families.
Maria works at the Twepwila field school as treasurer. Mother of 8, Maria, has learned how to rotate crops and perform weeding effectively to improve yields. She is also one of 563 women who received goats for agricultural production.
Goats and rabbits were distributed to women in the field schools to encourage communities to raise small animals, empower women financially and increase household income.
"My goats already bore offspring; I am pleased and thankful," said Maria bashfully.
The Twepwila field school and 36 others in the southern region have reduced food insecurity as local farmers learn to adapt and respond better to external shocks.
The Food and Nutrition Security Project, financed by World Vision Hong Kong and World Vision Taiwan, worked with an additional nine field schools where farmers learned to produce sweet potato, cassava, and soybean.
In Southern Angola, farming soya is an innovation. Soya is recommended for its nutritional value with good results in the fight against child malnutrition. The project created six groups of women and girls to facilitate community participation.
Over 225 women participated in several training sessions to improve their child care and nutrition knowledge. These groups helped influence other women on exclusive breastfeeding,  promoting locally sourced food, and identifying symptoms of malnutrition in children.
Alda Tchipilica is a nutritionist who works with 12 Communities in Huila province on malnutrition prevention.
In the community of Mume, 61 men and women learned how to make premix porridge - made with corn flour, soya flour, sugar, and cooking oil - soya milk and pumpkin soup.
With every training and cooking demonstration, WVA field staff show communities how simple, locally-sourced products can help fight malnutrition during times of scarcity.