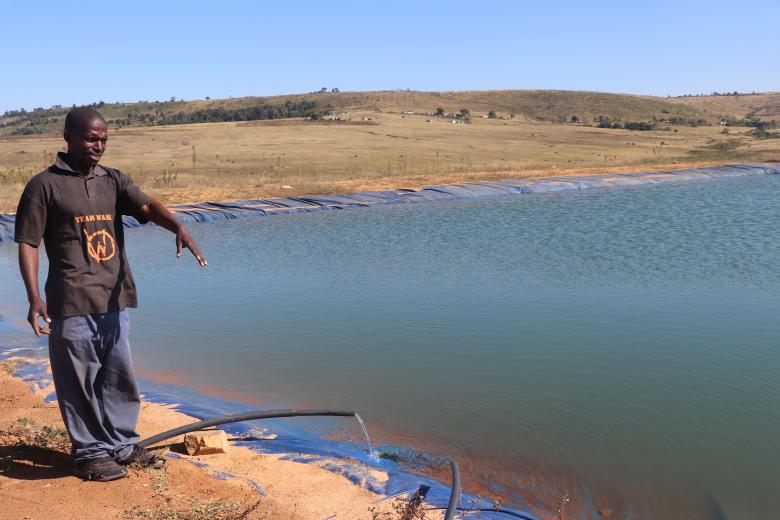 From growing for consumption to commercial farmers thanks to all year round access to water
Thursday, June 23, 2022
"We are now self- sustained. Even if World Vision can leave our community any day from now we will continue to flourish and produce more and get rich," members of Bambanani Farmers said.
This follows the construction of an earth dam by World Vision Eswatini, amounting to E260 000 (US$17,333), inside the garden premises.
The farmers, who can now produce crops and vegetables all year round, are still in celebratory mode and are being envied in the community as this was a first of its kind at Mantambe.
"This is a dream coming true, even though we never believed in this dream at first," says Linda Hlope, a member of the garden scheme.
He says they had a very small dam that was not even enough to provide them with irrigation water. As such, they were mainly producing food for family consumption.
"Winter was the worst season for us and this affected membership of the garden scheme and some members opted out," Linda elaborates.
According to Linda, when Wandile Ndzabukelwako visited their garden and saw their small dam, he suggested a bigger one. The members did not believe it was possible for them to have a bigger dam, but we were still excited and wondered what it would look like. Wandile is World Vision's Development Facilitator for Mantambe Area Programme (AP).
Previously, World Vision Eswatini had provided the scheme with fencing, after the farmers requested assistance from the organisation. The organisation further provided them with start-up seedlings and equipped them with farming and marketing skills.
"I have four school-going children and, as their father, I can now afford to give them pocket money every morning when they leave because of this garden. I also have a car now and can afford petrol, despite the hike, to highlight just a few achievements since I committed to this garden," Hlophe adds.
He says the demand for vegetables is very high and they are not yet anywhere near fulfilling it.
One of the oldest members of the scheme, Dumsani Xaba (66), concurs with Linda, adding that, since the construction of the dam, their lives changed. He says they are considered one of the respectable people in the community.
As part of passing it forward, the scheme is also supporting four neighbourhood care points, where vulnerable children in the community go for their meals. Crops and vegetables produced are sold to shops in Nhlangano town, with some also shared with these care points.
Xaba explained that being closer to the South African border, they usually cross over to the neighbouring country to buy quality seedlings so they can produce more.
"We will never forget World Vision for capacitating us to secure markets and now, other than the shops, we also supply street vendors as well," says Xaba.  
He says the government's elderly grant, paid once after three months, is like pocket money to him because the garden's profit is enough to cover most of his expenses. He said coming to the garden on a daily basis makes him stronger and allows him to feed his family.
The scheme members' biggest dream now is to own a nursery and a Fruit and Vegetable Shop on-site to maximize their profit.
"We have never seen such humble people like World Vision staff. We have worked with different staff members since 2010 and they are all the same. It's like they belong to one family. Please extend our appreciation to your bosses for hiring the right people, who are down to earth and ready to engage and listen to us. May God bless all of you for having good hearts and encouraging us to develop," Hlophe said.