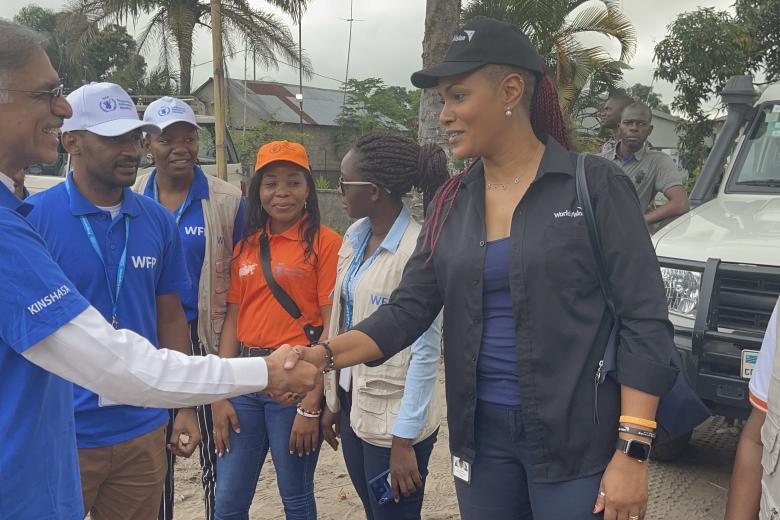 Cash transfer enables resiliency in N'sele
Monday, February 20, 2023
By Farida Eliaka Bombende, Advocacy, External engagement and Communications Director
On Thursday 16th February, 2023, We were honored to receive Manoj Juneja's visit, the WFP Deputy Executive Director, in N'sele where we are implementing the CBT-N'sele project (Cash Based Transfer N'Sele), so it was an opportunity to get a feel for the realities on the ground, the impact of the project and also to understand the difficulties the project is facing. Overall, he appreciated and encouraged more resilience for the future of the project.
"I am here in N'sele, like in so many other countries where we partner with World Vision, an organization that helps us  in the very final mile as they have helped us is this peri urban environment in DRC to achieve the objective of transformation and building of resilience of the most vulnerable", said Manoj.
He was very appreciative of what is happening, particularly the partnership with World Vision. The idea here is also to see how to strengthen resilience at the community level and the issue of self-financing at the level of the families benefiting from the socio-economic reintegration.
"Receiving such a personality has several advantages. Firstly, he is a donor. It is an opportunity to present our capacity and the impact of this pilot project. It was a moment to reinforce our commitment to vulnerable communities and to strengthen our advocacy on some of the difficulties encountered. He needed to be informed. The current implementation is short term, so this can lead to getting a long-term implementation that incorporates resilience", highlighted Justine Gomis, World Vision's Integrated Programs Director.
Before the CBT resilience and cash transfer project started operating in N'sele (Kinshasa province) following Covid-19, households did not know where to turn to feed their children, send them to school and pay for medical care if they fell ill. This had haunted them for many months. It prompted them not to get enough food to put on the table for their young children. Barren soils mixed with effects of climate change made them to lose hope.
As many in the neighborhood, Françoise Ekwalanga's normal day was punctuated by selling labour to neighbours so that he could earn a living.
Two years ago, when World Vision started implementing an Empowerment and Resilience project funded by WFP, in N'sele, a glimmer of hope illuminated his family. Not only she earned money, but more interestingly, she was trained and monitored in saving and lending.
Indeed, she contracted a small loan from a saving group, and bought a calf. She added that she has saved money and with the money she receives, she is building up her capital and will be able to continue her business should the project come to an end.
The project started in September 2020 and currently is in phase 3 of implementation. In phase 1, a total of 87,945 persons (17,589 households) were reached with cash transfers with the support of Vodacash and Trust Merchant Bank amounting to $3,124,961.85 . In phase 2, 117,835.persons (16,000 households) were supported with cash amounting to $2,853,485.2 , while in phase 3 64,025 project participants have been reached so far through cash transfers amounting to $1,100,959.09 and  VSLA trainings . In a bid to continue to strengthen community resilience the project has incorporated cash for assets where affected households are working on feeder roads and agricultural activities in order to change their lives.