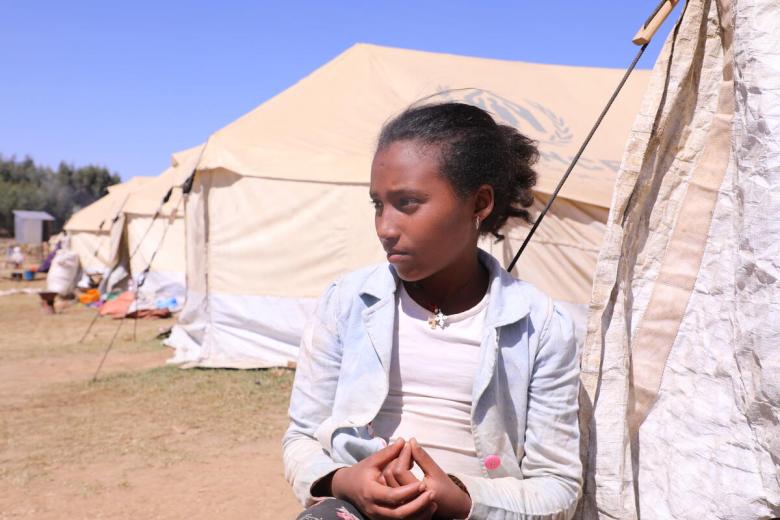 Journey to the unknown: How one girl fled violence in Ethiopia
Wednesday, June 15, 2022
Hana* was having a normal week. The 11-year-old went to school. She played with friends. She spent time with her family in the evenings. But that Friday, everything suddenly changed.  
Heavy weapons blazed Zarema, the Ethiopian village she had grown up in. People were screaming and running in every direction. The 11-year-old ran out of her home to see her beloved village turning into ruins. The world she had known began shattering in front of her eyes.  
"My father grabbed me by the arm and said, 'You have to save your life!'" Hana recalls. "'Follow the people, and you will be fine. I've [got] to join the fighting force (the military army), but I will see you when this is all over.'"  
She quickly left and followed the people for hours with nothing but the clothes on her back to reach safety.  
"I regret not grabbing the exercise books and writing materials I received a few weeks before as a prize for being at the top of my class," she says. "But it was urgent, and I was hearing the weapons loudly."  
She had no idea where they were going, and the people kept encountering militias and dead bodies along the way. Her young body ached from the 12 hours of walking, the hunger, the thirst, and the cold weather.  
Hana says, "I was so worried and thinking on the journey, 'Where am I going? What's going to happen to me? When am I going to see my father again?'" With so many heavy, unanswered questions in her mind she kept going forward, as she couldn't take time to pause and look back.  
Her arduous journey came to an end when she arrived at Kulech Meda camp and saw volunteers running around to deliver humanitarian services.  
New challenges 
The crowded camp is located 90 kilometres east of Gondar and is home to over 3,000 internally displaced people, including 1,100 children. While the camp provides a level of safety away from the conflict, it also brings many challenges including having enough food, water, and blankets to keep warm during cold nights. 
One of the biggest challenges though is caring for vulnerable children who have been separated from parents and family members as they fled. Since conflict began two years ago, tens of thousands of children have been displaced across Ethiopia. In a fragile context and cut off from a familiar environment and loved ones, children lack certainty about the future and become more vulnerable to violence. 
"With limited access to food, shelter, or care now, many of the children are becoming an easy prey to forced recruitment of children as sex workers, which is an alarming and growing trend in the camp," says Banchiamlak Melkamu, the North Gondar Zone women and child affairs department head.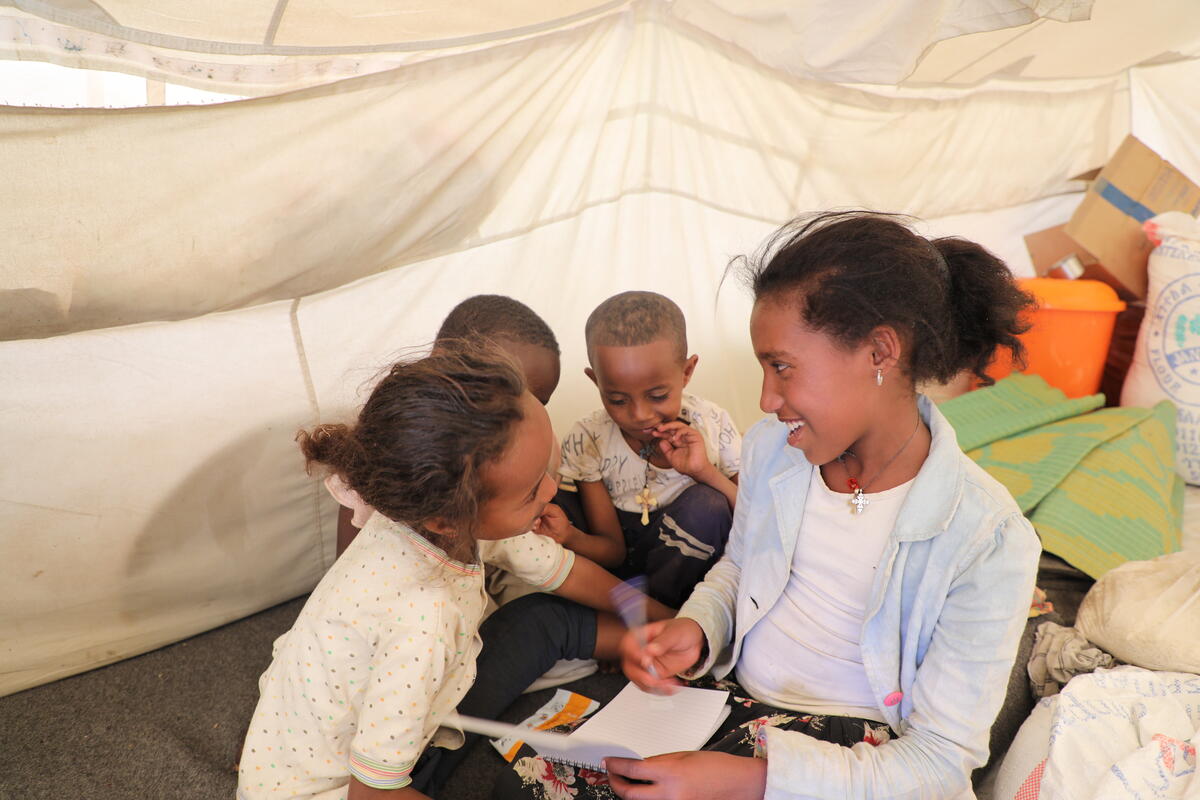 A future unknown 
Upon her arrival, Hana was assigned a small white tent to live in with eight other households. Despite how tiny it was, it gave her a sense of safety. But it also began a burden of responsibility. With no family with her, she has assumed adult responsibilities. Her delicate hands have gotten used to the works of the adult as fanning fire, cooking, and gathering water have replaced the time she used to spend in school. Just like many young children at the camp, the conflict she fled has led to her being forced to grow up too fast. 
While doing the things that children usually do is at the bottom of her lengthy daily to-do list, she does occasionally find refuge at the camp playground. It gives her a sense of hope and rest with the other children. 
"I miss my friends from back home, but I have made new friends here too. I like playing volleyball, tennis, and jumping ropes,'' she says with a flare of childish smile that she doesn't show very often.  
While she is too young to comprehend everything that is going on, she says she's fine - not because she truly is, but because she says she has to be strong and forget the child she was before. But while she's been forced to forgo a normal childhood, she still dreams for the future. 
"I pray to God to give me the strength to overcome this challenging days," Hana says. "I pray to see peace residing in my country and to see my father and neighbours once again. When I grow up, I want to be a teacher because I want to support those like me and help them achieve their dreams."  
All over the world, children like Hana have become refugees and internally displaced people. You can help by giving to World Vision's Childhood Rescue fund.
*name changed to protect her identity.