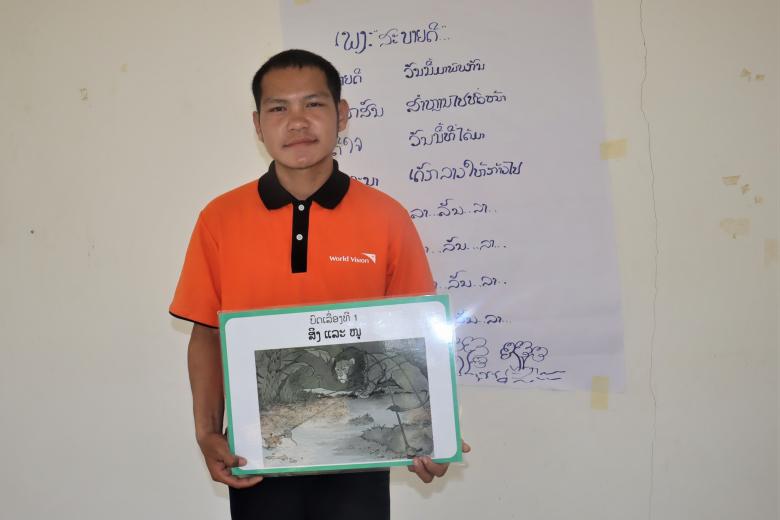 Dreaming bigger: how volunteering with World Vision helped Phonexay develop his passion for teaching.
Thursday, December 1, 2022
"I know World Vision because my village has received support, and I used to be part of World Vision's programmes in the past," says Phonexay, 19 years old, remembering. One of the 98 new Community Reading Group Volunteers had this in mind when he decided to get involved with World Vision to help improve the reading skills of struggling primary students from grade 1 to grade 3 in his village.
Phonexay grew up in a big family of nine people in a rural community of Savannakhet Province. His parents, Seun and Amphone, are farmers, and Phonexay is the oldest of the family's seven children. Phonexay didn't complete his high school education due to his parents' lack of financial resources and inability to support the education expenses. He dropped his studies in grade 9 of high school and helped his parents by working at the farm. "After dropping out of school, I started to work in construction and gardening, whatever that can earn an income I was happy to do because I wanted to earn money to support my family, especially to provide food," said Phonexay.
Despite the anticipated end of his education, Phonexay wanted to keep learning and joined World Vision programmes in Xonnabuly district in 2021. He decided to volunteer to lead the Reading Group of his village for a 1-year experience and help the primary school students in his town after school. After receiving the training to build his capacity as a volunteer, Phonexay started to master his new role: "I have gained knowledge and become more confidence to lead the reading group in my community, focusing on knowledge of alphabet, pronunciation, and vocabulary," he said, to continue "I love my work, and I'm happy that we're able to come together to overcome the challenges and ensure that the children will learn how to read. I want to see them have a better future".
The community reading group is part of the Unlock Literacy project model, a World Vision International evidence-based approach aiming at improving reading skills by working closely with education authorities, teachers, communities, parents, and children. Along with teachers and volunteers training, World Vision provided new equipment and books to 20 schools to create a positive environment for reading. This community-based approach has proven successful, with the percentage of Grade 3 students participating in the community reading group significantly increasing their reading skills.
With the new volunteering experience he gained, Phonexay is now dreaming bigger for his future: "After I was a volunteer for the reading group, it opened my mind to see that there is a way to achieve my dream. I decided to return to school and continue studying to get my high school graduation. I dream of completing high school and continuing to study at college. I want to become a teacher one day," Phonexay says.