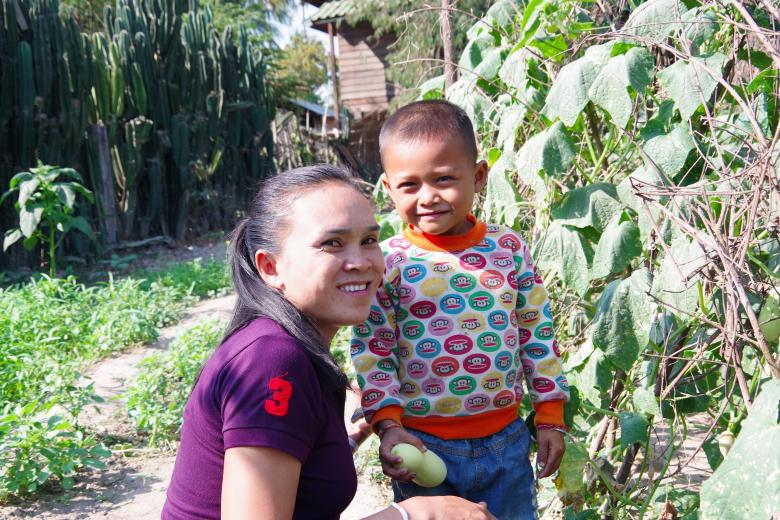 The garden of promises: how Chansamone feeds her family during COVID-19
Tuesday, May 12, 2020
Lettuce, chilis, cucumbers, long beans, corns - Chansamone's garden abounds of fresh and appetizing vegetables. A fence made of cactus protects the rich flora grown with natural, non-chemical fertilizers. A garden that will provide food for her and the 13 members of her household.
However, Chansamone's life has never been easy. As a single mother, it has been challenging to provide the needs of her son, including her parents, grandparents, brothers and sisters.
Providing food for a big family is increasingly difficult. Although Chansamone works as a teacher in her village, her way to escape from her struggle is gardening. It's a long-time passion that also had its troubles.
"I love gardening so much, especially during the harvest season," says Chansamone.
"I mainly do home gardening for the consumption of my household, with natural and sometimes chemical fertilizers to help to grow. I used it to avoid the damages from insects and aphids, especially on the long beans and cucumbers, but it is costly."
Her financial difficulties had impacts on her family. "If I have no money to buy chemicals, I would only get small produce, and I would not be able to feed my family," she added. Not only financial, but the issue is also affecting her health in the long-run. "Before, I didn't know that chemical fertilizers were dangerous for the crop and the consumer."
Accelerating Healthy Agriculture and Nutrition (AHAN), an EU-funded project started in 2019 in Phalanxay District, Savannakhet Province. Chansamone joined the agriculture activities, as she was selected for the crop and nutrition training provided by Agronomes et Vétérinaires Sans Frontières (AVSF). After participating in the methodology of home garden cropping in dry and rainy seasons, she attended a studied tour in Savannakhet Province to explore the good practices already existing in the area. 
Chansamone started to apply this new knowledge in her garden. She made fresh compost, use organic liquids (bio-extract water) and apply all the natural techniques taught by AHAN staff. With the help of her brother preparing the soil, her garden became quickly very productive.
Whereas other villagers were doubtful about this natural process, Chansamone's garden looked better than ever, making her proud and happy to see how effective is the organic cropping:
"This garden offers the nutritious food and vegetables for my son and my family," she said.
An auto sufficiency whose importance raised during the COVID-19 situation in Lao PDR. A one-month lockdown resulting in the closure of the local markets and reducing the ways to get food. A period during the AHAN team made regular phone calls to assess the needs of its partners and beneficiaries. 
Now back to a new normal, the project is now providing cropping material to help Chansamone growing fruits and vegetables during the rainy season. But the mother already went further than she imagined by joining AHAN activities. She is now an inspiration to change nutrition behaviours in her village.
Chansamone is considered as a hidden hero to her family and is making a significant impact in her community.
Learn more about how hidden heroes are helping protect the vulnerable, especially as the world addresses the impacts of COVID-19.