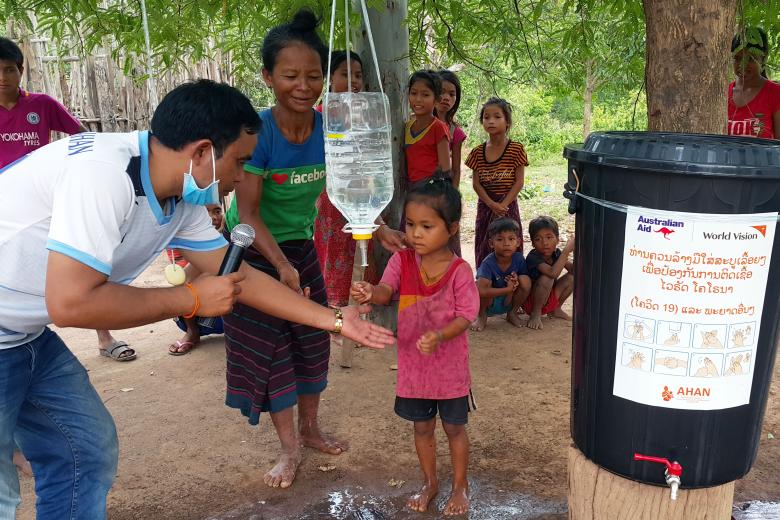 The outstanding impact of a Lao health worker during COVID-19
Thursday, June 25, 2020
Close to the Vietnamese border, TaOi is a fresh, mountainous district surrounded by impressive vegetation. It's a remote area, two hours away by car from the provincial capital city of Saravane. In this district, 10 villages are involved in the implementation of Accelerating Healthy Agriculture and Nutrition Project, funded by the European Union, Australian Aid, in cooperation with the Government of Lao PDR.
Facing COVID-19 has been a challenge in TaOi, especially when it comes to providing information to remote communities. Social media or other virtual dissemination of messages are not an option here, with the low connectivity and phone, not a primary expense when you don't have enough to eat at the end of the month. The language is another issue that had to be addressed, with ethnic groups speaking their own language (TaOi) for the majority of people.
Regarding the complexity of the situation, Bounthiem had no choice but to step up and do something for those communities. The 34-year old man native from TaOi works at the local District Health Office - a difficult time that made him having an extraordinary impact on those communities.
Translating and delivering COVID-19 awareness messages through loudspeakers was one of his main daily tasks. But once the job was done, the day of the regular implementing partner was not over yet. The WASH technician supported TaOi communities in stopping open-defecation. Whereas villagers didn't have enough money to buy ceramic toilet pan, Bounthiem, thanks to the capacity-building previously provided by Plan International, was able to offer them half-price pans, including to AHAN targeted villages. Also, Bounthiem supported the villagers to have their washing stations, by transforming used oil bottles into the tippy tap. A do-it-yourself workshop that is now implemented by World Vision's staff with TaOi communities during AHAN project's COVID-19 related activities.
While Bounthiem considered it as part of his job, his behaviour during those difficult times had such an extraordinary impact on the lives of the most vulnerable. Indeed, he is deserving to be called a hidden hero.