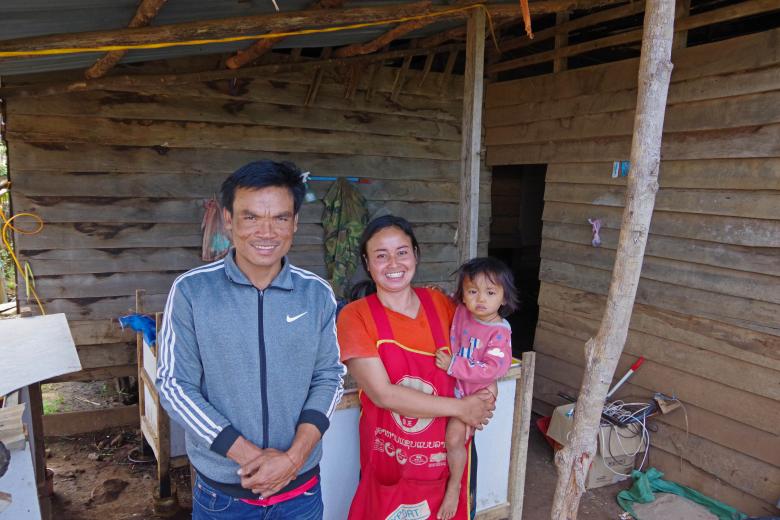 Raising crickets, rising hopes
Friday, December 11, 2020
On your way to Khanuan village, you will be amazed by the green and wide plains of the aptly named Lao Ngarm (translates into "beautiful area") District. A landscape shaped by mountains and a sense of freedom, observed as you pass by children walking kilometers along the road to reach school, and independent cattle wandering by themselves. It will take you around 20km from Lao Ngarm District center to reach Khanuan, on a dusty and bumpy road. But in the end, it is a warm, flourishing, dynamic village that awaits your arrival.
Khanuan is one of 10 villages from Lao Ngarm District targeted by the Accelerating Healthy Agriculture and Nutrition (AHAN) Project. Since AHAN started its implementation in 2019, multiple changes have been witnessed among the community. Besides the support on new latrines construction, provision of labor-saving technologies to women of the village, borehole construction, creation of the saving and mothers' nutrition group, the livelihood development through improved agriculture techniques have been one of the main life-changing activity for our beneficiaries.
Mr. Inn is one of them, here is his story.
I always liked to eat crickets. I know it has not been a popular meal in our community, but I like it.
Inn is 32 years old, father of 2 young boys, and a girl under 5 years of age. His 5-member household has benefited from AHAN activities since last year when they joined the cricket raising training. While Inn previously bought crickets at the market, the training he attended taught him how to raise the insect, its different cycles from egg to the ready-to-eat cricket, and how to continue this process. The project also provided the necessary material to build the nursery where the crickets will grow for the first month. "It's very easy to take care of, the crickets eat basic animal food during the 1st month they spend in the "nursery" and then they will eat vegetable waste" explains Inn.
During his first round of cricket raising Inn produced 10kg of the protein-rich insect. 7kg were eaten by his household: "We usually fry it to make snacks. In the morning, my children take some crickets to eat on the way to school, in addition to their breakfast".
Inn earned 17 USD by selling the other 3kg, a new stable source of income really appreciated during COVID-19 that allowed him to invest in buying fruits, school clothes for his children, and place the rest into the village saving group. After his first success, Inn is expanding and sharing his knowledge: "this month I'm raising 18kg of crickets, I also sell the cricket eggs to villagers interested in cricket breeding"; proof of the relevance and sustainability of the project's activity. With a community market opening nearby with the support of AHAN, Inn will soon be able to reach new customers and further develop his "cricket farm" in the future.
On her end, Mrs. Hen, his wife, already has new recipe ideas: bamboo and cricket soup, and sticky soup with crickets, onions and coriander, while her Khanuan fried cricket is starting to make a name for itself.
Most importantly, their kids are able to enjoy more available and diversified nutritious food, helping their growth and development.
+ FACT
The AHAN project introduced cricket farming and consumption as a high-protein food source. Crickets are 65% protein by weight and have a natural slightly nutty and earthy taste. In addition to protein, crickets natu­rally contain all the essential amino acids, Omega-3s, Omega-6s, B12, and more.
This serves as a major source of nutrients for reducing malnutrition among children under 5 and women of reproductive age as key targets of the project.
The Accelerating Healthy Agriculture and Nutrition (AHAN) Project is pillar 3 of the Partnership for Improved Nutrition funded by the European Union in Lao PDR.
AHAN is also supported by the Australian Department of Foreign Affairs and Trade (DFAT) in Saravane Province, through the Australian NGO Cooperation Program (ANCP).