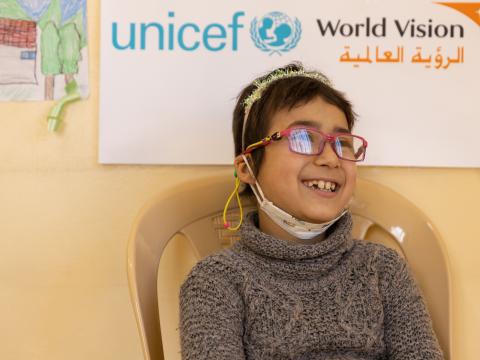 Fatima fights for her health and happiness.
Wednesday, January 29, 2020
The common perception of warriors is big tough people fighting wars and saving the world. But in Dunnieh, North of Lebanon, the word "warrior" has a different meaning: Fatima. A seven-year-old Syrian refugee who was scared for her life in Syria and still fights for it everyday.
A year ago, Fatima's life took a dreadful turn. She was diagnosed with Leukemia and started chemotherapy sessions every week in Beirut. Because of her condition, she is not allowed to go to school in order not to be affected by any diseases. The alternative for Fatima was spending her days doing nothing. When Ghada, her mother, heard about the Child Protection sessions at the Dunnieh centre, she immediately asked for details, "I went and saw the place and the environment because she cannot go anywhere due to her weak immune system." After meeting the animators, she decided to enroll her in the community-based psychosocial support sessions (PSS) at World Vision's centre. In partnership with UNICEF and funding provided by the United States Government and the Department for International Development, World Vision is offering around 900 children a safe space for community-based and focused PSS.
"It is good for Fatima to leave the house, even if it is for a couple of hours weekly", Ghada explains.
Two months ago, Fatima was unconscious for ten consecutive days due to a high fever. When she woke up, she was eager to go back to the centre, according to her mother. "I am happy at the centre. I love to play with children of my age", Fatima explains, "Being happy is good for my health."
Fleeing the country as a newborn because of war, and resettling as a refugee can have a tremendous impact on someone. At home, Fatima's family can barely make ends meet. Her father suffers from epilepsy and cannot work. Her mother cannot leave his side nor her daughter's. So they depend on any help they can get from neighbours and acquaintances. Even though Fatima is going through immense physical and emotional pain, her smile never leaves her face.
"When Fatima first arrived at the centre, she did not leave her sister, Aya's side. She was shy and scared of being around other people", recalls Carol, the outreach facilitator at the centre. "After attending many sessions, a significant change appeared in her personality," she continues, "She became very outspoken and participates in all the discussions and plays with other children. Once, she approached me and said she wants to attend all the sessions even if it's the same topic and activities." According to Carol, Fatima is very caring. When she enters the centre, she wants to greet everyone, and if she finds a staff member missing, she asks about him instantly.
For little girls, childhood consists of playdates and playing with their dolls. But for Fatima and most of the Syrian refugee children, childhood is about accepting the reality of not having a regular home, not having toys to play with, and not being able to access a proper school easily. Add to all of this, illness and pain. Thanks to World Vision, in partnership with UNICEF and funding provided by the United States Government and the Department for International Development, programs like the community-based PSS allow girls like Fatima to live their childhood away from the wars they faced and still face.