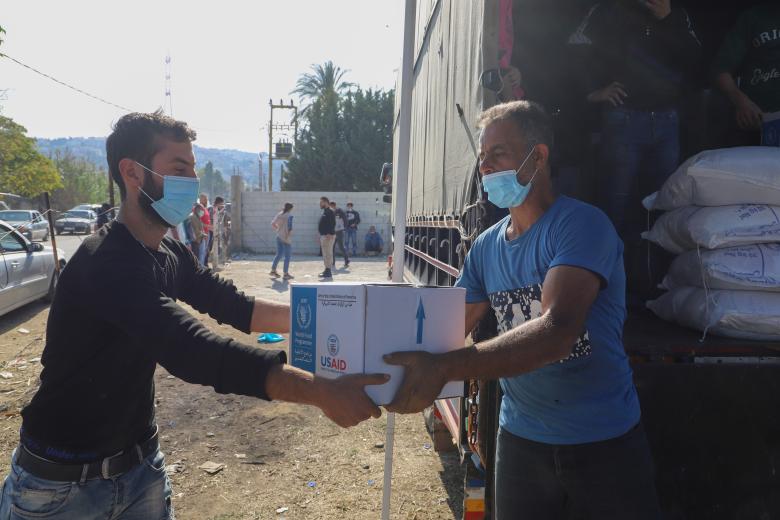 Food parcels ease the burden on Lebanese families
Thursday, January 13, 2022
The economic deterioration in Lebanon dramatically increased the vulnerability of the Lebanese citizens and added an enormous burden on their daily life – the poverty rate in Lebanon has nearly doubled from 42% in 2019, to 82% in 2021.[1]
Before the recent worsening economic situation, Akkar governorate, north of Lebanon was one of the country's most deprived regions with severe poverty, now the situation is even more alarming. In the hope to alleviate the financial stress on the citizens in the area, World Vision, in partnership with the World Food Programme in Lebanon (WFP), provided 47,693 in-kind food parcels to vulnerable families.
The situation for Khaled, a father of seven, is becoming extremely difficult especially since he recently stopped working. "I owned a mechanic shop, where I used to fix cars, but I had to close it due to the current situation. My wife is not working as well. Recently, we were obliged to sell furniture and other household items so we could buy food," he says. "Food prices are 10 times more expensive than before; for example, I used to buy a carton of eggs for 4,500 Lebanese pounds (LBP), today it's 70,000 LBP. We used to buy meat once or twice a week to feed the children, now if we are lucky we buy it once a month," he adds.
"The food parcel is removing half of the cost burden on us. It contains all the important food items every household needs, and most importantly my children are well-nourished," says 42-year-old Khaled.
As for Fadwa, a mother of five, the food parcels couldn't arrive at a better time. "My husband works as a concierge in Jounieh which is 90 KM away . After the removal of the petrol subsidy, he is now paying most of his salary on just fuel. We can't live in Jounieh because the cost of expenses is much higher there, and the house is very small for a big family," she says. "Before the recent economic crisis, we were sufficient as a family, we never needed support. We used to do barbecues once a week, now we are just looking to meet our basic food needs," she adds.
"Today I am receiving a food parcel, it contains a lot of important items for my family such as rice, beans, tuna, pasta, oil. If I had to buy the same items, it would have cost me around two million LBP. This support is helping me provide food for my children, and at the same item I can use the money I am saving here to pay for other important matters," Says Fadwa.
[1] https://news.un.org/en/story/2021/09/1099102