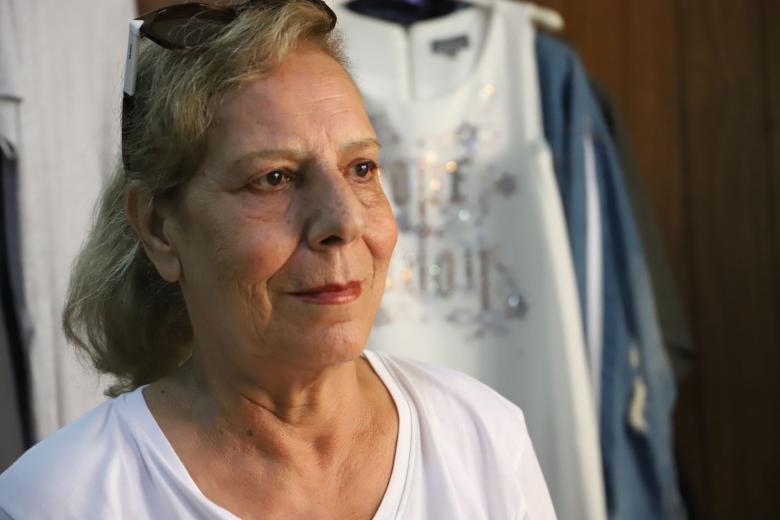 Georgette regained her only source of income!
Thursday, August 5, 2021
On August 4th 2020, Georgette, 69, was sipping coffee with her friend in her tiny clothes store in Achrafieh. What seemed to be a normal afternoon changed her life. An explosion shattered Beirut and Georgette's heart into million pieces.
Seeing it destroyed was a nightmare!
"I was sitting on the chair next to my friend and suddenly I fell off the chair and everything got destroyed. The glass and the ceiling fell on us suddenly. I survived in a miracle, but I felt like a part of me died that day," admits Georgette.
Since before the explosion, Lebanon was and is still facing ongoing political and economic crises that affected vital business networks and jobs. The areas most affected by the explosion were home to many small businesses. For many families, if they don't work, they don't eat. Georgette' 37-years-old clothing store provided her with the only source of income and stability. "As if the collapsing economy wasn't enough of a challenge, the explosion destroyed my ability to operate my small business. I can't describe what I felt that day, it was a nightmare seeing my shop and home destroyed" emphasized Georgette.
I regained my spirit
To support micro family business owners whose stores have been impacted by the blast and to help them resume their work, World Vision, funded by Global Affairs Canada (GAC), rehabilitated Georgette's store by fixing the ceiling, tiles, electricity supply, lock and the glass front window which helped her to clean up, reopen and resume her work.
Sixty-nine-year-old Georgette felt her life was back after the renovation. "The explosion came at a very hard time with the inflation and Covid-19. I could have not been able to stand again on my feet without the help of World Vision, I felt that I regained my spirit after the renovation, I am very grateful for this support, it was much needed".
The aim of this project is to help more than 100 micro, small and medium enterprises targeting the family business owners and the ones who are running businesses that generate income within their own homes, by providing what's needed to repair, rebuild and restart these businesses, so they can once again open their doors and offer the goods, services – and jobs – most needed by them and their communities.