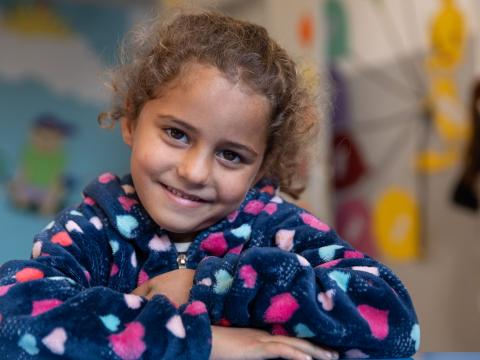 A joyful space to learn
Tuesday, January 14, 2020
Sometimes, a joyful and colourful place for children can have a big impact on their personality and character. For some Syrian refugee children in Akkar who are eager to learn and grow, Aarka centre is the place to be. In partnership with UNICEF and funding from DFID, France and Canada, World Vision's Early Childhood Education (ECE) program is targeting 600 children in North of Lebanon. 
Cedra, is a five-year-old Syrian refugee girl, who attends the sessions with World Vision at the Early Childhood Education centre in Aarka, North of Lebanon. She enjoys learning new material every day with her friends. "At first I was shy, I did not know anyone, but now I have many friends whom I play with." Farah also enjoys learning to read and write. "Today, we are learning to write the letter D in Arabic with our teachers", she says. When asked about Farah, her teacher Sara explains that she is very outspoken and does not hesitate to help her friends when needed."
Farah, five, is an interactive student in her class. "I love to come here every week and see my teachers; they are so nice", she explains. During class, Cedra is learning how to count, how to colour, read and write. "She is very enthusiastic and a good student," says her teacher Reem,  "Cedra shows interest and passion in class., She also pays huge attention to details."
Five-year-old Mouataz enjoys coming to the centre with his brother. In class, Mouataz is calm, and according to his teacher, he is an observer with a shy personality. "I like it here. I enjoy colouring the most", he explains.