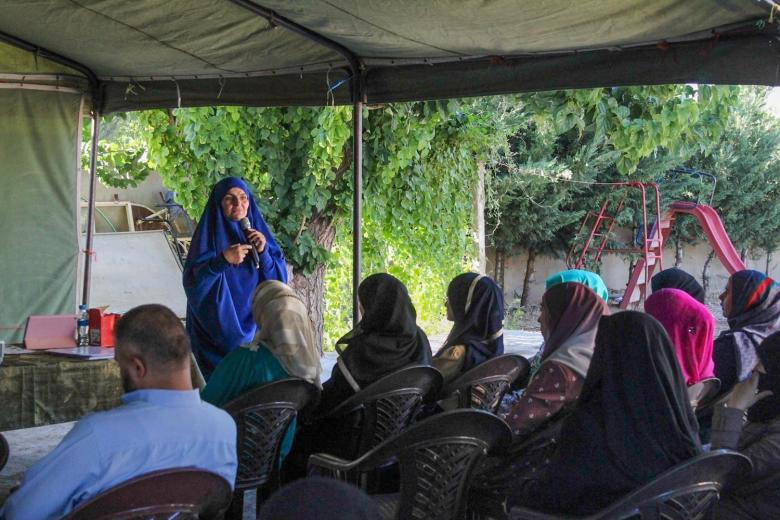 United for child protection
Thursday, October 8, 2020
The COVID-19 outbreak did not only cost the world major health issues, it also had a crucial impact on children globally. According to the COVID-19 Aftershocks: A perfect storm report, produced by World Vision, "Up to 85 million more girls and boys worldwide may be exposed to physical, sexual and/or emotional violence over three months as a result of COVID-19 quarantine."
In partnership with UNICEF, World Vision Lebanon collaborated with 12 faith-based organizations (FBOs) and three community-based organizations (CBOs) in Beqaa, to provide them with child protection key messaging. The FBOs and CBOs will, in turn, support children's wellbeing, by disseminating the messaging to their community members by initiatives of their choice.
World Vision will give a contribution of $2,000 USD to each group for the implementation of their initiatives.
Faith leaders have received sessions and training on the Channels of Hope (CoH) project model. It includes ways to address violence against children and the various forms of abuse, neglect and exploitation, in addition to a first aid refresher session and awareness on COVID-19.
Father Dimitri equipped his congregation with musical instruments so the children can have a place to play music and to feel free without risking their lives. "Children need spaces to express themselves," he said. Fatima, from the Toumouh Association, chose to disseminate those messages through discussions with caregivers around positive communication with the children. She explains, "We have to target the source. The parents are the key to positive childhoods, that is why I decided to disseminate the child protection messages through discussions with the caregivers."
CBOs on the other hand, are trained on topics and key messages including UNICEF caregiver's toolbox, child protection, gender equality, child labour, child marriage, facilitation skills, and first aid.
Petra and Jocelyn, from the Michel Daher Social Foundation (MDSF), attended the online sessions with World Vision around child protection. "After we finished the sessions, we connected with the caregivers online, and they were very positive and intrigued to know facts about child protection, which no one had mentioned before," they explain. MDSF decided on different initiatives in two areas to help the communities. One is a puppet show for children that will teach them about their rights and tree planting. The other one is placing bins in specific places to encourage recycling so children can be more involved in their neighbourhood.
Loubna from Sada al Bekaa explains, "The Beqaa area lacks safe spaces for children to come and play without worrying so we will create this place for them, taking into consideration all the safety measures required." Also, they will be projecting regular movies with discussions about it related to child protection, and they will provide the place with musical instruments and a music teacher as well.
Grace explained Rayon D'espoir's acitivities. They will be creating a smart library for the children of the area, where they will discuss topics related to child protection. And to motivate them finish their homework, they will finish the stories over zoom after the children are done with studying.
Creating initiatives for children to protect them from the effects of COVID-19 and the crisis Lebanon is experiencing is a necessity. Children should not be held accountable for, nor be subjected to any of these problems which might leave a life long impact on them. For this reason, World Vision Lebanon, in partnership with UNICEF, is creating possibilities so that everyone can get involved in protecting the little ones.