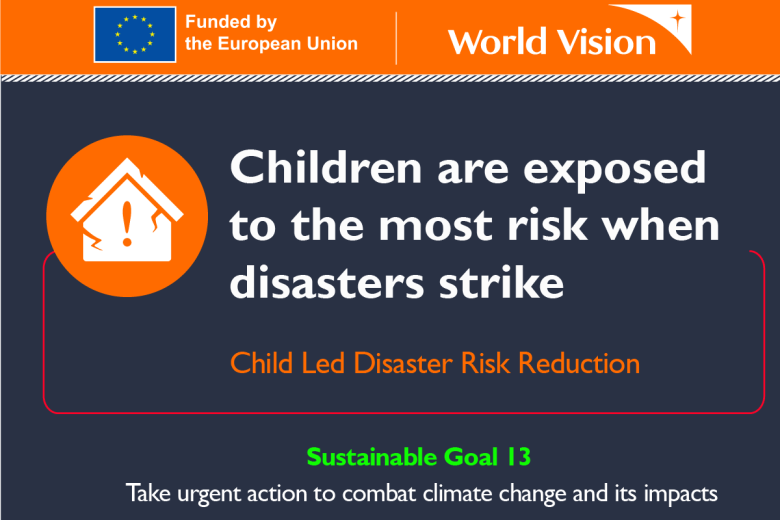 Community disaster risk preparedness: A must for survival
Monday, October 18, 2021
There is nothing as devastating as a disaster that finds people unprepared and not knowing what to do. Destruction to life and property becomes huge. Nthabiseng found her family stranded looking for safety when a hailstorm destroyed her home last year.  She never thought they would recover. She can vividly remember that day, which she thought was their last one alive.
"I was about to make fire outside the house to cook supper when I saw a dark cloud forming in the sky. Immediately, thunder and lightning could already be seen and heard, but that never bothered me. But before I could even think of what to do, the storm had started falling. We ran into the house but it was already too late to try and save anything; let alone our house that already had leakages in the roof."
Nthabiseng, who stays with her 10-year old daughter and her mother who has a hearing impairment, recalls how the storm pierced through their small mud house forcing water into the house 'like somebody was intentionally doing it'.  
"We had to squeeze ourselves in a corner and watched helplessly as the house got flooded with water, as we waited for it to die down; my greatest fear was the house falling on us. When the storm finally stopped, we rushed out to see what had happened. We could see animals dead on the ground, houses falling, and the noise of people asking for help could be heard. Had I known what are hazards and how I prepare for them like I do now, I would have prepared  better. Thanks to World Vision, I now know what to do when there are signals that snow or hail is coming", she adds. 
Maphiring community and others in the Mokhotlong district have now been trained by World Vision (with funding from the European Union) on disaster risk reduction and management, shock responsiveness as well as being resilient against COVID-19. They have now developed disaster preparedness plans which detail what they need to do when disaster comes, in order to minimise loss of life and destruction to property. 
The ECHO Project Manager, Mamello Tsekoa, indicated that the project came at a very opportune time when communities living in the mountainous rural areas are the most affected during disasters, and that national response is often delayed.   "We wish to capacitate them to be resilient so that loss of lives and property is minimised during disaster strikes", he says. 
"When I see a red flag in the village, now I know danger is coming; either a hailstorm or strong winds and I need to act fast",  Nthabiseng shares.
Another villager, Tumisang, also narrates how he lost his best flock of sheep that day due to lack of knowledge. "I lost a total of 10 [sheep], simply because when the storm came I had not sheltered them properly. But thanks to the training we received from the ECHO project, I have now started building shelter for the flock to keep them safe from hailstorms and the harsh winter that we normally experience here in Mokhotlong", he explains.
The project is empowering communities, particularly those in rural areas, to be disaster resilient in line with Sustainable Development Goal 13 (SDG13), which urges everyone to take action to combat climate change and its impacts and through the second phase that will be ending by November. A total of 12,607 community members have been reached; among them youth in schools who have now started disaster risk reduction clubs to ensure children are also protected and disaster resilient. 
This in line with World Vision's commitment towards a world in which preventable deaths are avoided, where women, children and adolescents everywhere can claim their right to safety and survival, and can thrive.