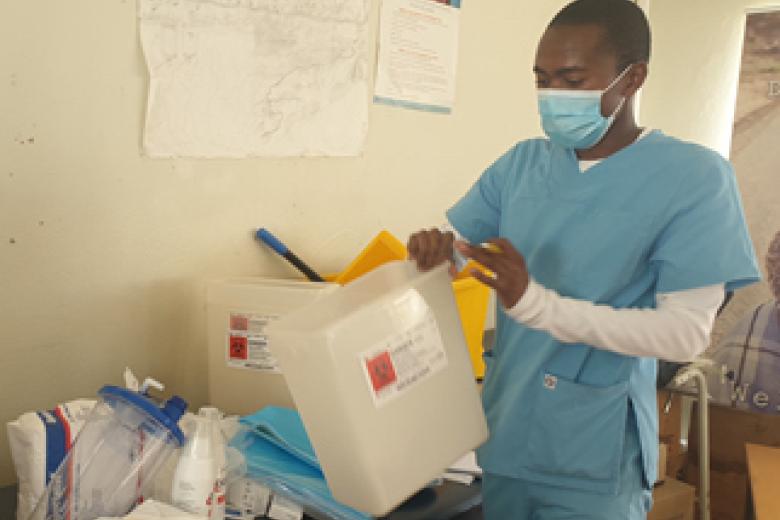 World Vision donation helps restore health workers' confidence during COVID-19
Thursday, July 29, 2021
It is around 11 o'clock in the morning at St. Denis Health Centre. Assistant Nurse, Kametse (30), has a workshop for Village Health Workers. He is training them on COVID-19 guidelines that they need to follow whilst dealing with patients in the villages. His mind is however seemingly not at the workshop which he is facilitating in the open, outside the clinic.
St Denis Health Centre is situated within World Vision's Kota Area programme in the northern district of Lesotho. Kota Area Programme is one of World Vision Lesotho's 14 Area Programmes spread across Lesotho's eight districts, working with children, families and communities to overcome poverty and injustice.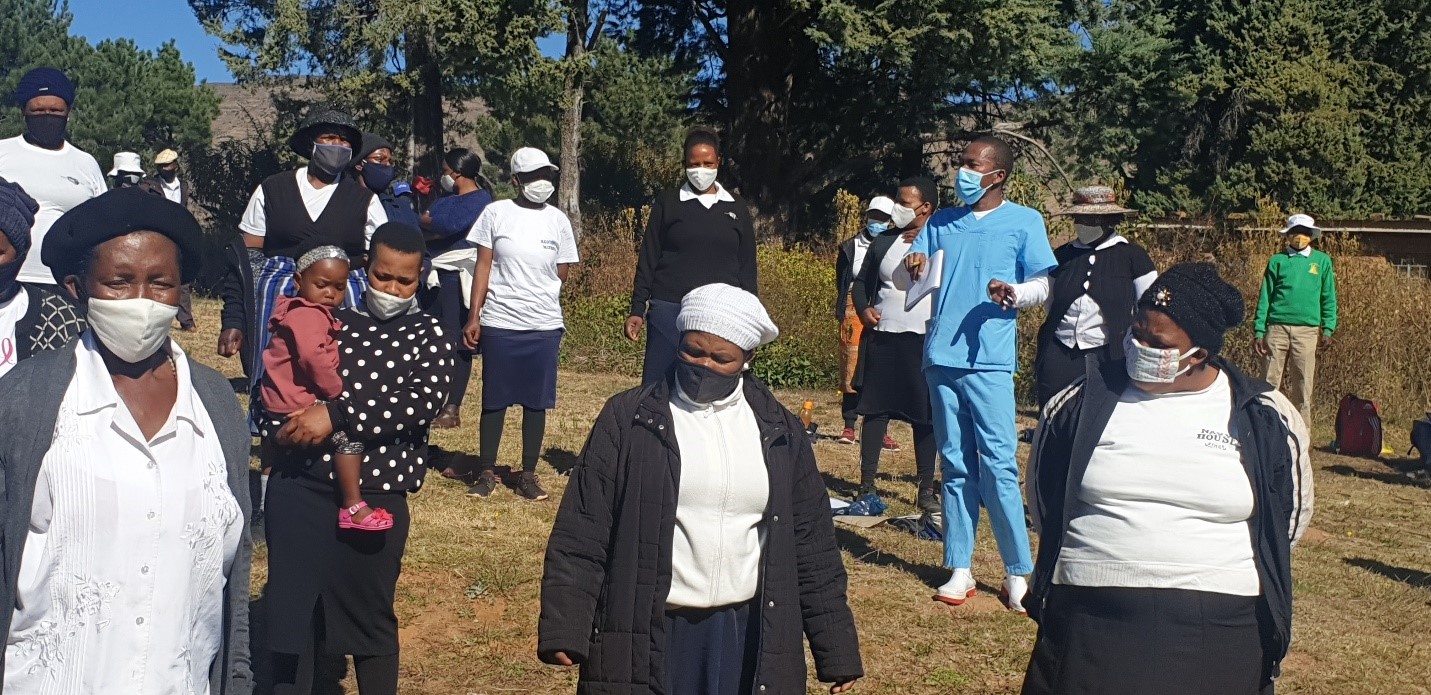 "There is nothing as frustrating as entering a ward full of COVID-19 patients without proper clothing. You literally can hear them cough and struggling to breathe. You look around for something that will ease their pain and suffering; there is no oxygen but a paracetamol tablet", Kametse reveals. 
"Whilst helping them you already feel like you are gasping for breath yourself, with signs and symptoms of COVID-19. In most cases it is just psychological, I guess the fear of how worrisome COVID-19 is", he adds.  
Kametse cannot help but thank World Vision for the Gifts-In-Kind (GIK) equipment they donated to the health facility, which will go a long way in assisting health personnel to keep patients clean and most importantly keep the area also clean, thus minimising the spread of COVID-19.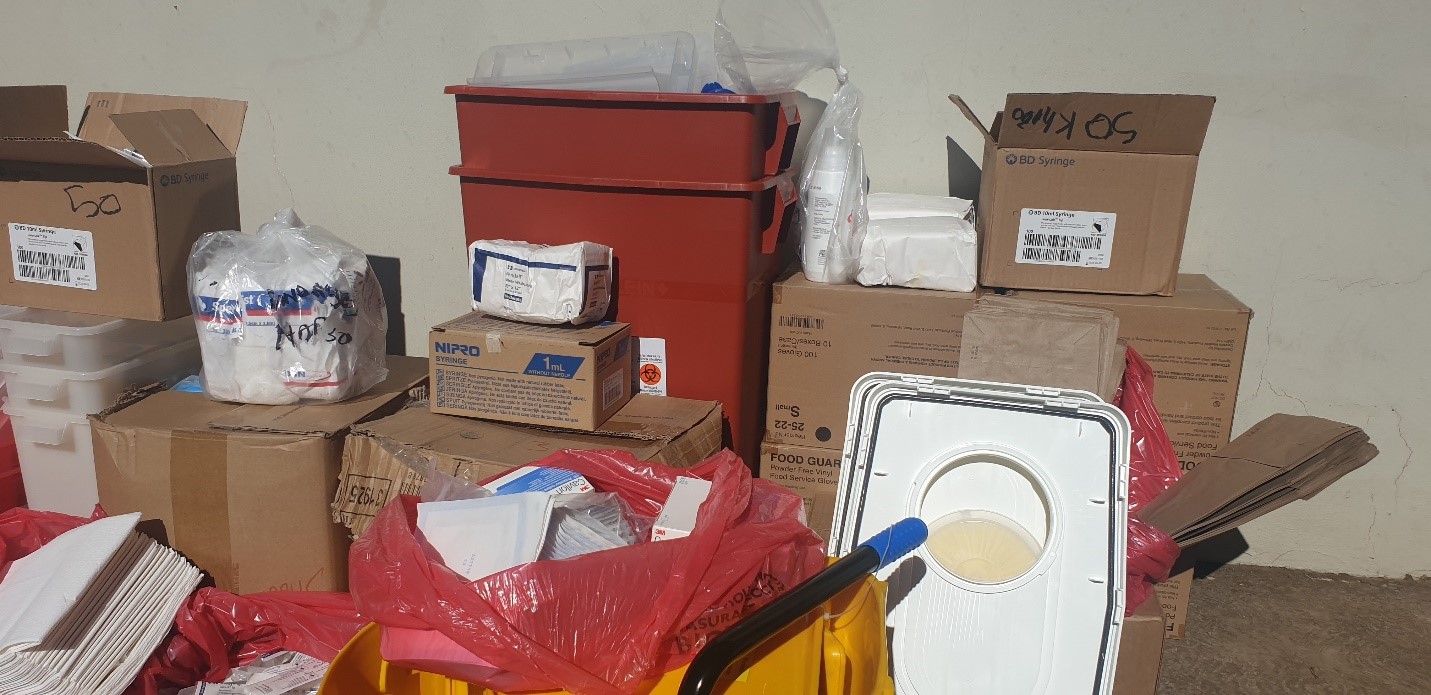 "We will remain forever indebted to World Vision for saving our lives and that of our patients. At least now I can enter the ward with confidence wearing an overall; and even my colleagues do feel the same", shares Kametse. 
The GIK donated by World Vision in eight districts of Lesotho to the value of US$ 96,026 includes sanitisers, cleaning cloths, dustbins, gloves and plastic bags, overalls and other Personal Protective Equipment (PPE).  
St. Denis clinic currently has five nurses who serve a population of 13,746. The situation in this centre is such that there is one COVID-19 nurse. Another nurse serves 40 pregnant mothers, while during the night only one nurse is on call.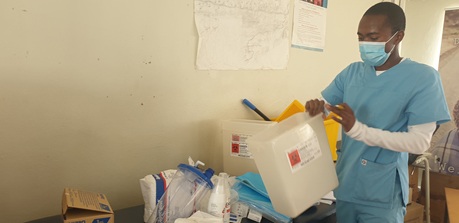 Among the challenges they face is that during winter (like now), they experience load shedding which forces a nurse on a night shift to sometimes use a candle to help a pregnant mother giving birth, thus posing a risk to both nurse and patient. Others include shortage of water, which forces health personnel to transfer patients to other clinics; and that also poses a risk to the patient because of lack of access road.
The GIK donation comes at a time when Lesotho is experiencing the third wave of the pandemic. The situation has forced government to close schools because children were now infecting one another.  
"We have no option but to close schools once again to curb the spread of the pandemic", revealed the Minister of Education Ms. Ntlhoi Motsamai.
Lesotho currently sits at 11,239 COVID-19 cases, 239 deaths and 6,447 recoveries and as of 5 July 2021. A total of 56,322 vaccine doses have been administered mostly targeting people with life-threatening illnesses. Lesotho's population currently sits at 2 million people; many still waiting to receive the vaccine.