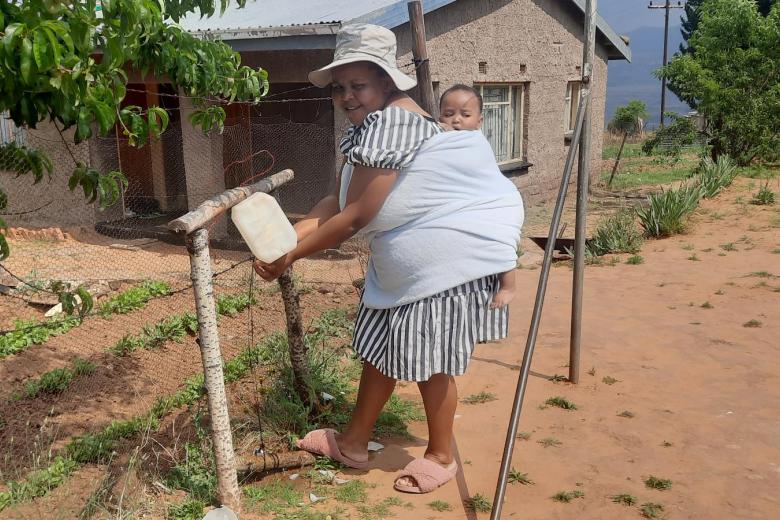 How the provision of clean water changed the fortunes of a community for good
Monday, October 24, 2022
Phamong Moreneng is a small community lying at the foothills of a mountain range, south in the district of the Mohale's Hoek. Though not too far from the tarmac, Main South I road leading to the Southernmost district Qacha's Nek, until recently the community was still far from civilization.
"I would have to travel about 40 minutes going to collect water from ponds because we had nowhere else to collect clean drinking water close to our village. It was our way of life, we had not known anything else," said the 33-year-old Palesa.
Palesa is a housewife and a mother of two, a 13-year-old, 7-year-old and a 10 months old. Her husband is employed in the Republic of South Africa. His employment is their only source of income to sustain a family of five – Palesa and her three children as well as her husband.
"When you struggle getting water like that you may not want to waste it washing hands. We only wanted to use water for activities we knew very well that if we do not have water we wouldn't survive. Activities like cooking, washing and sometimes watering our vegetables at home," she recalls.
The proportion of children who do not have access to improved sanitation facilities stood at 64% for children aged 0–23 months across the country. The rate of deprivation was slightly lower for the children aged between 2-17years old, but does not look good – 48% - 54% (UNICEF, 2021).
One of the most worrying challenges for the Moreneng community was the common cases of diarrhea which plagued their community. Soon it was clear that the cause for the rampant diarrheal cases was drawing water from unprotected water sources and poor families' hygiene practices.  
However, the story of Palesa and her fellow community members' lives have changed since World Vision Lesotho established an Area Program serving communities in Phamong inclusive of Palesa's community. World Vision's Phamong Area Program drew water closer to the community.
"Since washing hands with running water and soap my baby has not suffered from diarrhea and is growing up healthy. I am looking forward for him to start school next year. Thank you World Vision for helping my baby and other children in our community by protecting them from illnesses," Palesa said.
Palesa is also a member of a village nutrition club which was initiated by World Vision Lesotho to help parents improve their children's nutrition. During the nutrition club meetings Palesa and 12 other members were trained on appropriate handwashing behavior and encouraged to build hand washing stations at home to wash hands before handling food to protect children against water related diseases such as diarrhea.