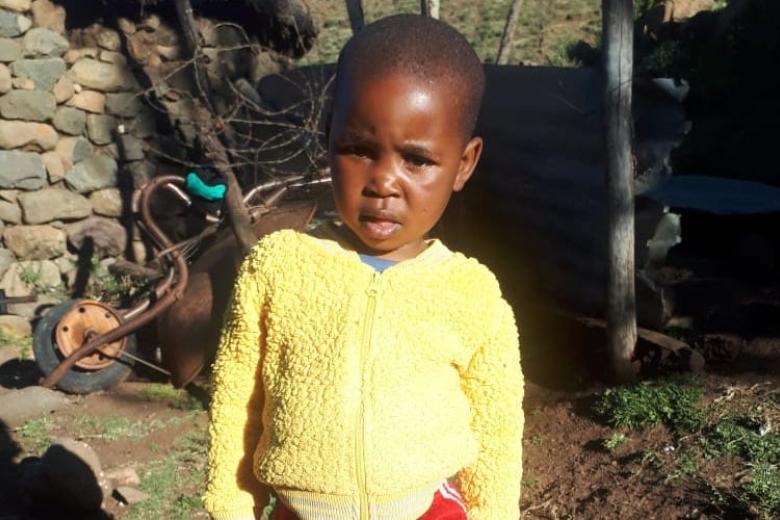 A new beginning as three-year-old Rethabile is rescued from malnutrition
Wednesday, June 8, 2022
When her mother left her at the age of two to look for a job in the neighbouring Republic of South Africa, Rethabile's  grandmother lost all hope that her grand-daughter would ever make it. Rethabile's weight kept deteriorating, from 5.3kg to 4.9kg, putting her at an even greater risk of contracting diseases.  
"Life has really been tough for me since the departure of Rethabile's mother", narrates Granny Mathabo (65). "A young child like her needs soft and nutritious food which I cannot afford. I give her milk once in a while if we have breast-feeding goats and many a times I don't.  Sometimes I feed her bean soup, but this also depends on the availability. Other time,s I just give her what everybody else in the house takes - porridge and vegetables."  She goes on to mention that she is a subsistence farmer who has not been able to harvest anything because of  the torrential rains. 
The situation was worsened when COVID-19 hit the country. Movements were restricted and getting food was even tougher for the family. Meanwhile, Rethabile's weight kept deteriorating.
Thirty-four year old Nomseko, Rethabile's mother, finally returned home when she realised it was not easy to take care of her child and and her mother, who were at home while she is in South Africa. "I want to thank World Vision from the bottom of my heart because they came to my child's rescue", shares the mother, who has now joined a nutrition club established by World Vision's team in Lesotho. "They gave us survival packs not only to feed her but also to use as a family; which gave us a chance to plant vegetables". 
Nomseko further explains, "At the club, we are taught how to prepare soft baby food and also how to preserve it. My daughter's weight has now improved and sits at 18.3kg." The club currently has eight members who have also been trained on World Vision's Empowered Worldview approach.  
World Vision's newly-established Phamong Area Programme (AP) in the south of Lesotho, funded by World Vision's United States Office, is on a mission to uncover challenges facing children like Rethabile and their community so that interventions can be relevant. 
"If we had not taken action immediately, Rethabile may not have made it", shares World Vision's AP Coordinator, Tšepo Motsamai. "We had to give them food packages that included soft baby food and Rethabile's weight immediately improved." Tšepo adds that as a new AP, they immediately picked malnutrition as major problem affecting children. Phamong Nutrition Club Brings brings the total number of clubs established by World Vision countrywide to 150.
Fifty-seven percent of Lesotho's population of 2.2 million lives below the poverty line, and more than 508,000 people are food insecure (World Food Programme Country Brief, 2020) According to the same brief, Lesotho loses 7.13 of its GDP to chronic malnutrition. It is, however, encouraging to note that over the last 10  years, 89% of the severely malnourished  children treated and made a full recovery.