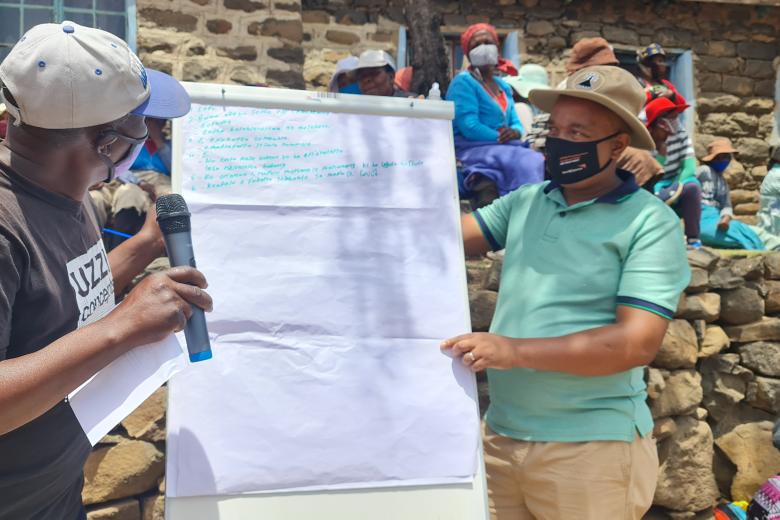 Pastor trained by World Vision helps diffuse COVID-19 myths
Monday, January 24, 2022
Born in Mount Moorosi in the district of Quthing, in the south of Lesotho, Pastor Bonga Mzini finds joy in getting to the hard-to-reach areas of Lesotho to ensure communities have a proper understanding of COVID-19 and vaccines.
"After being trained by World Vision on different models including Channels of Hope for COVID-19, I immediately identified gaps", he narrates. "I realised that communities, especially those living in the remote and hard-to-reach areas, are reluctant to vaccinate. They seem confused by unfounded myths around it. On the other hand, parents are dying, leaving children orphaned. I immediately took it upon myself to ensure they have the right knowledge by devising ways to work with health professionals to reach out."
One of the myths surfacing in communities, especially amongst the faith community, is that COVID-19 represents a way of Satan pronouncing his presence in the world, and that taking vaccines are means by which the devil marks his own.  
"I then volunteered to help the communities get the correct information through the British High Commission-funded COVID-19 masks and vaccines project, intended to encourage communities to consider getting vaccinated, use masks and hand sanitiser", Mzini continues.
He further adds that World Vision also provided a platform through community dialogues, working together with the Ministry of Health and other health practitioners to present information on the dangers posed by COVID-19, and how vaccines help communities become resilient against the virus. 
"The initiative has helped empower communities with knowledge", says the pastor. "We saw community members who had pronounced their stance not to vaccinate, approach the desks set by the project staff and partners to administer vaccinations, for a shot."
"I always felt that once I got vaccinated, my life would either end or the vaccination would leave me crippled. Even though I just got vaccinated, I feel normal; the things I feared feeling are not here", says one of the men who had for a while dreaded vaccines during the project outreach in the district Mokhotlong. 
In the year 2018, the volunteering Pastor Mzini won a Commonwealth Point of Light award for his dedication to serve the most vulnerable children. He has received various opportunities for training from World Vision, which have covered the organisation's Channels of Hope for Child Protection, Channels of Hope for Gender and Empowered Worldview models. 
In Lesotho's population of about 2 million people, so far 618,000 doses of COVID-19 vaccines have been administered and 572,287 people have been fully vaccinated. Mobilising people to get vaccinated is in line with Sustainable Development Goal 3, which emphasises good health and well-being.