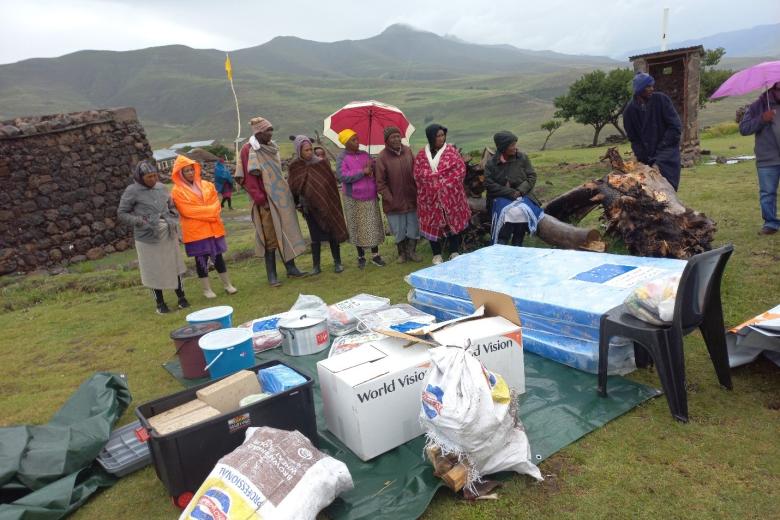 World Vision Lesotho races to help family who lost house and property in inferno
Thursday, January 12, 2023
By: Lerato Brown | Communications & Marketing Manager
Mr. Lipuo Boleke, aged 34, lives with his spouse and four children, all girls aged twelve, nine, six and two, respectively. The family lives in Mokhotlong, Mphokojane Community Council in Paballong Thaba-Limpe village. They lead a simple and peaceful life with subsistence farming as their core source of livelihood; the family owns a field which they plough to get seasonal food to make ends meet through the Ministry of Gender, Youth, Sports, Arts, Culture and Social Development public assistance with child grants aimed at protecting the already vulnerable from shocks and hazards which can negatively impact children.
On the 29th December 2022 the Disaster Management Authority (DMA) in Mokhotlong received an alert informing that Mr. Boleke's home had been burned down to ashes, with the house and all possessions destroyed, leaving the family homeless with the only hope that they could cling to being the grace of God guarding their lives and protecting them and their little girls from the fire.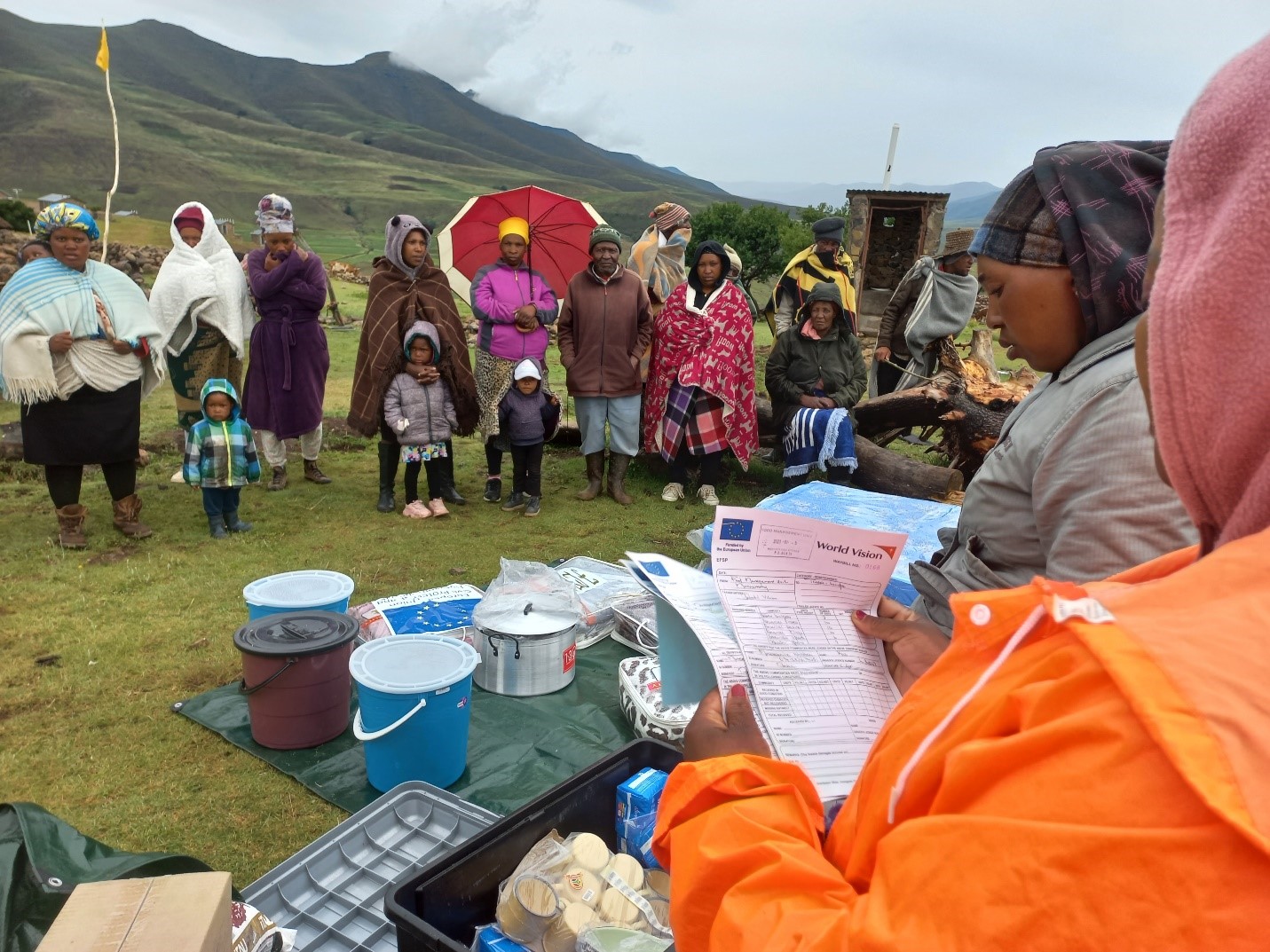 The Boleke Family and Community Members receive emergency aid
A tragedy like this can leave families stranded, uncertain, broken and vulnerable. At World Vision, when an emergency occurs, we are on the ground with our partners, helping rebuild lives for children, families & communities.
The District Disaster Management Team (DDMT) comprising World Vision Lesotho, the Government of Lesotho through the Ministry of Gender, Youth, Sports, Arts, Culture and Social Development, the Lesotho Mounted Police Service and Red Cross Lesotho raced to provide emergency relief to the affected family and long-term sustainability to the community on how to mitigate man-made disasters.
By the grace of God, there were no injuries or casualties as a result of the fire. The family was provided with temporary shelter whilst World Vision and partners undertook assessments to help rebuild and restore the house.
Through the European Union Civil Protection and Humanitarian Aids funded 'Disaster Risk Reduction project, World Vision US Gift -In -Kind together with our partners, the organization raced to save lives by responding and reaching the Boleke family and the Paballong Community to deliver aid, provision of food packages, distribution of clothing, shoes, groceries, blankets, matrasses, kitchen utensils, chairs and wood to help the Boleke Family survive this crisis.
Mr. Boleke expressed his gratitude to the District Disaster Management Team for helping him and his family in his time of need: 
I have no words to express how much this means to me, I am grateful to God for every organization that has made a contribution in the restoration of my Family, We know now what we need to do to avoid this incident from happening again and assure everyone here today that we will take care of everything we have received.
We are Responsive|We are Partners
Through these partnerships in responding to crisis situations in Lesotho, World Vision were in a better position to respond to a family in need through the provision of emergency relief. We believe that it is only by working together that we can transform the lives of the most vulnerable children and their communities,
We cannot change the world alone. We are reliant on one another to know, understand, and love each other as we accept the great responsibility of joint participation, shared goals, and mutual accountability in helping children and families survive is crisis.