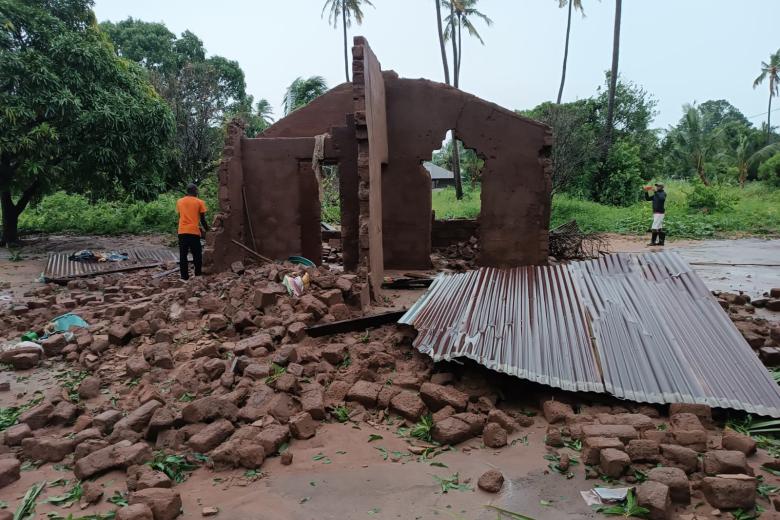 Cyclone Freddy: Search and rescue operations continue, as floods worsen in Mozambique
Thursday, March 16, 2023
Stranded families are being taken to safer ground by boats, as search and rescue operations are stepped up in Zambézia province, in central Mozambique, after a local river burst its banks.
This harsh scenario is faced by local communities with rains brought along by Cyclone Freddy showing no sign of respite.
In Maganja da Costa district, where World Vision has operations, we are working alongside the National Institute for Disaster Management (INGD).
World Vision District Program Manager, Anivaldo Maculuve, says "We have provided technical support and are working alongside the National Institute for Disaster Management district teams in damage and needs assessment, data collection and processing, and rescue, so that people at risk, especially the most vulnerable, are moved to temporary shelter and given proper health care, as needed".
Maculuve says there are indications that the scenario may worsen in the next few days, when more rain is forecasted. Parts of the district are reported to be isolated.
World Vision expects to start providing some in kind aid very shortly which the organization acknowledges will almost certainly fall below current needs.
The organization is currently engaging in efforts to mobilize much needed financial support, so the organization is able to effectively support on going interventions following Cyclone Freddy's landfall, last weekend.
Over 50 000 people are said to have been affected by Cyclone Freddy, with half of them currently accommodated in temporary shelter provided by the Government. 21 people have so far lost their lives.