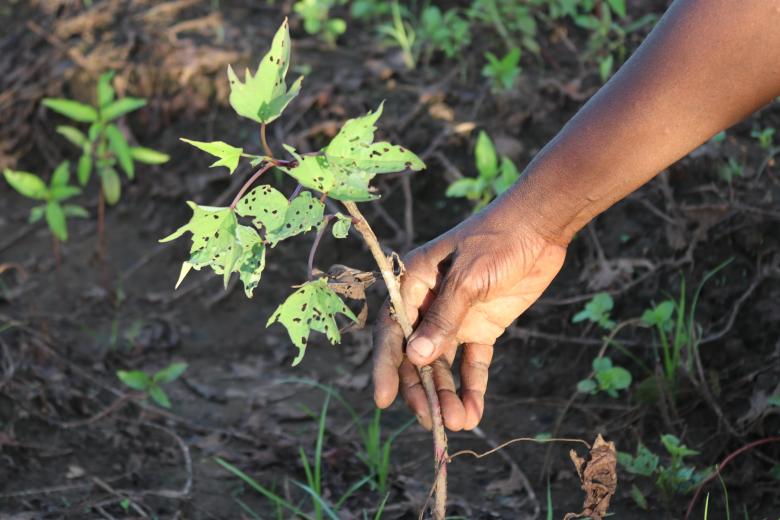 Reinventing oneself to deal with the damage imposed by Cyclone Eloise
Monday, March 8, 2021
The three and a half hectares of sweet potatoes, rice, maize, peanuts and cassava owned by 56-year-old Amélia Chacama in Búzi district, were washed away by the intense floods that followed the Cyclone Eloise, which hit Mozambique on early 23 January, bringing powerful winds and heavy rains. The natural disaster destroyed vital infrastructure, homes and farmland, pushing thousands to food insecurity and reduced access to essential basic services.
Exacerbated by the rains that continue to fall countrywide weeks after the cyclone, the situation is occurring at a time when Amelia is still trying to put her life together after the devastation caused by Cyclone Idai less than two years ago.
"We're suffering a lot. On that night, first the roof was blown off before the whole house fell completely due to the power of winds. With my son Fernando's (19) support, I managed to get my two grandchildren, Amélia (10), and António (5) out. Despite the intensity of the floods, thanks to God, we managed to reach refuge at Búzi headquarters village",  recounts Amélia.
The following days were filled by intense rains, which made it impossible for Amélia to return home to recover her belongings. "Four days later, I was able to measure the impact of the Cyclone. Many of our belongings, including my field, were swept away by the floods. It was really heartbreaking".
"Just after two weeks, when the water went down, we return back home and we rebuilt this small house so that, at least, we could hide ourselves", says Amélia explaining that she was unable to complete the entire house due to another material being completely unusable by that natural disaster.
Of the maize, sweet potato and peanut crop farm that Amélia owned with support from World Vision and with funding from the United States Agency for International Development's Bureau for Humanitarian Assistance (USAID-BHA), only traces were left. "With the seeds we received from World vision, we had high expectations of having good production at this growing season. Unfortunately, everything was destroyed".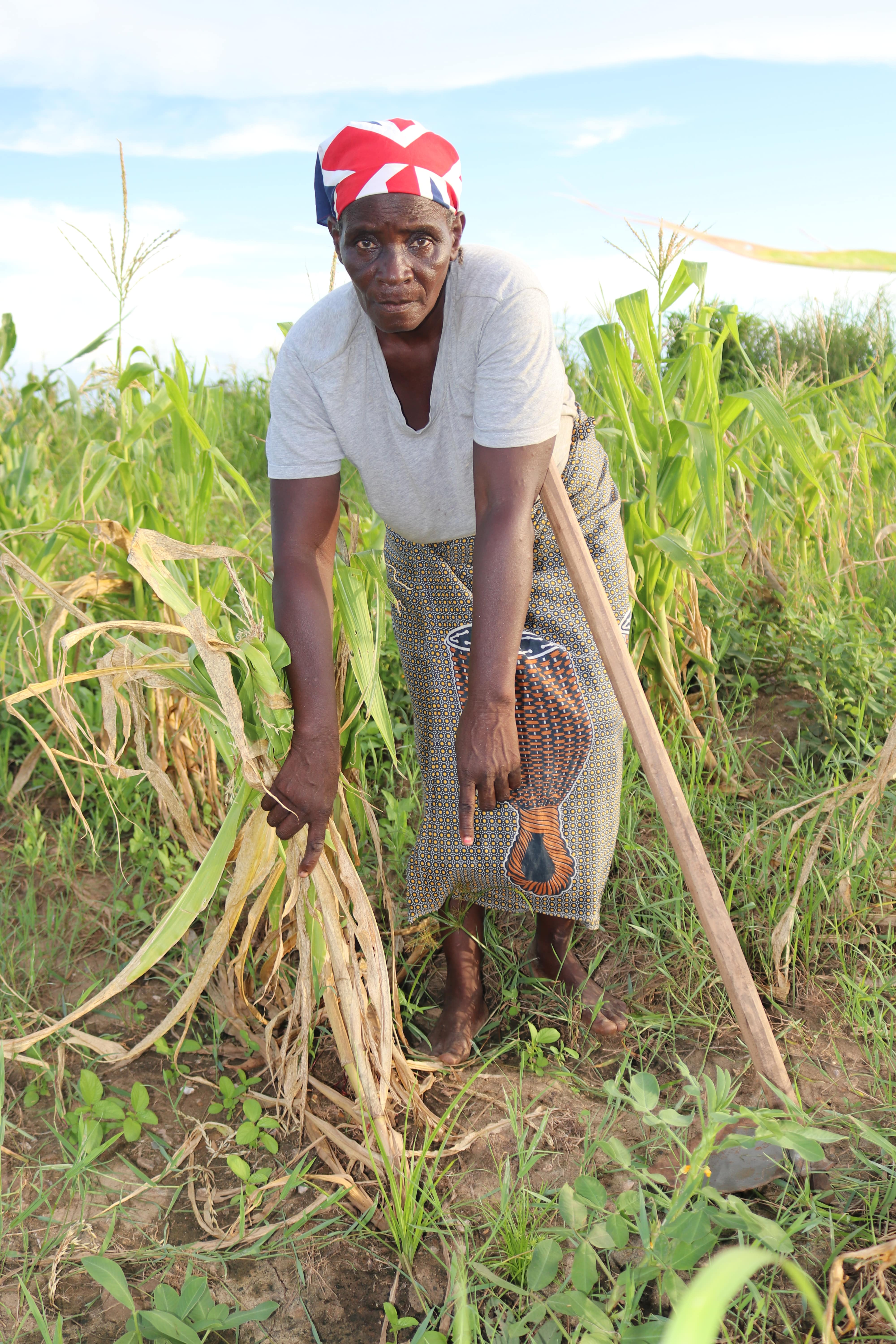 While still reassessing the damage inflicted by Cyclone Eloise, Amélia is preparing the ground, with World Vision's support, for the second growing season. "We have to get ready ourselves because the food assistance we've been receiving so far from the Government will end soon and I have to see how to continue feeding my family", she tells us.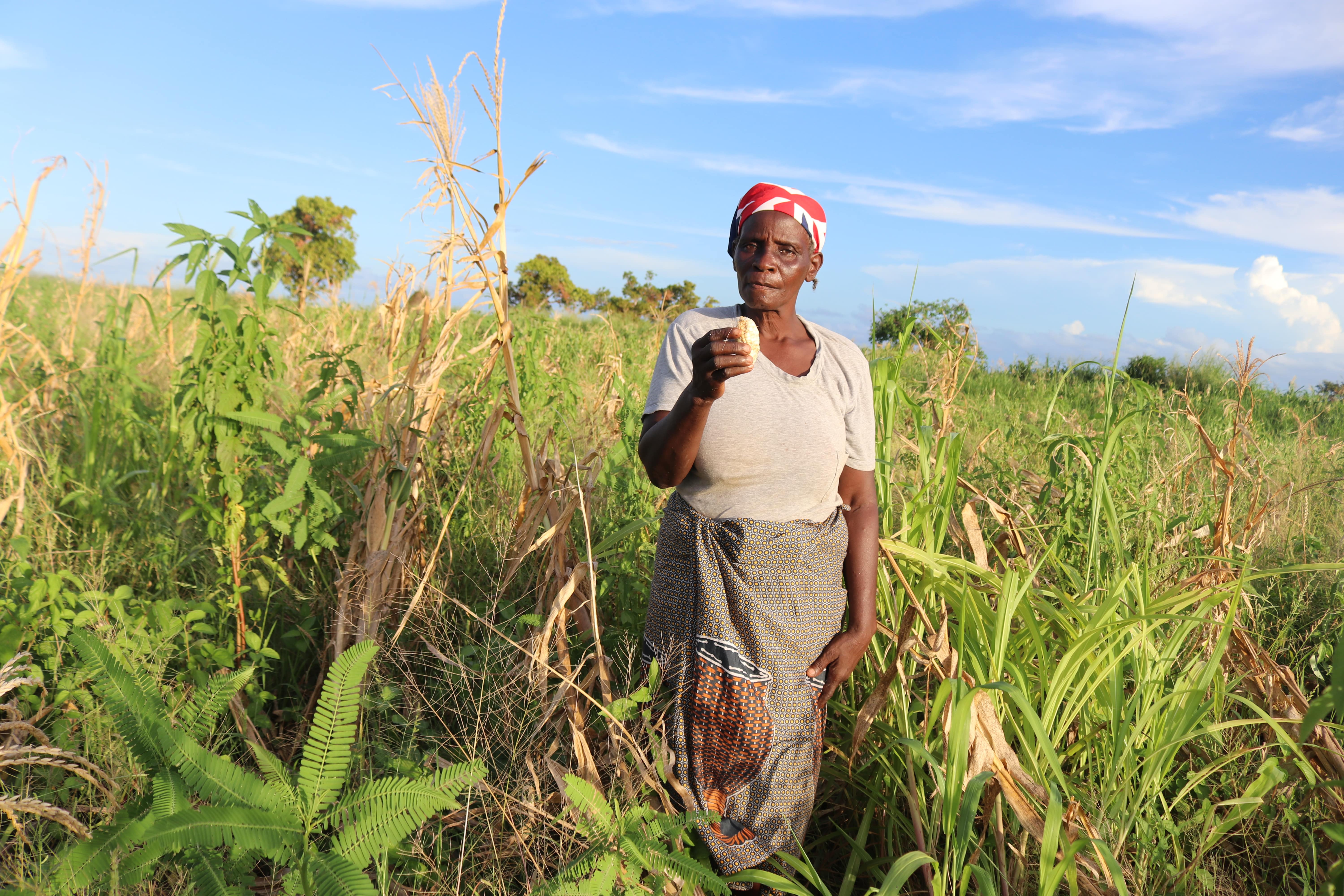 Amélia is concerned because, in her own words, these recurring natural disasters are already having harmful effects on her granddaughter Amélia. "She's always asking if another cyclone will come".
"It's true. I'm very scared because I heard that cyclones kill", confirms granddaughter Amélia.
Meanwhile, the World Vision Central Mozambique Programme Zonal director, Davies Bishi, expressed his concern as climate change is affecting, above all, the most vulnerable children and their communities; worsening their condition of poverty and severely limiting their dreams.
"As Word Vision, we're once more mobilising resources to restore livelihoods the population affected by Cyclone Eloise. We've been assisting those farmers since Cyclone Idai to solve the food insecurity problem. Unfortunately, Cyclone Eloise made landfall and disrupted this effort", regrets Bishi.
Amélia is one of 197,500 vulnerable people benefit from World Vision and USAID-BHA Agricultural and Food Security projects that aims at increasing access to food through own production and productive assets.
--------------------------
By: Lourino Pelembe, World Vision Mozambique Communications Officer