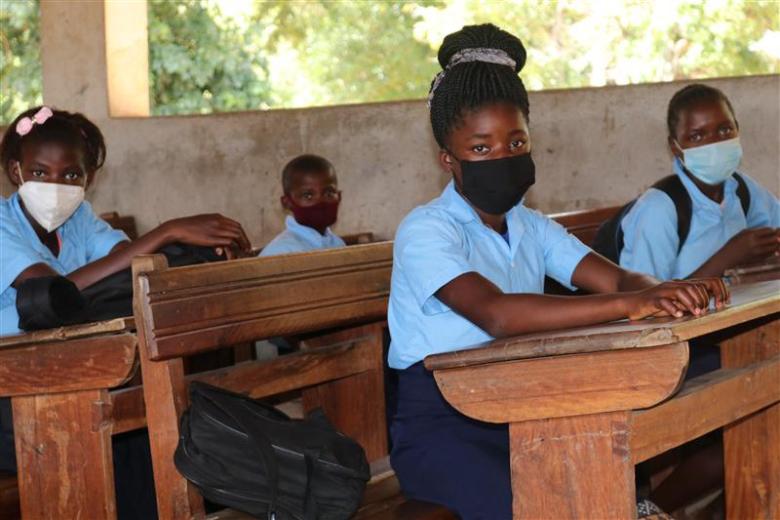 World Vision's COVID-19 response reaching 144,000 people in Gaza, Mozambique
Wednesday, May 5, 2021
By António Massipa
More than 144,000 people have benefited from various interventions aimed at halting the spread of COVID-19 in the southern province of Gaza, in Mozambique.
Ayanda, 13 years old, lives in Guijá district in Gaza province is among the beneficiaries of the organisation's COVID-19 response interventions. As Mozambique reopened the 2021 school year on March 22, after a year-long suspension due to the COVID-19 pandemic, the girl, who dreams of becoming a mathematics teacher, returned to school under safer conditions. These conditions were created by the Government and its partners, among them World Vision.
"When we arrive at school, our body temperature is measured, we wash our hands with water and soap, and in the classroom, we sit down complying with social distancing", explains the grade six student, adding that "We wear masks full time. I think all these things are important to protect ourselves from the disease. So I can say that I feel safe."
Since the onset of COVID-19, World Vision has been providing humanitarian assistance in Gaza to communities affected by a pandemic that continues to ravage the country and the world. The organisation is carrying out interventions in the education and health sectors, as well as providing Water, Sanitation and Hygiene (WASH) support, as explained by the District Programme Manager, Amílcar Checo.
"Our interventions include community awareness-raising campaigns, distribution of protective material, including masks, alcohol gel, soap, visors, buckets with taps, and hand-washing systems", says Checo. "Additionally, we supported the construction of toilets in schools and health facilities, as well as water sources, such as boreholes and water supply systems." 
Apart from the humanitarian response to COVID-19 in Gaza, World Vision implements development activities in Education, Child Protection, and WASH sectors, which directly benefit a total of 12,000 children in the districts of Guijá and Mabalane.