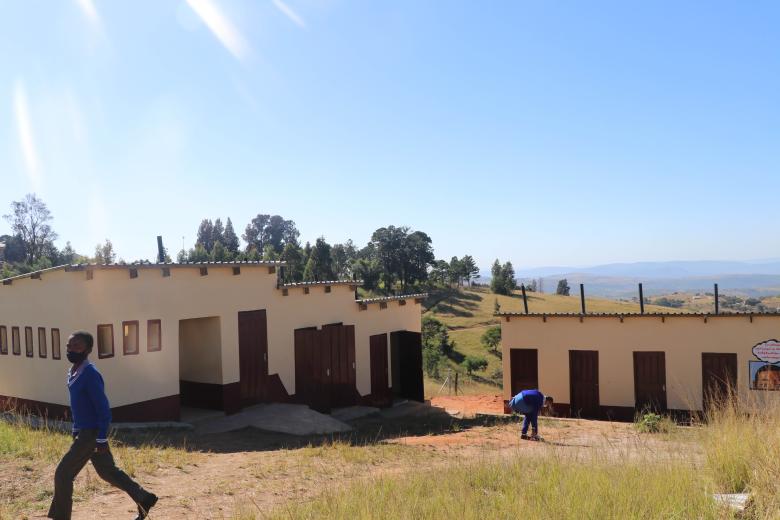 New toilets restore dignity and pride to learners at St. Juliana Primary School
Wednesday, June 8, 2022
The state of the old toilets at St. Juliana Primary School was a disadvantage, mostly to the girl child. As girls on puberty, they were forced to use old corrugated sheets as make-shift doors or go with their friends who will then block the doors while the others were using the toilets.
"There was no privacy and it was not easy to use the toilets. This was even worse when you wanted to change your sanitary pads since there were no doors. So it was known that when it is that time of the month, you ask your friends to accompany you to the toilet to block other students from disturbing you. The friends will stand right at the door and face the opposite direction to block others from using the toilet. This was so embarrassing," 12-year –old Bayandza said.
Bayandza was supported by Gugulethu and Neliswa, all doing Grade 6, who have suffered embarrassment from using the old toilets before World Vision intervened through its Mantambe Area Program (AP).
Last year, World Vision supported this school with the construction of new toilets for pupils and teachers. St. Juliana has an enrollment of 178 pupils, comprising of double orphans, others with a single parent, and from vulnerable families, and eight teachers. In December 2021, they were completed with 10 toilet units – five for boys and five for girls. In addition to the five units for boys, there is a urinary facility.
"I am short of words of what to say to World Vision for what they have done to the school. In fact, the school had no toilets and if health inspectors ever came to the school they would have closed it because of the state of the old toilets. They were no longer fit for usage but because of financial constraints, we didn't have money to finance the project until World Vision came along," Brenda Nhleko, the Headmistress of the school said.
Nhleko said they tried other institutions for financial help to construct the toilet but there was never a positive response until they approached World Vision two years later.
"We approached World Vision and in a short space of time, we got a positive response. After a few months, the toilets were completed and now the children are safe and they get the necessary privacy they need when visiting the facility," Nhleko said.
Moreover, World Vision provided the school with a 5000 litres water tank, which they use to collect water since the school does not have a water system yet. This tank is currently full of water collected from the recent rains.
According to Nhleko, even during the peak of Covid-19, World Vision provided almost everything; from sanitizers, soaps, handwashing facilities, information charts, and many more which enabled the school to reopen as per the Ministry of Education's requirements.
"After the ministry inspected we were allowed to reopen and all our learners received a 100 pass rate. We are still proud of our results and we will never forget World Vision for positively contributing to the school," Nhleko said. This school has further received 10 school desks from the organization.
Mantambe AP Development Facilitator Wandile Ndzabukelwako said this project of toilets construction cost a total of SZL150 000. (9,759.77 USD). He promised that the AP will continue to assist the school and many other schools in the constituency where possible to enhance the quality of education in the area.