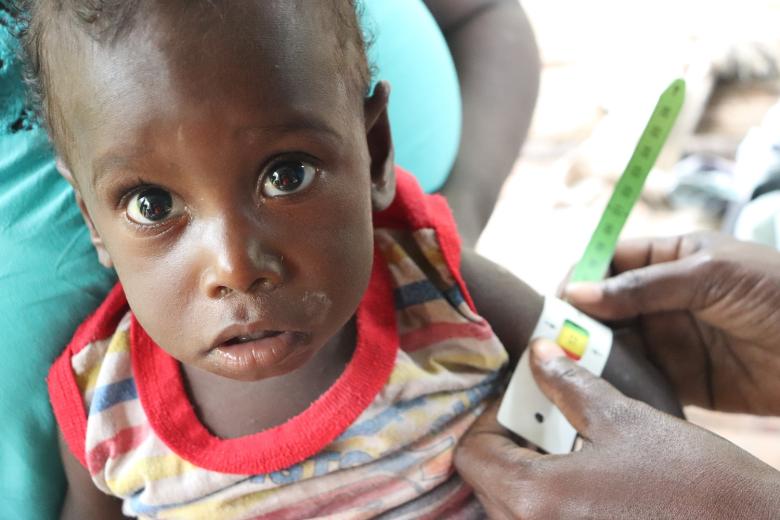 Child with severe malnourishment improves through Nutrition Project
Wednesday, February 16, 2022
"I was doing my first community visit and conducting house visitation in August 2021 when I first came across Shirley. She looked malnourished, unwell, and weak with visible signs of scabies all over her faint body", described Cathy.
Situated atop a hill, 30 minutes ride away from Arawa town and another half an hours' drive from the heart of the infamous Panguna mine, is a small community called Siredonsi.
What's unique about this community is that it is one of the five project communities under the Caring for Nutrition (CFN) program in Central Bougainville, a program funded by the Australian Government through the Australian NGO Cooperation Program (ANCP).
This is where Shirley lives with her parents and five siblings. Shirley is a 16-month-old child who was suffering from severe malnourishment.
As a child from the project site, she automatically fell under CFN's Children under Two (CU2) program, a program aimed at reducing the prevalence of chronic malnourishment, especially for children under two years of age.
Shirley's case was first identified by Cathy Dandapa, a Caring for Nutrition project facilitator, during a community visit.
She said Shirley appeared very weak and was not able to sit, move around or even eat properly; all she did was sleep.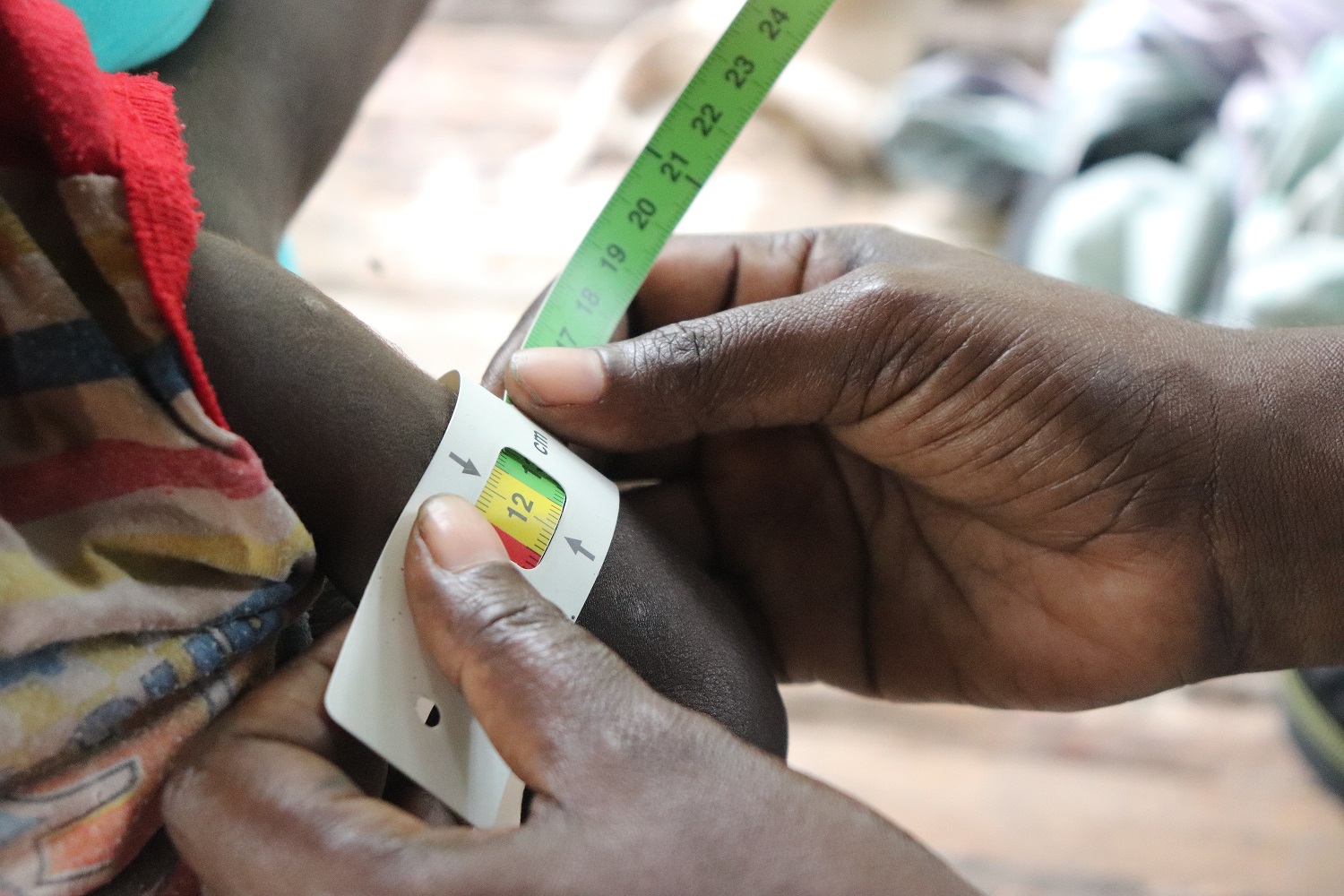 Born on September 26th 2020, Shirley was a healthy baby, weighing 4kg at birth. However, her mother Stella, with little to no knowledge of family planning, fell pregnant with her sixth child when Shirley was just four months old.
This suddenly directly affected Shirley's health and development, and she started to fall sick. It began with a drastic weight drop and then loss of appetite, making her very weak and thin with no signs of improvement and hope in sight.
Since then, the mother had stopped breastfeeding her because of the cultural belief that a pregnant woman should not breastfeed while pregnant as the breast milk is claimed to be 'unclean'.
Stella did not know about nutritionally-balanced diets and was unable to provide Shirley with the type of balanced meal she direly needed.
Here is when Cathy informed the Caring for Nutrition team of Shirley's condition, and they quickly started to monitor and keep her under watch.
The CFN project staff went every month to monitor Shirley's progress with the help of Village Health Volunteers, who were trained under CFN.
Siredonsi's Village Heath Volunteer, Charlene Maroavi, used the knowledge and skills she acquired from her trainings under CFN to advocate the importance of breastfeeding, backyard gardening, family planning and healthy ways of handling food and water when preparing food too; she advocated and shared with Stella and other members in the community.
On the second visit, Shirley weighed 5kg with 10.9cm showing on the Mid Upper Arm Circumference (MUAC). A month after that was her third visit, this time, she weighed 6.5kg and 11.5cm on the MUAC. Shirley was now showing signs of recovery, with her weight gradually picking up again. The sores on her body were also slowly diminishing. She was now able to sit up and move about.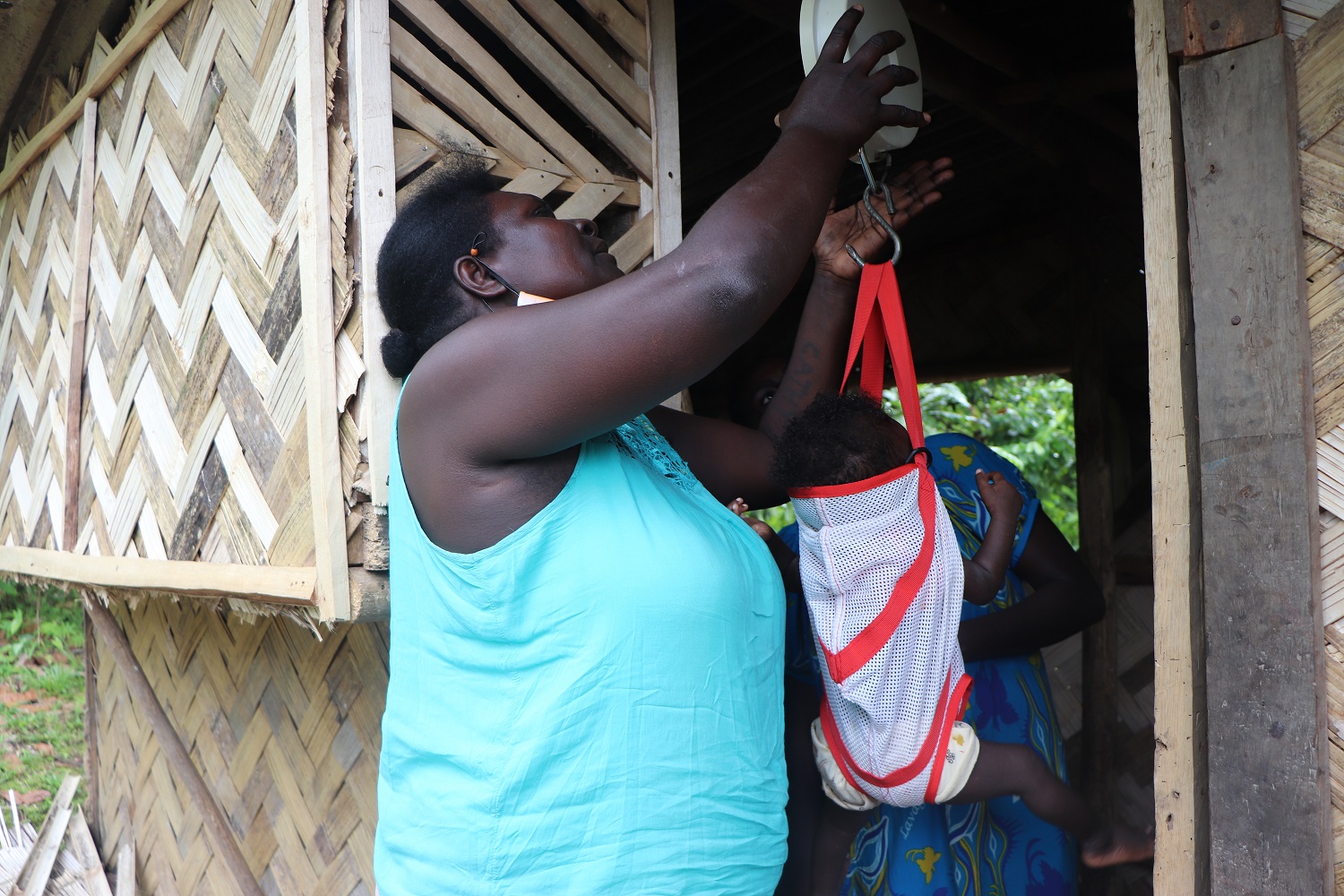 Her mother, Stella, admitted that she did not know what family planning was, what a balanced meal was and how to prepare it. She also had no knowledge of proper feeding, depriving Shirley of the proper nutrients and food needed for her growth and development.
"I'm so thankful for the knowledge I now know and the support provided to my child and family through the CFN project. Because of the tremendous changes I have seen in Shirley, I now realize the importance of a balanced diet and breastfeeding. I have now ensured to include garden food, especially greens from my backyard garden, when preparing my family's meal," said Stella.
Through the CFN program, food rations consisting of balanced meals were also provided to Shirley per month to help her get enough nutrients in her body. In addition, her mother was taught to prepare different recipes for balanced meals and feed Shirley 4 to 6 times per day.
During the 4th visit in January 2022, Shirley's weight went up to 6.7kg with 12.1cm showing on the MUAC; she looked much healthier with no signs of rash on her body.
The CFN team, with the support of the village health volunteer, also started to monitor the new infant under the Infant Young Child Feeding (IYCF) program.
Stella has since taken the breastfeeding advice into heed, and now both babies are on breast milk, with both children looking much healthier and active.
Through CFN, Shirley and her sister will continue to be closely monitored until they both reach their full potential of being healthy babies.
Meanwhile, Sr Brenda Posiona, a Community Health Worker at Orami Health Post in Panguna said she has seen a considerable change in the communities, especially with mothers who bring their babies to the clinic.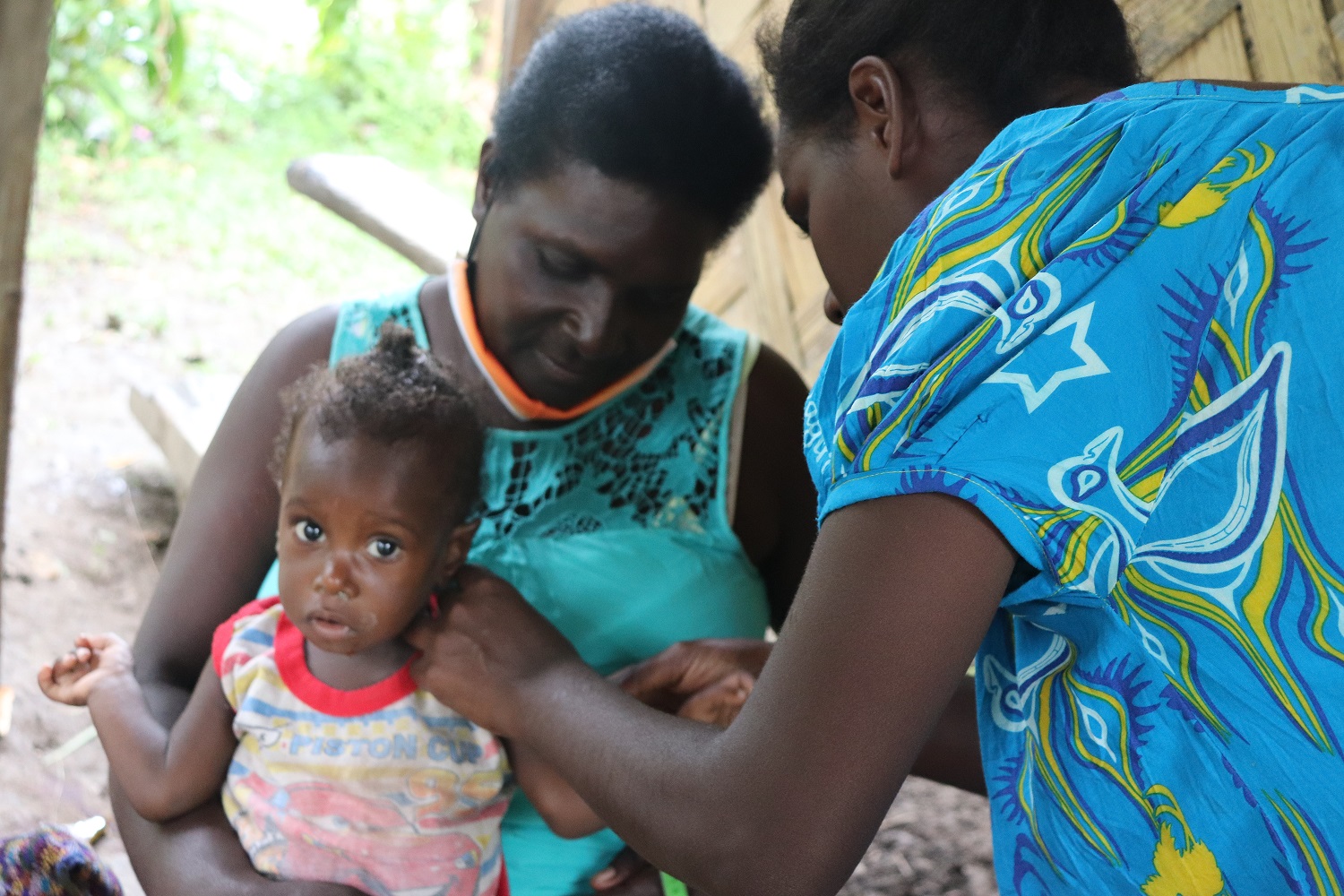 "Since World Vision came into our communities with the CFN project, I have seen a huge decrease with children that were sick, especially with diarrhoea and malnourishment, World Vision has gone into the communities and worked among the community, and this has helped change and improve the children's health and well-being,' stressed Sr Brenda.
Brenda said she has also seen changes with the communities mindset as she now witnesses husbands bringing their wives to the clinic for antenatal and immunization, stressing that this never used to be the case.
"At first, we used to have a very low number of women coming to the clinic. But, since the CFN project came about, I'm now witnessing more mothers coming, this time with their husbands; this was never the case before,'' she said.
She said this was a huge positive impact that the CFN program has had on the communities and hoped that CFN would also reach more communities apart from the five project communities within Central Bougainville.