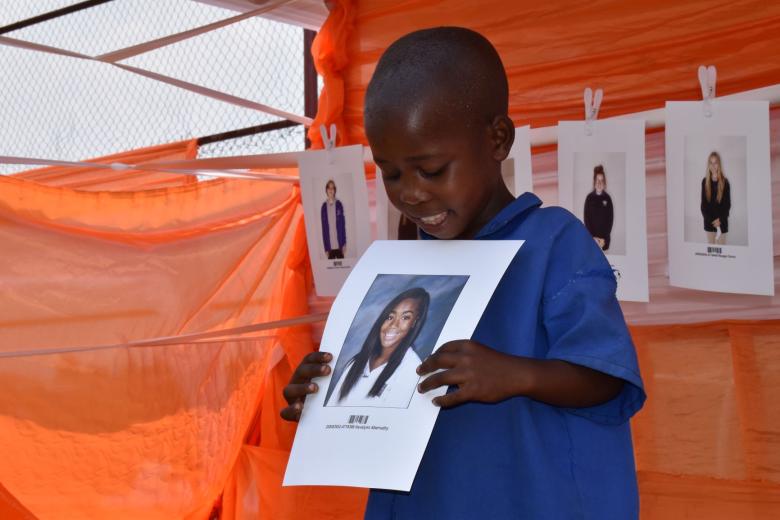 'Chosen' in Rwanda: An aura of joy as children choose their sponsors for the first time
Monday, November 9, 2020
Nadia's face is lit with joy and excitement as she eagerly waits to choose her sponsor, "I am thrilled for having been given an opportunity to choose my sponsor. I chose a lady and I am glad."
Today, over 50 children will be choosing their sponsors –instead of the other way around– through a World Vision initiative rolled out for the first time in Rwanda. Seven-year-old Nadia is one of them.
It is Tuesday, early in the morning at Gisagara District Recreational Grounds and there are faces of happy little children everywhere, looking forward to making a choice through a list of sponsors. Parents, community volunteers and staff are also looking forward to witnessing this, for the first time. While they warm up for the official kick-off of this event, the children are in high spirits, singing and playing several games.
This is the first time that World Vision is holding a 'Chosen' event in Rwanda. 'Chosen' is an initiative under which children get to choose their own sponsor instead of a sponsor choosing them. This approach puts the power to choose in a child's hands. Children are ecstatic as they walk to the photo display area, look around at all the photos before they choose whom they want for a sponsor.
Gemma Mukandekezi, the Sponsorship Manager for World Vision in Rwanda emphasises: "Chosen is a great opportunity given to children to choose their own Sponsors. The power to choose has been placed in the hands of these children. It's the first of its kind in the history of World Vision in Rwanda."
Whilst giving his closing remarks at the end of the event, Aimable Nsengiyumva, the Gisagara Area Programme Manager, stated that through 'Chosen', children are going to have more opportunities and choices than ever before. He added that this kind of initiative is great because it brings joy to children and also empowers them.
World Vision has been working with the most vulnerable children across Rwanda transforming the lives of millions of children over the past two and a half decades. Learn more about 'Chosen' by visiting www.wvi.org/chosen.