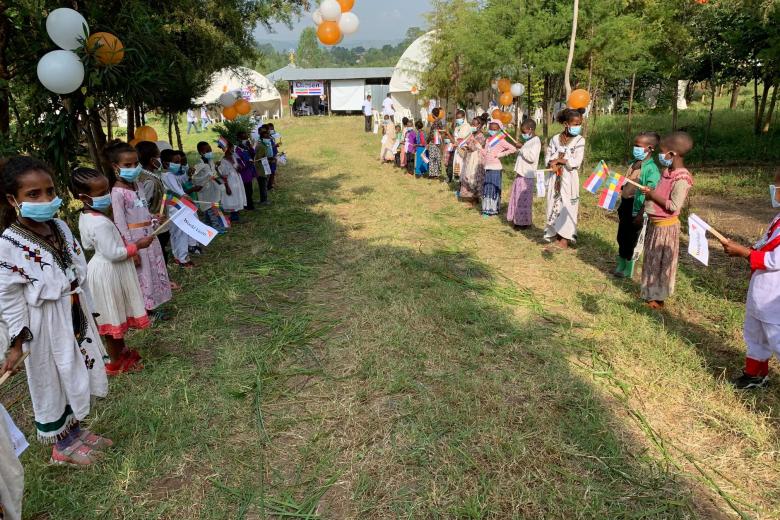 World Vision launches 'Chosen' initiative in Ethiopia
Thursday, October 15, 2020
On 12 October 2020, World Vision launched its 'Chosen' initiative –a new child sponsorship approach that enables children to choose their sponsors rather than the other way around– in Dembia District - Amhara Region. The launch took place in World Vision's Dembia Area Programme in Kola Diba Town, in the presence of children, parents, and World Vision staff in Ethiopia, including the Amhara Region Office staff and the senior leadership team.

'Chosen' is an innovative approach in sponsorship programming that allows children to choose sponsors whom they want to support them. Through the initiative, interested sponsors from different countries send their photos to countries where their would-be sponsored children live; offering children different alternatives to choose from. The children choose whom they want to sponsor them based on their interests.

In the previous practice, it was sponsors who would choose which children they would like to sponsor. The Chosen approach provides the opportunity for each child to decide on his/her destiny by himself/herself.

Gelila, a nine-year-old girl is among the 148 children who got to choose their sponsors at the 'Chosen' launch. Excited, she had this to say: "I am very happy as today is the day that I choose my sponsor."
Another child, 10-year-old Woinitu, after selecting her 'Chosen' sponsor Dianne from the Netherlands, said: "This is the happiest day because I got to choose my sponsor by my own!"

Speaking at the launch of the 'Chosen' initiative, World Vision's National Director for Ethiopia had this to say: "Our sponsorship programming has enabled hundreds of thousands of Ethiopian children to live life in all its fullness. Yesterday's sponsored children are today's teachers, lawyers, doctors, and engineers. Now they are serving their country and people in different institutions including World Vision Ethiopia. Today I am advising you this is a special opportunity for you to choose your sponsors who will support you for your lifetime," said Edward Brown, National Director of World Vision Ethiopia.
World Vision has been working with the most vulnerable children across Ethiopia transforming the lives of millions of children over the past five decades. Learn more about 'Chosen' by visiting www.wvi.org/chosen.