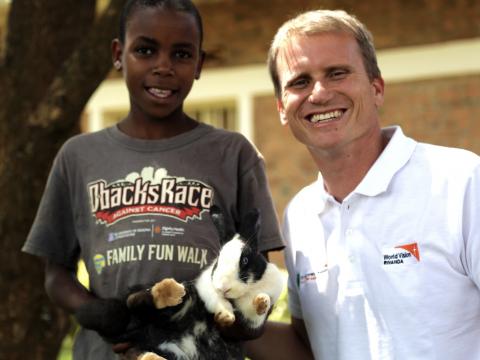 Opinion Piece: National Director's take on fostering an Africa fit for children
Wednesday, June 16, 2021
This article was published in The New Times, Rwanda's Leading Daily, on 16 June 2021.
-
By Sean Kerrigan
Today, June 16, on the International Day of the African Child, through the theme of the African Committee of Experts on the Rights and Welfare of the Child (ACERWC), we are reminded to make efforts to 'accelerate the implementation of Agenda 2040 for an Africa fit for Children'.
I recently travelled to Gisagara District in Southern Rwanda to visit Elie, who chose our family to sponsor him. What an inspiration this child was as he shared how he wanted to become an engineer when he grew up and bring piped water into his home. What shocked me was that as this eight-year-old shared, the people in the room began to laugh at the loftiness of his dream.
Was Elie's dream too big? I don't believe so. What does 'an Africa fit for Children' look like to you?
The United Nations Convention of the rights of the Child stipulates that all the rights of children are connected, they are all equally important and they cannot be taken away. Among the ten aspirations in the Agenda 2040 is to ensure every child grows up well-nourished, with access to basic necessities of life, benefits fully from quality education and is protected against violence, exploitation, neglect and abuse. Can we envision a Rwanda where this is possible? Where the nation's aspirations are accomplished and children have access to basic needs and are protected?
I believe that access to basic needs such as water and child protection go a long way in creating a safe and secure environment for children to thrive.
Elie's need for easy access to clean water directly correlates to his health and school performance, and in this case his dream of becoming an engineer.
When children lack certain basic needs of life such as access to safe water, especially in Africa, they spend a certain amount of time walking long distances in search for water, some resort to fetching water from dirty sources which often gets them sick while other miss classes or get late for school, which affects their school grades.
Rwanda has made tremendous strides in getting clean water to most of the communities. The target in Rwanda's National Strategy for Transformation (NST) is to reach all homes with access to portable water and sanitation by 2024 which will be achieved six years ahead of the Sustainable Development Goals (SDG 6) of having clean water and sanitation for all by 2030.
We can all work together to ensure everyone has access to clean and support communities with improved sanitation and hygiene in schools and households.
Since 2018, World Vision and various government institutions have been implementing a campaign calling upon all Rwandans to speak up and protect children against child labour and child sexual abuse.
As we advocate for children's rights, what does an Africa fit for children look like to you?
---
Sean Kerrigan is the National Director for World Vision in Rwanda, and Chairperson of the Network of the International Non-Government Organisations (NINGO) in Rwanda.