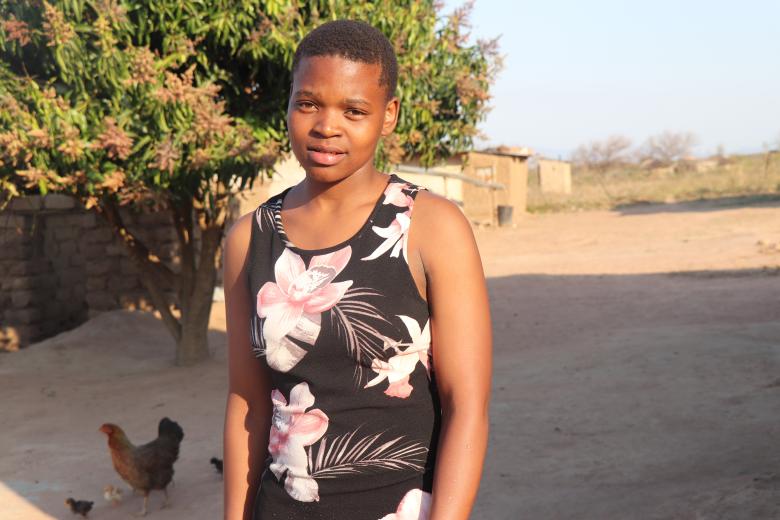 A SECOND SHOT AT LIFE FOR NOMFUNDO
Thursday, September 8, 2022
Remember the saying "Life is all about second chances". Not in every single aspect, of course, but we are often granted a "re-do" without even realising it; well, 22-year-old Nomfundo grabbed her second chance with both hands.
Nomfundo hails from the Bambitje community, situated under the Matsanjeni Area Programme. She has been a registered child (RC) under World Vision since she was six years old. Fortunately, her sponsor would go above and beyond to provide for her basic needs, including directly paying for her school fees.
"As a RC, I have had the chance to be blessed with various gifts from World Vision, including the food we received from the office in our area," she elaborates.
She says being part of the World Vision family has been truly a blessing for her as she was fortunate to have a sponsor that would go beyond sending her gifts, but also made sure she got an education.
"My sponsor would go beyond just sending me gifts, but he also made sure that my education needs were also catered for, which is something not all registered children get to experience", Nomfundo narrates.

22-year-old Nomfundo, a former World Vision Eswatini Registered Child (RC) swiping the yard at her parental home 

 
In 2017, she completed her high school, but did not do very well, such that she could not be admitted into a tertiary institution of her choice. After meeting her sponsor in 2019, the sponsor decided to send her back to school so that she could improve her Form 5 results.
She adds: "My sponsor even bought me all the necessary things I needed for school, mind you, for the second time. He basically gave me a second shot at life - a chance that not so many young people get, especially from similar humble backgrounds like mine, and, I will forever be grateful for that".
Indeed, she grasped her chance with both hands! After completing Form 5 in 2020, she obtained good results, enabling her to get admission into the University of Eswatini (UNESWA) to pursue a Bachelor of Art in Humanities Degree at the Kwaluseni Campus.
"I aspire to, one day, own my own farming business and I believe that I will be able to provide for my family and improve the current situation at home. On top of that, I will be a teacher of course, hence my choice on the Humanities programme, and I actually hope one day my wishes will come true," she elaborates.
Well, with dreams like that and the dedication that she puts in her life, especially after proving that indeed she is not a failure, Nomfundo can reach beyond the skies!