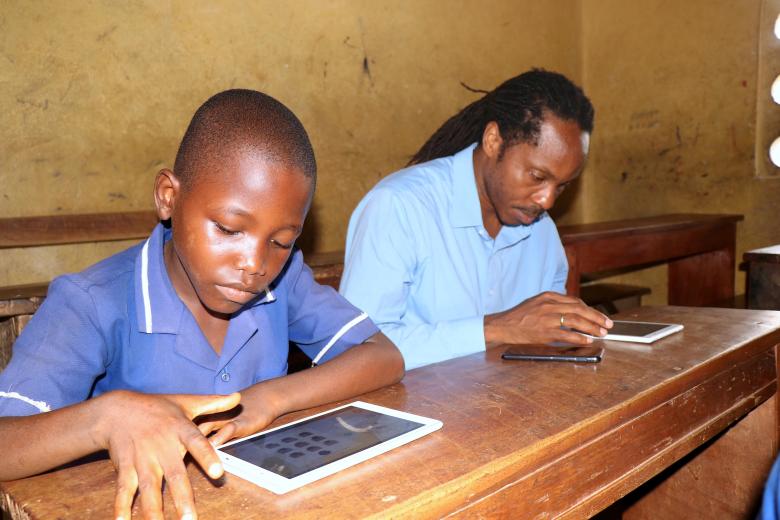 PILOTING QUALITY DIGITAL EDUCATION FOR A SECURED FUTURE
Tuesday, June 21, 2022
In partnership with ProFuturo and the government of Sierra Leone's Ministry of Education, World Vision in Sierra Leone is implementing an Education Innovation Challenge (EIC) Project in 40 Primary Schools across 4 districts; Bo, Pujehun, Bonthe, and Kono. The project is focusing on high quality digital and evidence-based educational platform (we-class) with digital content to improve literacy, math, sciences, and skills for life in children at the primary education level. It also focuses on the enhancement of teachers' skills, methodologies, and competencies, leveraging Digital Technology.
In a field visit to World Vision operational areas the government of Sierra Leone Minister of Basic and Senior Secondary School Education Dr. David Moinina Sengeh visited Ansarul Islamic Primary School, New London, Bo City one of the Education Innovation Challenge piloted schools. The visit enabled the Minister to observe a typical digital education lesson.
The Minister who is a TED Senior Fellow and Doctor of Technology interacted with the pupils and further commended the ProFuturo-powered we-class initiative.
"Digital devices are not the final answer they are just a means of learning and engaging the world, so the more our kids use them they will grow up as digital natives, they will know how to master these devices, being able to learn and access information and ultimately becomes the developers and computer scientists if they want."
Minister Sengeh believes that technology can play a vital role in improving education and he says it's a laudable effort. In the area of scaling up, the minister noted that the government and its partners including World Vision are piloting Education Innovation programs to test ideas for scaling up at the national level.
"Over the next couple of years, I hope that many more kids will be into technology, many more digital natives will want to fix devices, code devices and we can use all of this to enhance our learning," adding that technological advancement will ensure a secured future.    
Richard Okai World Vision Sierra Leone's Integrated Programmes Director, says there can be no better timing to introduce children to technology than to grant them access at an early age. He says the world is in an age of technology and to deprive children of the right to technological advancement is unacceptable.
"The best time for a child to learn new skills is at an age like this. These are primary 1 or grade 1 kids, with what I have observed the confidence with which they hold the tablets, and listen to the instructions is commendable. For me, this is the way to teach kids because it is more fun and more efficient."
Richard says part of the reason the minister is taken on the tour is for him to see the benefits of such interventions and how government and other partners can support the rollout into other areas as World Vision cannot do it alone.
"We believe that this should not end in this school, but to other schools and it should be a government policy that ICT will not only be taught at Senior Secondary school level but from the basic level". Richard believes that commitment and collaboration of every partner will make such an industrious project succeeds.  
As part of the field trip, the Minister was also taken to Baoma Kpengeh, Nongorba Bullom Chiefdom, Bonthe District to visit a World Vision-supported primary school with a Child-friendly school environment package. After visiting the St. Joseph's Roman Catholic Primary school's WASH facility, renovated classroom blocks and after-school reading camps the Minister commended World Vision's education intervention.
"Being on a couple of visits to schools in Bo and here in Bonthe, it is wonderful to see the impact of World Vision's programs. Distance education to teachers, literacy programs, the renovation of school buildings, and investment in WASH; is really what government wants to do. The government's policy is that everybody should come to school and the government is working to provide for the environment but often our resource doesn't take us to places that we want to go. And so, we are looking for and working with partners who care about that, who understand the people, and can live in the communities to drive these efforts", he says.
At the end of the visit to Bonthe Richard notes that the organization's education program is on the right trajectory. He says supporting communities to set up reading camps, is a literate child breaking a barrier, "a reader today is a leader tomorrow", he adds.
He commends the communities for embracing the initiatives of World Vision and states that development is a process with enormous challenges, but with collaboration communities and World Vision can succeed together.           
ProFuturo is partnering with World Vision globally in a bid to narrow the education gap in the world by providing quality digital education. The company's goal is to enable millions of children in vulnerable environments to choose the future they deserve, while World Vision seeks to give every child life in all its fullness.