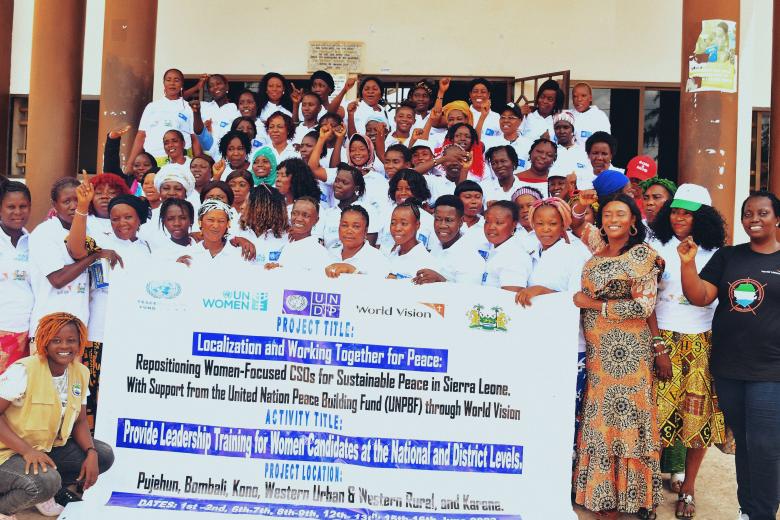 WOMEN AS AN AGENTS FOR SUSTAINABLE PEACE BEFORE, DURING AND AFTER ELECTIONS
Wednesday, June 21, 2023
By: Sia Nana Jones – Communications Officer World Vision Sierra Leone
Women's political participation is a fundamental prerequisite for gender equality and true democracy. It facilitates women's direct involvement in public decision-making and is a means of ensuring greater accountability for women. As Sierra Leone approaches parliamentary elections, the United Nations Peacebuilding Fund (UNPBF) is funding a project led by United Nations Women, World Vision and the United Nations Development Programme (UNDP).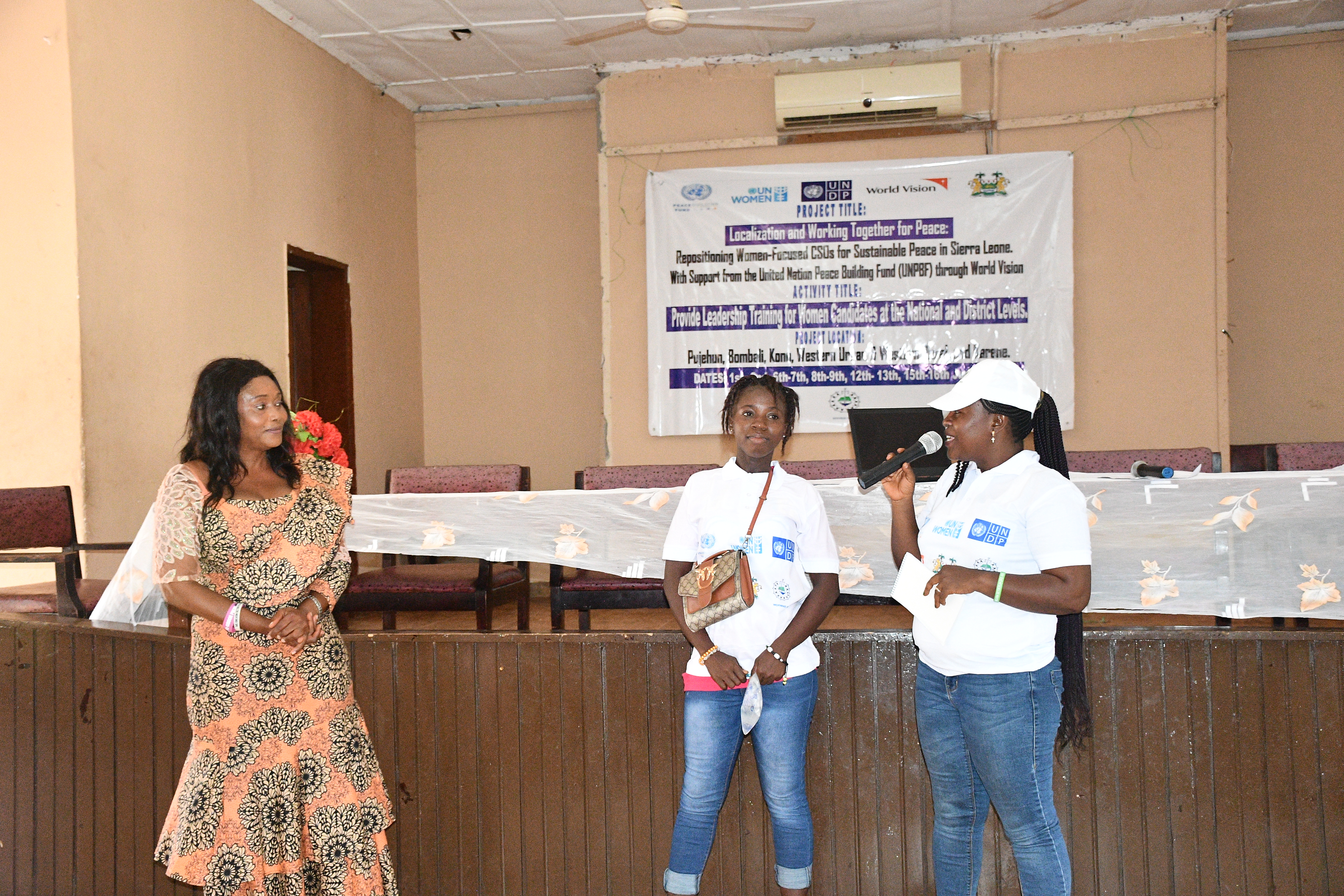 The overall objectives of the project is to strengthen the institutional capacity of women-focused civil society organizations to coordinate  their effort to sustain peace and enhance the safety and security of women and girls in Sierra Leone before, during and after elections.
The project works with 120 civil society organizations across six operational districts (Bombali, Karene, Pujehun, Kono, Western Area Rural and Western Area Urban).
World Vision's implementing partners in this first phase of the project are the Sierra Leone 50-50 Women's Group, the Women's Forum for Human Rights and Democracy (WOFHRAD), Media Matters for Women, and the West Africa Network for Peacebuilding, all of which work on women's political participation/governance and conflict prevention and peacebuilding at the national and sub-national levels.  
At the training organized by implementing partners in the different operational areas, a female candidate, Suard Henrietta Koroma who is contesting for the councillor position at the Bombali District Council under the ticket of the All People's Congress stated that the absence of such training sessions over the years is part of the reasons why women shy away from politics.
"I would like to thank World Vision, the Women's Forum for Human Rights and Democracy organization, and their partners for providing this empowerment platform which has helped other female candidates including myself to overcome the fear of public speaking which has been a barrier for many".
In Pujehun District, Amie Khemoika, a physically challenged candidate for the Pujehun District Council on the ticket of the Sierra Leone People's Party, attended the training organised by the 50/50 Women's Group for female political aspirants. She notes that: 
"Even though I am a person with a disability, I have not allowed it to limit me or prevent me from fulfilling my dreams and aspirations in terms of politics because I know that disability is not inability; disabled people can do even better and most importantly, my political party has not segregated me and has given me the support, the opportunity to showcase my ability. The fact that I have been given the symbol to stand means that they have confidence in me". 
A similar training was held in Kono district, inspiring many female political aspirants. Attitudes have changed and many have promised to be ambassadors of peace. Sia Mahawa Tommy, a parliamentary candidate for the Sierra Leone People's Party, says age has nothing to do with a woman's ability. 
"As a young lady, I want to say age has nothing to do with your ability and the impact one desire to create. I believe in myself and also thank my political party for the inclusiveness. Even though I am young, I have been given an opportunity and this training has increased my knowledge around the preparation of Manifesto.  Now I know as an aspirant, I should not make promises that I can't fulfil and that as a parliamentarian, I also have my scopes and limitations".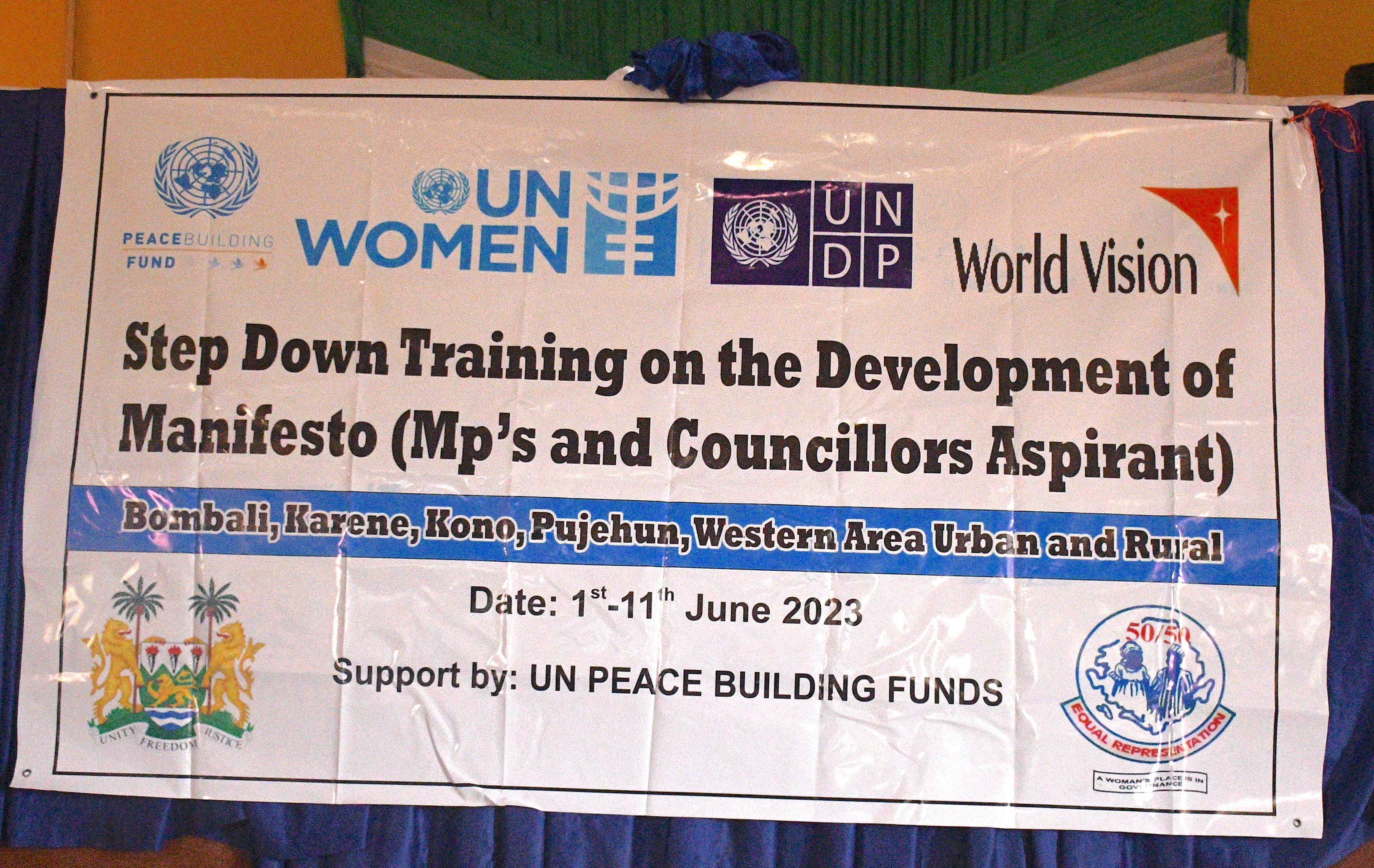 Similarly, in the Karene district, the training was organized for female political candidates. Despite their differences in political ideology, these women were able to gain the knowledge of supporting each other during and after the elections to bring change in their communities.
Madam Kadiatu Kargbo an aspirant nominated by the Revolutionary United Front Party (RUFP) for Member of Parliament, Ward 63 had these few words to say: 
"I want to thank the funders of this project; this training is timely and I have gained a lot more. I have understood more about how to position myself, and how to write my manifesto, making it simple, realistic and time-bound".
Madam Kadiatu Kargbo promised that, if she wins elections, she will give her support to women because it is about the development of the mother land. She pleads for the project to continue because its 'great' impact:
" We have been suffering but the 30% women representation has given us joy, it has exposed us to knowledge and more opportunities and also help women to take decisions alongside the men. It is our time and we will make good use of it", she said.
Empowering women leaders to participate in peacebuilding has become increasingly crucial.  Women who participate in peace processes tend to represent broader and more diverse constituencies, ensuring a range of views and interests are represented and peace processes are fully democratized.