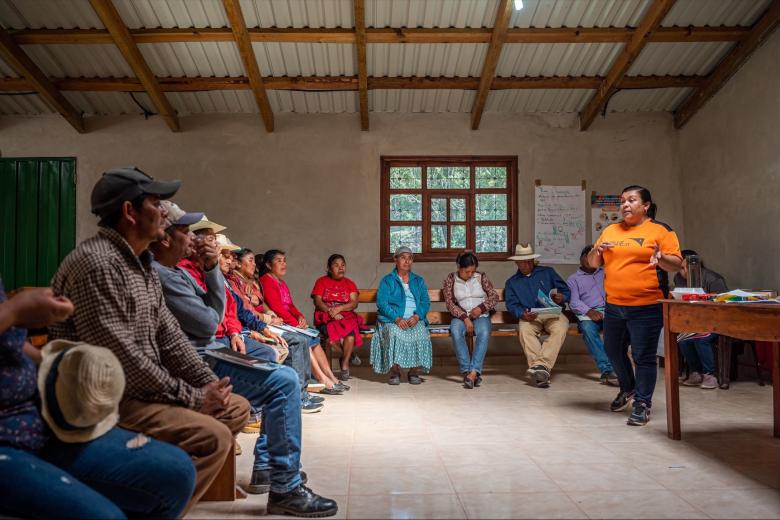 A Special Call
Wednesday, August 11, 2021
Working at World Vision goes beyond work assignments or activities, it is a special calling to serve the most vulnerable.
Telma, a community development facilitator in Intibucá, Honduras, rediscovered her purpose when she came to World Vision.
"I lived thinking that I wanted great things," says Telma. "I was not satisfied with what I had because I always thought about having a bigger house or a car. I believed that was happiness.  But, when reaching communities through World Vision, I understood that wealth is not in material possessions, but in the interior, in the spiritual. Seeing so much poverty and still seeing those boys and girls smiling, happy next to their mother and father, I could understand that they were happy without having any of those material things that I dreamed of. "
In a year where COVID-19 quarantined the plans of Hondurans, as well as the rest of the world, Telma found herself in the need to learn to live amidst biosecurity measures, fears of the unknown and many challenges that she would have to face.
"I was frustrated!" says Telma. "Everything we had planned in the programming fell apart. How was I going to serve my communities? How was I going to assist the families? Nobody was really prepared, I felt frustration, fear and anxiety at the beginning because I did not know what was coming."
Telma was not the only one who felt this way. Families living in the communities she served were also concerned. "It was distressing when families from my communities called me," shares Telma. "They told me about the situations that were happening. The families told me: "My daughter got a positive COVID-19 diagnosis, what do I do?"
Because of lockdowns, many families could not work or access food. "They had closed the communities and they couldn't even walk out. The families had nothing to eat... Thank God through the interventions we made, we were able to reach those families who had nothing to eat because they couldn't go out," Telma mentions.
Despite having lost her father, Telma put aside her fears and support the families who needed her most. "I suffer from bronchial asthma accompanied by allergic rhinitis," Telma relates. "But, I decided to take courage. In those moments, we must find the strength to tell the families what they can do, to give them the best advice or words of encouragement they need. We must tell them not to be discouraged that they have to keep fighting for their sons, for their daughters and that God will provide."
Circumstances may change over time for Telma, however her calling is with the children. Her purpose, to empower them and their communities for a future full of opportunities.